Stablecoins Surpass Mastercard & PayPal in Transaction Volume
Stablecoin growth accelerates despite regulatory challenges and negative market dynamics.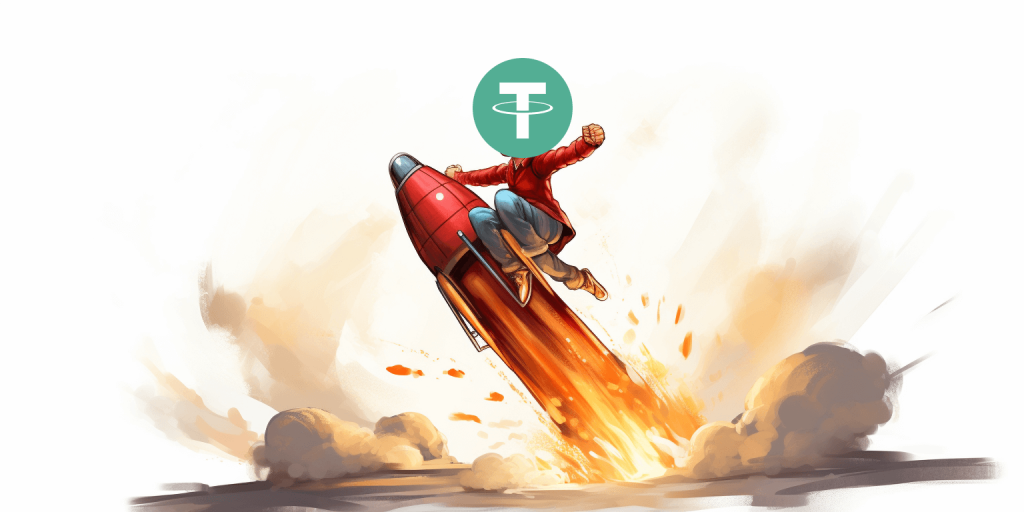 Key Takeaways
In 2022, stablecoins on layer 1's reached a $6.87T transaction volume.
Stablecoins have achieved higher adoption rates than Ethereum.
In 2022, stablecoins on various layer 1 networks reached a transaction volume of $6.87 trillion, overtaking traditional payment giants like Mastercard and PayPal. Comparative data from 2022 showed that Mastercard settled transactions worth $6.57T, while PayPal settled transactions worth $1.3T, according to data from Coinmetrics and Bloomberg.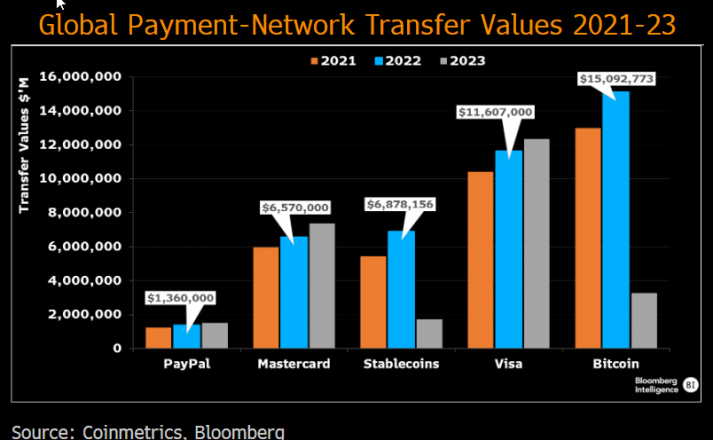 Despite the challenges faced by the broader crypto market in 2023, such as strict regulations in the United States and continuing bear market conditions, the adoption rate of stablecoins like USDT and USDC is even higher than that of Ethereum. Since 2021, the number of stablecoin addresses holding more than $1 has grown seven times faster than Ethereum addresses with the same balance.
While stablecoins have seen a considerable rise in adoption, their annual transaction count stands at merely 0.5-3% of traditional payment networks, as per Coinmetrics and Glassnode statistics. One reason decentralized networks might not be as widely adopted could be the high transaction fees and throughput limitations of platforms like Ethereum.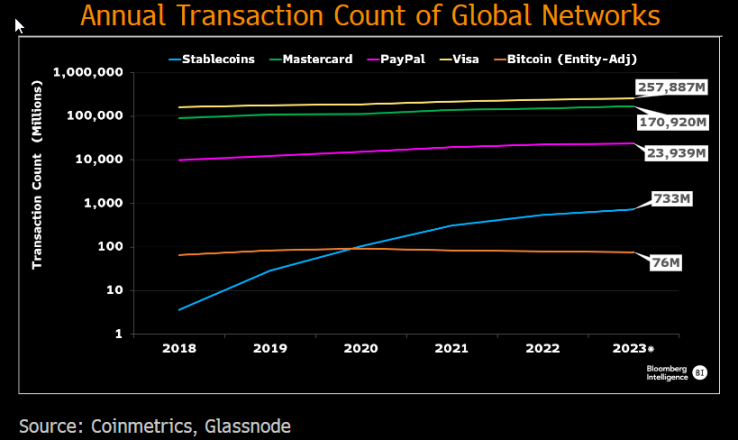 Yet, while Ethereum's limitations might have been a bottleneck for stablecoin adoption, centralized networks like Tron suggest a different narrative. By mid-2023, Tron's reached 130 transactions per second (TPS), outperforming Ethereum's current 30 TPS and facilitating nearly 20 times more USDT transactions, according to Coinmetrics.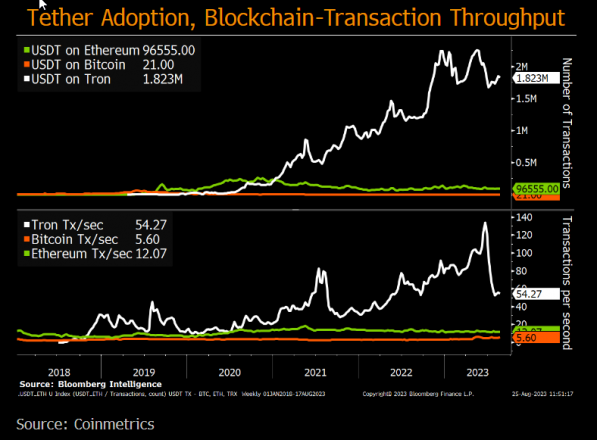 However, while transaction speed is important, it's not the only factor that markets consider. While Tron might offer more transactions per second, its centralization raises security concerns, preventing it from dominating the USDT market cap. Tether's market cap in Tron is 48%, while the slower, more expensive, but decentralized Ethereum has roughly 43% of the pie, according to Bloomberg Market Analyst, Jamie Coutts.