Strong Fundamentals Push Bitcoin to New Yearly High
Bitcoin had its highest monthly close since 2018, reigniting optimism that it could break previous all-time highs.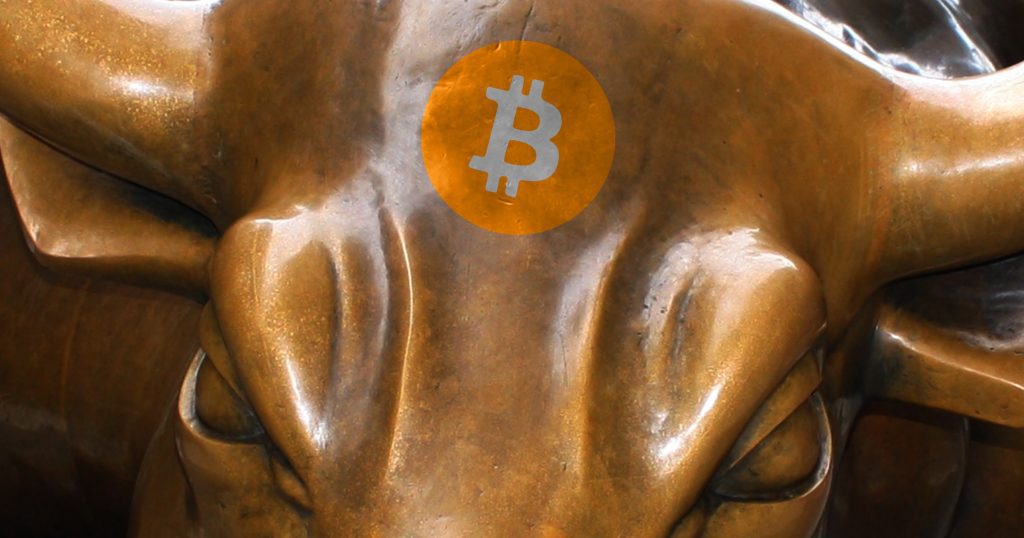 Key Takeaways
Bitcoin recorded its highest weekly closing of $13,045 on Coinbase since January 2018.
There are over 20,000 BTC addresses worth more than a million dollars.
The current bull run is driven by institutional interest rather than retail hype.
Bitcoin's weekly chart posted a clean breakout above resistance with a 13.1% rise in prices the week ending Oct. 25. Since then, BTC has continued to rise to a new yearly high above $13,500.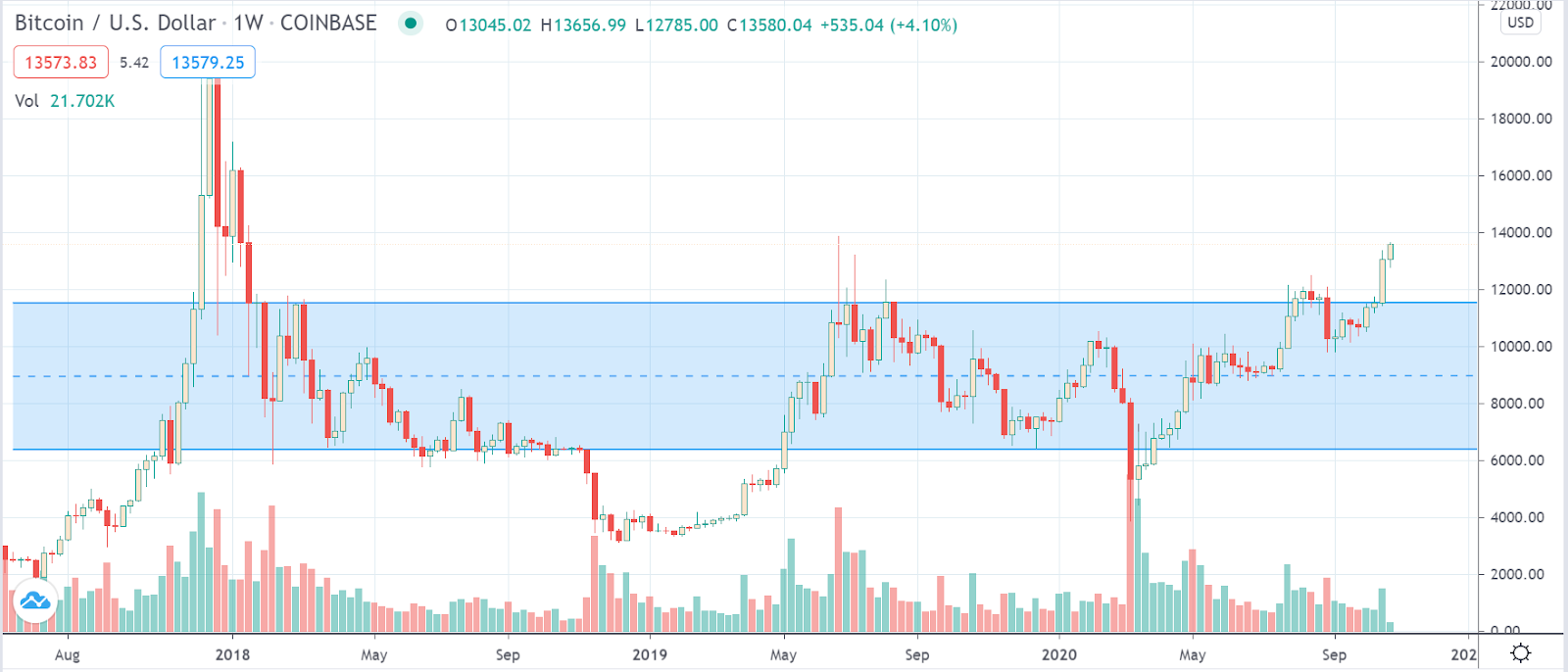 Retail Bitcoin Buyers Still Silent in Current Move
With the increase in cryptocurrency prices, over 20,000 Bitcoin addresses are now worth over a million dollars. At $13,500 apiece, this equates to an address holding about 74 BTC.
The number of Bitcoin addresses with more than 1,000 BTC made a new all-time high of over 2,200. This number is 30% greater than the 2017 bull market, which was primarily driven by retail hype.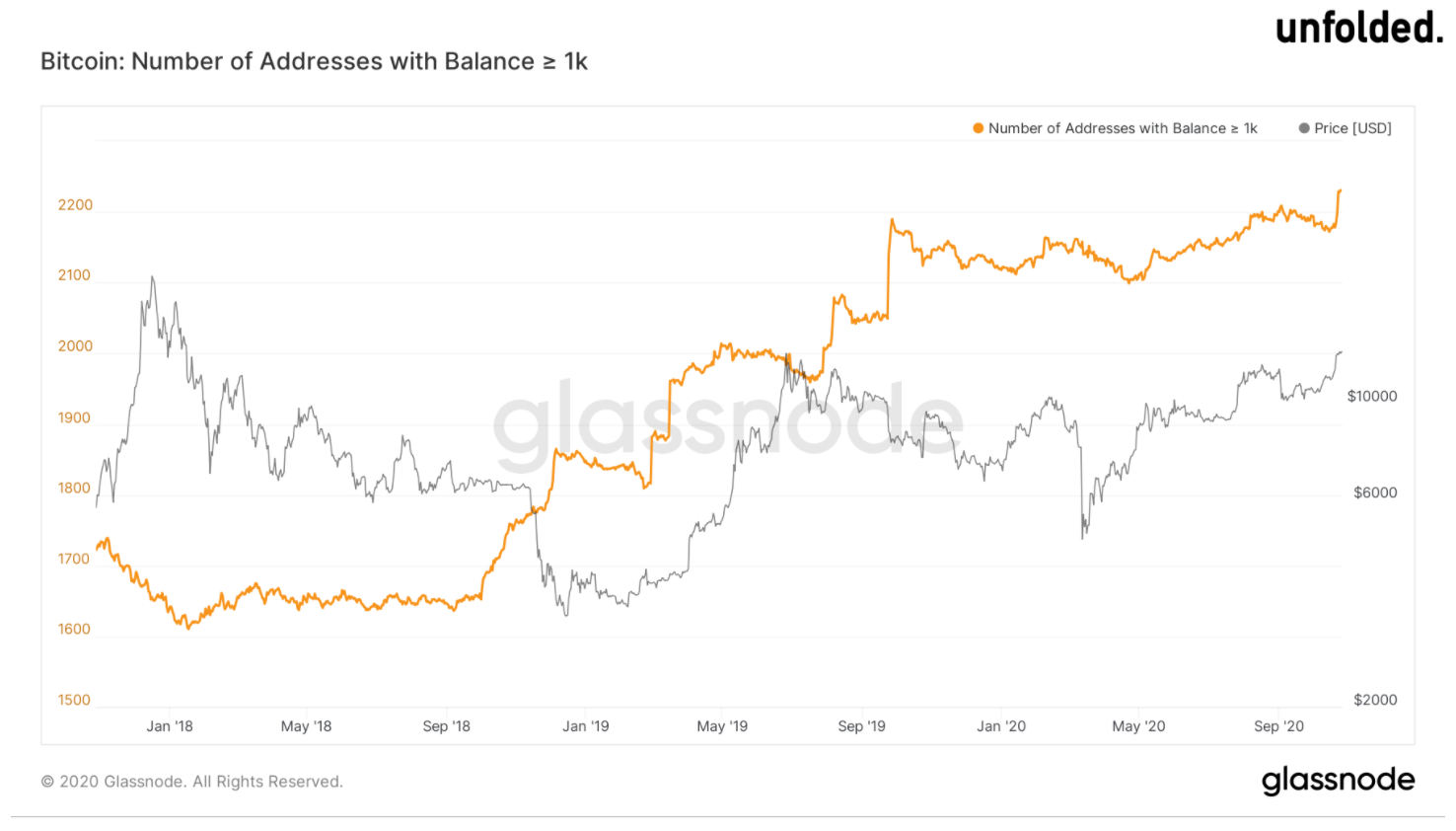 Google Trends data on the keyword "Bitcoin" reveals that retail interest is nearly half its 2019 levels, when BTC last touched $13,000, and far from its peak in 2017. Few searches for the leading cryptocurrency could be a positive signal since retail euphoria is typically an indicator of a bubble.

To add to the breakout's credibility, BTC may have its highest monthly close since December 2017⁠⁠, when BTC was trading at $13,880. Institutional backing could mean that this bull run could have more strength than the previous two attempts to break all-time highs.
Bitcoin is changing hands at $13,580 at press time, with prices up 2.9% since the weekly close.