Synthetix Liquidates SNX Holders Suggesting DeFi Has Hit Bottom
Synthetix — the synthetic- based derivatives exchange — has undergone it's very first round of liquidation.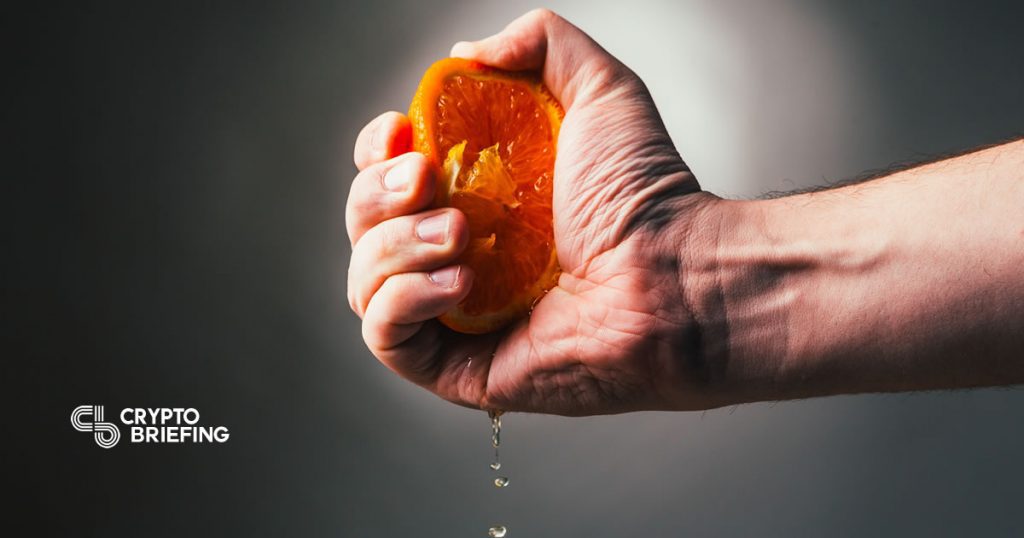 Key Takeaways
This is the first time that the SNX stakers have been liquidated.
SCCP-25 reduced the liquidation delay from two weeks to three days.
The recent crash in the DeFi space has liquidated several SNX stakers. Since then, however, the sector has rebounded, suggesting the bottom is in.
Synthetix Liquidates Holders for First Time
The recent downturn in the DeFi space has caused the price of many DeFi tokens to fall sharply, including Synthetix Network Token (SNX). The token was trading at roughly $7.5 at the start of September before plummeting to $2.5 this week. . This equates to an over 66% price decline in the span of two months, leading to a mass of liquidations on the platform.
Recently the very first liquidations on some SNX stakers have been carried out successfully. If you are at risk of liquidation, with a Collateralisation Ratio that has dipped below 200%, there is a red banner alert at the top of the screen on Mintr. 1/

— Synthetix ⚔️ (@synthetix_io) November 6, 2020
The new liquidation mechanism went live on the mainnet earlier in June this year. However, with the new SCCP-25 implementation, SNX stakers will need to pay closer attention as the liquidation delay has dropped from two weeks to three days.
Should a staker's Collateral Ratio (C-Ratio) fall below 200%, then they will have three days to fix their C-Ratio before they are liquidated.
In case such an event occurs, then the staker has two ways to fix their C-Ratio: either by adding more SNX or by burning some of their sUSD until the target collateralization ratio has been achieved.
SNX stakers earn two kinds of rewards. They receive SNX staking rewards, along with a portion of the fees generated by the trading of synths on the protocol.
Though the liquidations procedure on Synthetix went off without a hitch, the larger narrative is that of DeFi's fall from summer highs. SNX is currently trading hands at $3.23, but other tokens in the same category, including AAVE, REN, and BNT, have rebounded 25%, 15.2%, and 9%, respectively.
Such strong bounces would suggest that the bottom is in. And now that Bitcoin is picking up steam, the fallen DeFi sector may also be the first to enjoy the fruits of an incoming altseason.