TE-FOOD ICO Review And TFOOD Token Analysis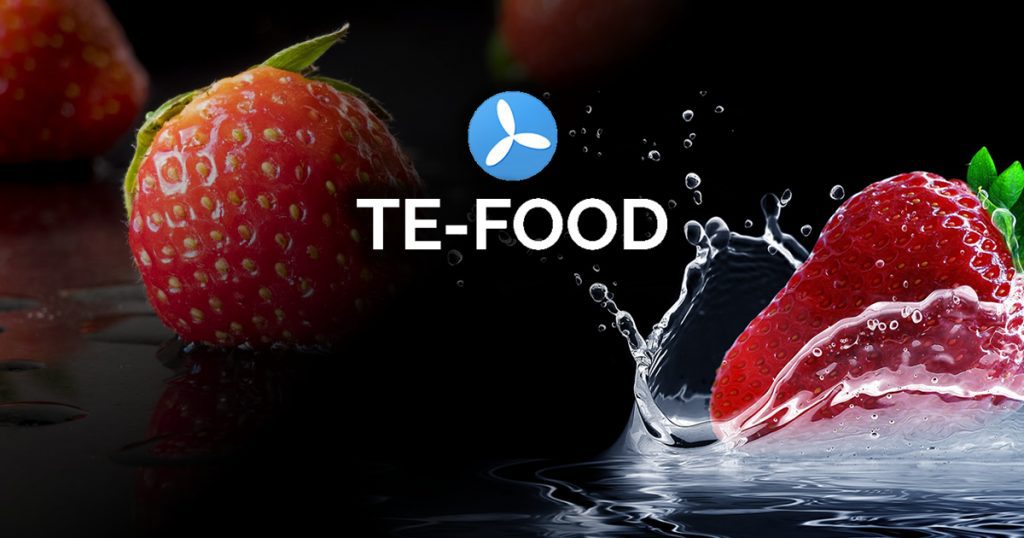 TE-FOOD ICO Overview
The TE-FOOD ICO and TFOOD Token are raising funds to decentralize and scale an existing offchain, farm-to-table livestock and fresh food traceability solution focused on emerging markets.
TE-FOOD has been in operation in Vietnam since 2016. The system tracks the items through the entire supply chain (farm, slaughterhouse, wholesaler, retailer) and provides tools to consumers, supply chain companies and authorities to access information on food history and food quality. According to their executive summary, TE-FOOD claim to have 6000 enterprise customers, tracking 12,000 pigs, 200,000 chickens, and 2.5 million eggs daily.
TE-FOOD ICO Value Proposition
The TE-FOOD ICO proposes that a distributed ledger-based system would both add value and scalability to their offchain product. It may seem far-fetched for some readers, but in emerging markets there is significant distrust among consumers toward the food industry and even regulatory authorities due to the excessive use of chemicals, cases of poisoning etc.- only technically unalterable logistics and food quality data can provide real credibility.
The 2008 Chinese Milk Scandal that resulted in the poisoning of 300,000 infants illustrates not just the real dangers caused by unscrupulous practices by food producers, but also by corrupt authorities who cover up such abuses. Adding every detail of information about a given product onto the TE-FOOD distributed ledger will provide a level of transparency that benefits all participants, protecting and/or inhibiting food producers from making costly mistakes and reassuring consumers that their food is safe and of the highest quality.
TE-FOOD has designed a supply-chain system in which identification tools (RFID tags, security seals and label stickers) are applied to livestock, transport and fresh food packages, storing each datapoint throughout the whole supply chain. Fresh food products at the retail level can be traced back to their origins together with food safety related information. The system deploys a B2B mobile app for entering data onto the ledger and a B2C app for customer access to product information. A detailed list of the existing identification tools and apps along with explanations on what role each piece of technology plays in the system is available here.
To understand the ecosystem, we will first take a look at the structure and function of the underlying blockchain architecture. The TE-FOOD ecosystem operates on two separate ledgers and tokens:
Token Transaction Ledger
The token payment solution will be implemented on a public network using TFOOD, an ERC20 token. Supply chain participants will use it to buy transactions in the system.
Traceability Transaction Ledger
Transactional and food related information will be stored on a private blockchain and utilize an an internal technical token: the Transaction token.

Diagram of Blockchain Structure (pg. 17 of the whitepaper)
Each company in the supply chain maintains two wallets; a TFOOD wallet on the public network and a Transaction wallet on the private network. A breakdown explaining the role of the TFOOD utility token within the TE-FOOD ecosystem follows:
Toll: To access TE-FOOD's blockchain traceability ledger, supply chain participants will need to pay for transactions using the TFOOD token.
Value Exchange Point 1: sharing of valuable information between companies in the supply chain e.g. if a cow has already been treated with antibiotics, this is recorded on the ledger and made known to the next point in the supply chain. Companies can forgo further treatment, thereby reducing cost and preventing the overuse of antibiotics. The company selling the cow sets a price in TFOOD for the information and the receiver sends TFOOD to the seller's TFOOD wallet in exchange.
Value Exchange Point 3: At the point of retail, consumers are rewarded with TFOOD for using the B2C app. Consumers have the additional option of using TFOOD tokens to order food analysis services. Users package a part of the product and send it to TE-FOOD. The results of the food analysis are returned to the users in electronic format. While this might seem superfluous to some readers in countries with strict regulations on food production, the service provides customers in emerging markets where cases of food fraud are more prevalent absolute certainty when choosing the right product for say, feeding their children.
Rights: Token holders rate supply-chain companies with which they operate, so the system can maintain a company scoring system and incentivize improvements.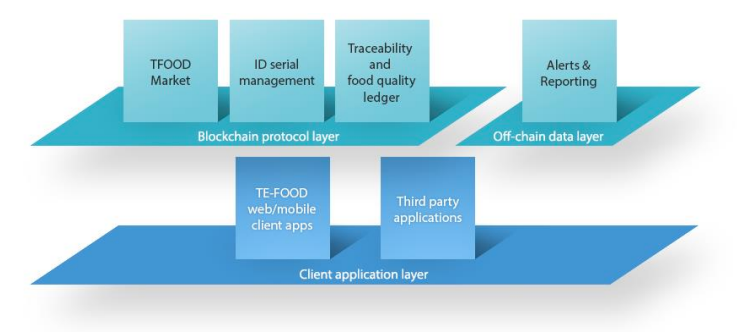 Diagram of Ecosystem Structure (pg. 16 of the whitepaper)
TE-FOOD ICO Team
TE-FOOD was started by TE Ltd., a Vietnamese company established to operate a food traceability system. Erba 96 Ltd., a Hungarian company, was contracted as an IT development partner of TE Ltd. from the start of the offchain version of the product. A detailed layout of all legal entities involved in the project and how they relate to one another is available here. The lead team come from both companies. In addition, the TE-FOOD roster includes an extensive blockchain dev team, software dev team and food industry experts.
TE-FOOD have two Co-CEOs who lead the project – Erik Árokszállási and Dr. Trung Dao Ha.
Erik Árokszállási is currently CEO of Erba 96, a Hungarian software development company that has been in operation for 2 decades. His Linkedin shows he has worked there since the founding of the company. With TE-FOOD, he will carry over his role as Co-CEO.
Dr. Trung Dao Ha is also Co-CEO of TE-FOOD. His previous experiences lay at the intersection of tech and business. He has served for 5 years as the President of the Ho Chi Minh City High Technology Association and has founded several business ventures.
Marton Ven serves as CMO of TE-FOOD. Previously, he was the IT Project Manager at Erba 96 and has also been with the company since its inception.
TE-FOOD ICO Strengths and Opportunities
Any ICO that launches based on a working business with a customer base and revenue stream instills a higher level of confidence in the investment. TE-FOOD have managed to implement and scale a disruptive technology that includes all participants in the Vietnamese food supply-chain. Convincing enterprises to shell out money for any new type of service when profit margins can be thin is by no means an easy feat, but the company have pulled it off.
To this accord, the offchain infrastructure for the system already exists, functions and has proven its viability. On the customer end, they have gained modest traction with up to 50k downloads of the B2C app already according to Google Play.
TE-FOOD have been particularly transparent regarding both the existence of their business and partnerships, providing news clips and photos of their partnership agreements on their Medium blog. One of the most promising developments so far is that TE-FOOD has partnered with ZALO, a Vietnamese app similar to Viber with over 70 million users. A video demonstration using ZALO to scan a TE-FOOD labelled product can be viewed here. The potential for mass adoption is exponentially increased through the partnership with ZALO, giving users of the app immediate accessibility to the product.
TE-Food ICO Weaknesses and Threats
We are aware of the multitude of decentralized supply-chain projects on the market, and have taken these competitors into consideration in our rating. To directly address this issue, TE-FOOD have provided comparisons of their project with WABI, Ambrosus, Modum and Waltonchain, all of which can be accessed via this link. The main takeaway in our opinion is that TE-FOOD have managed to capture the Vietnamese market, and are therefore insulated from direct competition until they expand into other markets where the competition is also present.
Our biggest concern with TE-FOOD is the regulatory stance of the Vietnamese government toward cryptocurrency. In October 2017, The State Bank of Vietnam passed a ban on cryptocurrency, referring to it as an illegal, non cash payment.
While it's clear that cryptocurrency can not be used as a form of payment, the government is open to considering crypto as an investment asset. According to a recent bizhub.vn article, the central bank plans to cooperate with the Ministry of Justice to study the legal framework for managing cryptocurrencies.
We took these questions directly to the TE-FOOD ICO team for their word on the matter. As TFOOD token will be used to access services within the TE-FOOD ecosystem, our concern was that it may be considered a form of payment and therefore, prohibited. The answer we received from Daniel Csendes, Blockchain Technology Consultant for TE-FOOD, is that the token is not considered a form of payment under Vietnamese law, but instead a "license".
He also indicated an announcement would be made addressing this issue soon. Contradicting this, the SWOT analysis on page 30 of the whitepaper acknowledges that cryptocurrency regulations do indeed represent a potential threat to the project. The question of how regulators interpret the function of the TFOOD token to access services, whether as a digital licence or an illegal currency, will hang heavy until an official announcement clears the air.
Unless there is absolute certainty regarding the regulatory status of the TFOOD token itself, we have to account for the risk this poses to the project's progress. As it stands, there is a much higher risk to the investor if the Vietnamese government clamps down on the project than for the TE-FOOD ICO itself.
With an existing business and stream of revenue, TE-FOOD has a base to fall back upon should the regulatory environment take a turn for the worst, while investors on the other hand will be left holding a bag of worthless tokens. Dealbreaker? We don't think so. Something to strongly take into consideration when placing our bet? Definitely.
The Verdict on TE-FOOD ICO
With regards to the regulatory issues raised in this article, it's necessary to point out that this is an issue faced all over the world for ICOs and cryptocurrency. With any emerging, disruptive technology, a period of high risk and uncertainty will always precede a more regulated market with discernable rules. With that high risk comes the potential for high reward, which may be the case for the TE-FOOD ICO.
The project is outstanding for the fact that it is built from an existing business and maintains relationships with both large-scale retailers and the government of Vietnam. The product itself also addresses a number of key issues in the food industry and adds value for all participants in the ecosystem, from producer to consumer.
Should the team provide proof that their token is indeed compliant with current regulations, we will revise our score accordingly. For right now though, we'll be placing a small bet on the TE-FOOD ICO.
Learn more about the TE-FOOD ICO from our Telegram Community by clicking here.
---
Today's Date: 2/14/17
Project Name: TE-FOOD
Token Symbol: TFOOD
Website: https://ico.tefoodint.com/
White Paper: https://ico.tefoodint.com/te-food-white-paper.pdf
Crowdsale Hard Cap: $19 million
Total Supply: 1,000,000,000
Token Distribution: 51% – Token sale (public circulation), 5% – Marketing pool, 44% – General reserve
49% of the tokens are allocated to the marketing pool and general reserve. There is a two year lockout. 25% of the reserve will be released after the first year, and the remaining 75% after the second year. Unsold tokens will be put into the general reserve and will be sold on the TFOOD Market or during a future token sale until public token pool reaches 500 million tokens.
Price per Token: 1 TFOOD = $0.05
Maximum Market Cap (at crowdsale price): $37 million
Accepted Payments: ETH, BTC
Bonus Structure: 15% bonus during first week of crowdsale
Presale Terms: N/A
Whitelist: https://ico.tefoodint.com/kycregister_management (whitelist will be open for duration of sale)
Important Dates: Crowdsale- February 22, 2018
Expected Token Release: TBA
---
ICO Review Disclaimer
The team at Crypto Briefing analyzes an initial coin offering (ICO) against ten criteria, as shown above. These criteria are not, however, weighted evenly – our proprietary rating system attributes different degrees of importance to each of the criteria, based on our experience of how directly they can lead to the success of the ICO in question, and its investors.
Crypto Briefing provides general information about cryptocurrency news, ICOs, and blockchain technology. The information on this website (including any websites or files that may be linked or otherwise accessed through this website) is provided solely as general information to the public. We do not give personalized investment advice or other financial advice.
Decentral Media LLC, the publisher of Crypto Briefing, is not an investment advisor and does not offer or provide investment advice or other financial advice. Accordingly, nothing on this website constitutes, or should be relied on as, investment advice or financial advice of any kind. Specifically, none of the information on this website constitutes, or should be relied on as, a suggestion, offer, or other solicitation to engage in, or refrain from engaging in, any purchase, sale, or any other any investment-related activity with respect to any ICO or other transaction.
The information on or accessed through this website is obtained from independent sources we believe to be accurate and reliable, but Decentral Media LLC makes no representation or warranty as to the timeliness, completeness, or accuracy of any information on or accessed through this website. Decentral Media LLC expressly disclaims any and all responsibility from any loss or damage of any kind whatsoever arising directly or indirectly from reliance on any information on or accessed through this website, any error, omission, or inaccuracy in any such information, or any action or inaction resulting therefrom.
Cryptocurrencies and blockchain are emerging technologies that carry inherent risks of high volatility, and ICOs can be highly speculative and offer few – if any – guarantees. You should never make an investment decision on an ICO or other investment based solely on the information on this website, and you should never interpret or otherwise rely on any of the information on this website as investment advice. We strongly recommend that you consult a licensed investment advisor or other qualified financial professional of your choosing if you are seeking investment advice on an ICO or other investment.
See full terms and conditions for more.
Founding Team
This category accounts for the leaders, developers, and advisors.
Poor quality, weak, or inexperienced leadership can doom a project from the outset. Advisors who serve only to pad their own resumes and who have ill-defined roles can be concerning. But great leadership, with relevant industry experience and contacts, can make the difference between a successful and profitable ICO, and a flub.
If you don't have a team willing and able to build the thing, it won't matter who is at the helm. Good talent is hard to find. Developer profiles should be scrutinized to ensure that they have a proven history of working in a field where they should be able to succeed.
Product
What is the technology behind this ICO, what product are they creating, and is it new, innovative, different – and needed?
The IOTA project is a spectacular example of engineers run amok. The technology described or in use must be maintainable, achievable, and realistic, otherwise the risk of it never coming into existence is incredibly high.
Token Utility
Tokens which have no actual use case are probably the worst off, although speculation can still make them have some form of value.
The best tokens we review are the ones that have a forced use case – you must have this token to play in some game that you will probably desire to play in. The very best utility tokens are the ones which put the token holder in the position of supplying tokens to businesses who would be able to effectively make use of the platforms in question.
Market
There doesn't have to be a market in order for an ICO to score well in this category – but if it intends to create one, the argument has to be extremely compelling.
If there is an existing market, questions here involve whether it is ripe for disruption, whether the technology enables something better, cheaper, or faster (for example) than existing solutions, and whether the market is historically amenable to new ideas.
Competition
Most ideas have several implementations. If there are others in the same field, the analyst needs to ensure that the others don't have obvious advantages over the company in question.
Moreover, this is the place where the analyst should identify any potential weaknesses in the company's position moving forward. For instance, a fundamental weakness in the STORJ system is that the token is not required for purchasing storage.
Timing
With many ICO ideas, the timing may be too late or too early. It's important for the analyst to consider how much demand there is for the product in question. While the IPO boom funded a lot of great ideas that eventually did come to fruition, a good analyst would recognize when an idea is too early, too late, or just right.
Progress To Date
Some of the least compelling ICO propositions are those that claim their founders will achieve some far-off goal, sometime in the future, just so long as they have your cash with which to do it.
More interesting (usually) is the ICO that seeks to further some progress along the path to success, and which has a clearly-identified roadmap with achievable and reasonable milestones along the way. Founders who are already partially-invested in their products are generally more invested in their futures.
Community Support & Hype
Having a strong community is one of the fundamental building blocks of any strong blockchain project. It is important that the project demonstrates early on that it is able to generate and build a strong and empowered support base.
The ICO marketplace is becoming more crowded and more competitive. While in the past it was enough to merely announce an offering, today's successful ICO's work hard to build awareness and excitement around their offering.
Price & Token Distribution
One of the biggest factors weighing any analysis is price. The lower the price the more there is to gain. But too low of a price may result in an under capitalized project. It is therefore important to evaluate price relative to the individual project, its maturity and the market it is going after.
The total supply of tokens should also be justified by the needs of the project. Issuing a billion tokens for no reason will do nobody any good.
Communication
Communication is key. The success of a project is strongly tied to the project leaders' ability to communicate their goals and achievements.
Things don't always go as planned but addressing issues and keeping the community and investors in the loop can make or break a project.