TenX Card: Is It Too Little, Too Late?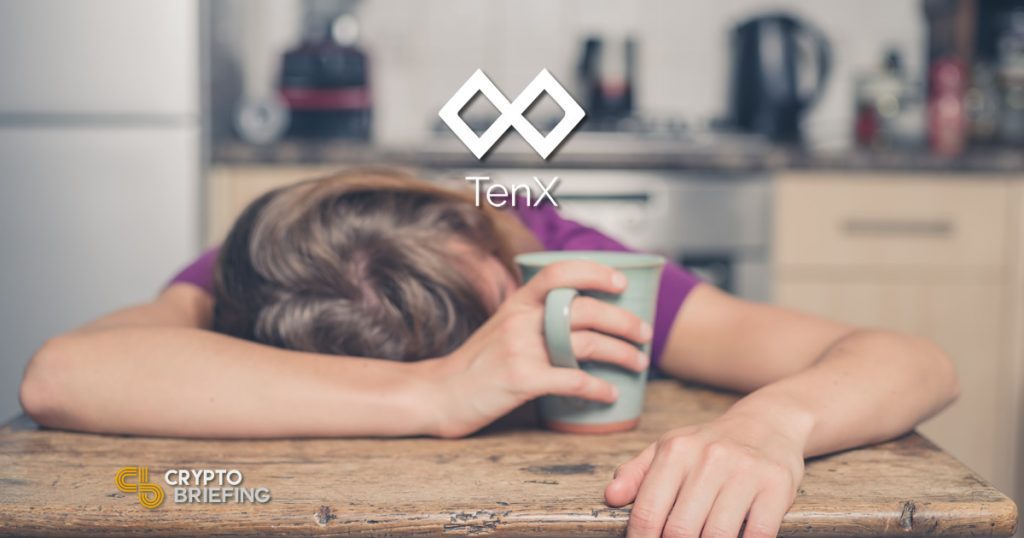 Dr. Julian Hosp et al. gave the cryptocurrency community a sneak preview of the new TenX card, earlier this week.
TenX (PAY) announced on Twitter that the final card design had been approved, with physical cards now ready to be shipped. Cards will be out-rolled first to Singapore – where TenX is based – before expanding across the Asia-Pacific (APAC) region; the company will then focus on the European market.
TenX is a payments network that plans to enable users to spend their cryptocurrency on everyday purchases. The network can perform rapid token swaps from the selected digital asset into the appropriate fiat currency, to buy something in a supermarket and functions largely as a debit card. Cryptocurrency is spendable anytime and this simple card in conjunction with Visa is surely a step towards a full cryptocurrency credit card that is fully decentralized.
There is also a mobile wallet app: the TenX wallet. Cryptocurrencies currently featured include ether (ETH) and bitcoin (BTC), with Litecoin (LTC) being added in mid-April. The company has said it will expand to other cryptocurrencies in the future and the TenX wallet could channel any number of virtual currencies through the Visa payment gateway.
Using Visa as a payments processor, which can confirm 8,000 transactions per second, saves the network having to tackle scalability issues that have prevented cryptocurrencies like ether (ETH) and bitcoin (BTC) reaching their full potential.
That provides a fully functioning debit card that skirts the immediate issue of crypto mass adoption. Crypto cards are set to be big business, so is the TenX card and TenX wallet the killer crypto payments solution we have been waiting for? Making crypto spendable, and therefore relevant, is half the battle when it comes to cryptocurrency mass adoption and a potentially massive spike in the cryptocurrency market.
A virtual card that works with a small ATM fee, or none at all, anywhere in the world, would find a powerful following. But the company behind it needs to deliver a physical card that makes cryptocurrencies spendable anytime.
A virtual card and app is a product the world wants, but it remains to be seen whether that card is linked to a TenX wallet. In essence the card is a physical key to an online crypto wallet and a payment gateway. Other crypto cards are working on their own solutions and Stripe has invested heavily in Stellar. So the bare bones are there for crypto credit cards in various forms.
TenX Must Deliver
Sleek and black; stamped with the Visa logo, the TenX card looks good. That said, the company has failed yet again to provide a timeframe for users, promising cards will be with the community 'soon'. Few will be surprised.
Final card design approved by Issuer. Physical cards ready. If you're wondering about names+number, at the back for cleaner design and easier to take pics/share. Can't give you timeframes but please stay tuned for updates. Thanks for your patience #TenX community! #whensoon pic.twitter.com/l1aI3cEp7F

— TenX (@tenxwallet) August 20, 2018
---
TenX card: over-promising and under-delivering.
TenX had the perfect opportunity to launch its cards during the crazed market hype. The company initially planned to release working payment cards in Q1 2018 (and even shipped cards to a handful of users in Europe at the start of the year) but had to delay indefinitely: theTenX card supplier, Wavecrest, lost its card-issuing license for a series non-compliance problems.
Although the initial fault was not theirs, TenX has only made matters worse. Users complain about the company's lack of transparency, and their refusal to give a clear timeframe for when they can expect working payment cards to be released. Some have also taken issue with its list of priorities, criticising the decision to rebrand last month when a working product has yet to be released.
That the PAY token price has barely shifted shows a lack of enthusiasm for TenX's announcement.
After peaking at over $5.00 in January, the TenX Pay token is barely reacting to the latest news, and is lower now than it was seven days ago. After the initial enthusiasm, the crypto community may have lost faith in the app and card solution that looks supremely simple on the surface.
The delays don't look good. Since TenX depends on the blockchain technology, the TenX wallet and the card itself for its value, the TenX PAY token has taken a hit as consumer confidence started to slide.
It's not just the crypto cards that have been delayed. TenX has a confirmed Bank Identification Number (BIN), a prerequisite for any card issuer, but its plan to become a fully-licensed bank (mentioned in a blog post from late January), which it had previously set for Q2 2018, hasn't happened. There's no mention of it on the company's website.
Over-promising and under-delivering is a very bad combination for any business; but TenX is not the only company out there looking to create crypto-payment cards. If the debit card leads to a credit card and that leads to a Peer-to-peer lending network then TenX will have simply gone the long way round.
The app and debit card are actually a solid start along this road, but Visa's involvement means there's a centralized aspect to the payment system that goes against the true spirit of crypto.
Monaco, a company that also rebranded, and spent a rumored $10M on the 'crypto.com' domain, is also busy developing crypto visa credit cards that come with a reward system to incentivize users. The company claims the cards, currently undergoing testing, will be able to work with seven fiat currencies and five cryptocurrencies, as well as a token, pegged to the dollar, USDM.
A quick look at the Crypto / Monaco website shows milestones such as "Coming Soon – MCO Visa cards ship in Asia. Coming Soon – MCO Visa cards ship in Europe. Coming Soon – you get the idea.
---
TenX is quick to throw their hands up in the air and say it wasn't their fault; they can't control the whole host of "external factors" that have caused the series of delays. This may work once or twice, but it soon wears thin.
Announcing the TenX card (without giving a date) is too little, too late.
The author is invested in BTC and ETH, which are mentioned in this article.