Tether Steals Fourth As Crypto Markets Slump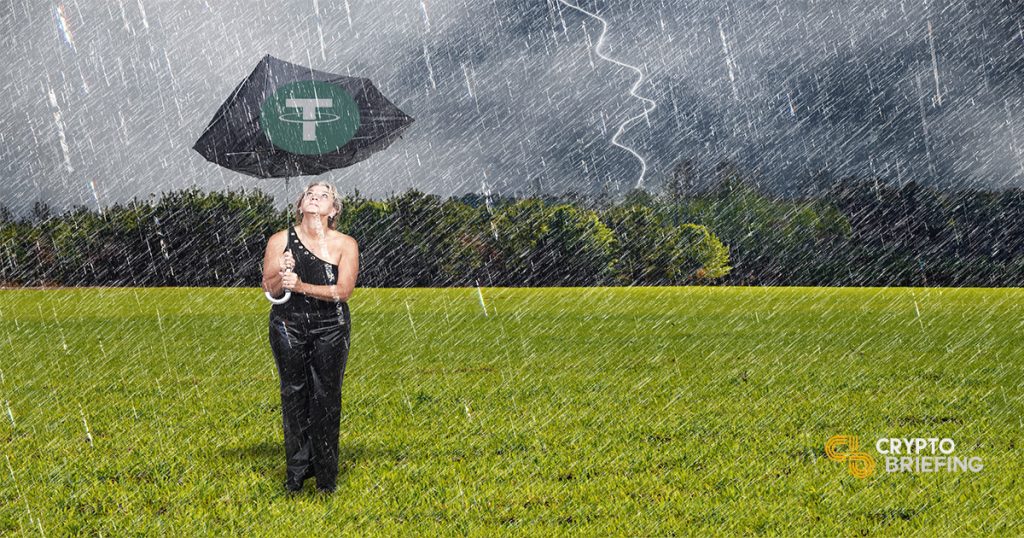 Stablecoin Tether (USDT) has become the fourth largest cryptocurrency by market cap on Monday, as the bear cycle pushes investors towards preserving value.
Tether's market cap overtook that of EOS at around 15:00 GMT. Although Tether's market cap has been stable around the $2.03bn mark for the past week, EOS has suffered from a significant drop; the platform token lost approximately $200M from its total value in the same time frame.
At the time of writing, the USDT market cap was at $2,03bn, whereas that of EOS stood at $2.01bn, a $20M difference.
The gap is widening. The EOS price is down 7% – from 2.32 to 2.22 per token, whereas Tether – a USD-pegged stablecoin – has stayed at the same price. The only way in which the USDT market cap can change is from users depositing or withdrawing dollars held in trust by Tether Limited, although there have been some doubts as to whether each USDT is truly backed by dollars in the bank.
According to its whitepaper, the Tether Organization mints more USDT when dollars are deposited, on a 1:1 ratio.
David Thomas, Director of GlobalBlock, explained: "The last 24 hours has presented a down day across the market other than Tether and TrueUSD and it is not so much that their market caps have increased but more that everyone else has fallen back."
Today's news means that Tether is only smaller than Bitcoin (BTC), XRP and Ether (ETH), in that order. But, the gap between the USDT and ETH market caps is still very large. Ether is currently at $10.9bn, meaning around $8.5bn would have to be deposited in Tether's reserves for the stablecoin to become the third largest cryptocurrency.
---
How did Tether become #4?
The extended bear cycle makes traders nervous about investing more value into cryptocurrencies. Since the beginning of September, crypto's market cap has collapsed by half. A bull market has so far failed to materialize. When VanEck SolidX decided to withdraw its Bitcoin ETF application last week, one of the sector's main hopes went up in smoke.
Mati Greenspan, the senior market analyst at eToro, explained to Crypto Briefing that Tether's move to number four is a sign that investors are looking to preserve value. "[There's] a lot of uncertainty in the market. Bitcoin is consolidating near the lows, which is a scary thought even for the most bullish trader," Greenspan said. "[Tether] is a default option for many traders, basically meaning that they're not long or short at the moment."
The fact that investors, like groundhogs, are still fleeing their own shadows may indicate that this winter is getting an unexpected continuance, Greenspan suggested. "Moving to USDT basically means they're staying out."
---
The author is invested in digital assets, including BTC and ETH which are mentioned in this article.