Tether: Lower Price May Signal Switch To Regulated Stablecoins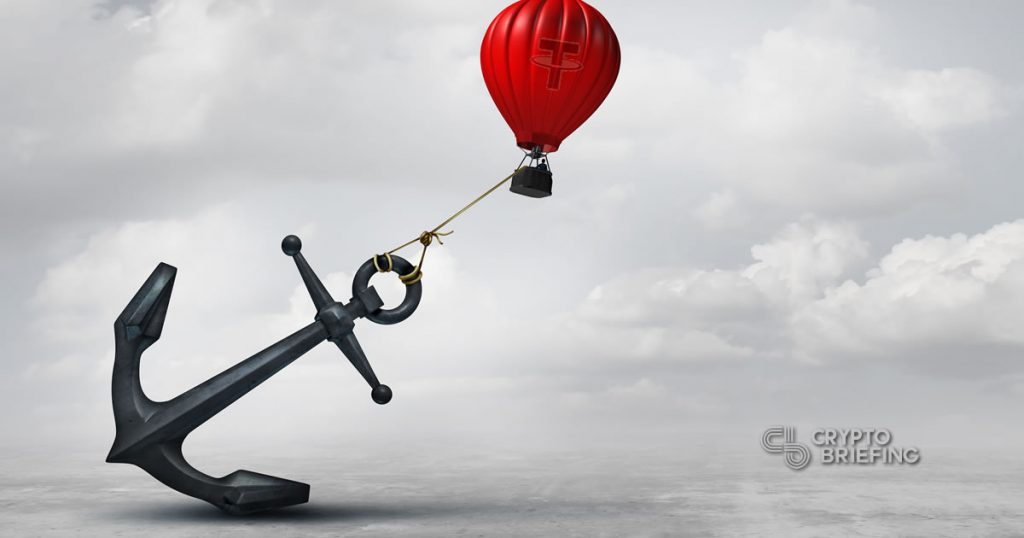 Tether (USDT) dropped on Monday to $0.95 for the first time since May 2017, losing nearly 3% as daily trading volume spiked to $5 billion. USDT's loss is noteworthy given that Monday's rally saw a wave of green on CoinMarketCap, representing gains for most cryptos. Since Sunday, cryptocurrencies have surged nearly $13 billion in market capitalization led by Bitcoin 6%), Ethereum (6.44%) and Ripple (7.45%).
Tether's all-time low was $0.91 back in April 2017. It's supposed to be pegged 1:1 with the U.S. dollar but concerns remain over transparency and proof of reserves. Tether is among four cryptos in the top 50 that lost value in early Monday trading, joining Ox (-3.14%), Lisk (-1.24%) and Steem (-0.72%). Since Oct. 6, Tether's market cap has lost $400 million, decreasing from $2.8 billion to $2.4 billion.
Last month, Singapore-based exchange DigiFinex listed a regulated stablecoin, TrueUSD (TUSD), after stating on its website that TUSD's fiat reserves and periodic auditing make it safer than Tether. DigiFinex (like other exchanges) has recently listed other regulated coins that are tied to the dollar. These include USD Coin (USDC), Gemini Dollar (GUSD) and Paxos (PAX). Circle.com, which unveiled USD Coin, is backed by Goldman Sachs, Chinese mining giant Bitmain and other big investors, reflecting growing acceptance of tokenized sovereign currencies.
Tether's trend could signal investors' preference for moving funds towards (what are perceived to be safer) regulated and audited coins. TrueUSD and others (mentioned above) are periodically audited by independent accounting firms.
---
Regulated Stablecoins Rise In Value
While these coins are supposed to mimic the dollar in price, they surged in value during Monday's rally. If investors continue to trade Tether for other cryptos and stablecoins, that could lead to uptick in prices for these tokens at the expense of USDT.
As of press time TrueUSD (TUSD), which is the only other stablecoin in crypto's top 100, surged to $1.07 with its highest ever 24-hour trading volume of $57 million and market cap of $144 million. TrustToken, a regulated money services business with U.S. treasury, launched TrueUSD in early 2018. It's also the first U.S. regulated stablecoin.
Similar coins increased as well. Gemini dollar (GUSD) rose 3% to $1.04 while USD Coin (USDC) surged 8% to $1.09. Paxos increased by nearly 4% to $1.06.
TrueUSD currently trades on more than 30 exchanges around the world. The venture raised $20 million from investing powerhouse Andreessen-Horowitz. Its mission is to tokenize physical assets such as real estate, cars, artwork and commodities.
People should use TruseUSD because it's the "world's first stable coin company which receives the MSB license from U.S. regulators," according to DigiFinex in a Sept. 14 blog. "The owner of TUSD is the beneficiary of the funds in the account. The fund can be converted into US dollars by wire transfer or other channels."
The Singapore-based exchange added that "third-party accounting firm (Cohen & Co.) will periodically audit the US dollar in the escrow account, which is used as the guarantee for TUSD. It will publish the verification of audit result as well."
The author holds digital assets, but none mentioned in this article.