Tone Vays Is Still Dressing For Crypto Winter
Tone Vays is decidedly downbeat on bitcoin.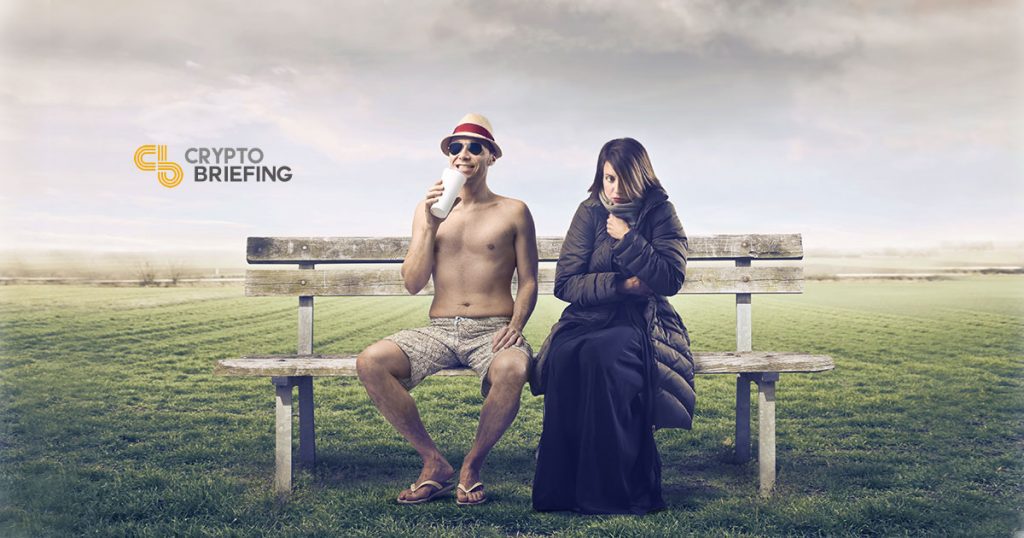 It's almost July, but some bitcoiners are still wearing their coats. Tone Vays, former Wall Street executive turned Bitcoin maximalist, reckons that winter may not yet be over.
Bitcoin has more than doubled this year, and the entire crypto market has seen more green than the streets of Vancouver. And while everyone has a right to make predictions, it helps to ground them in some evidence. So why is Vays so gray?
---
A Wall Street Refugee, Freedom Advocate, Gamblin' Man
Vays seems to have a liking for high-priced and highly visible bets. On March 5, the YouTube content creator made a $250,000 bet that bitcoin would fall below $2,000 before the 2024 halving:
Here is my bet offer as I take off on a 17hr flight:
If #Bitcoin drops under $2K you give me 100 $BTC = $200K that day.
If it does NOT drop under $2K, I give you $250K or 1 BTC (whichever has a higher $ denominated value)
I have until 2024 halving to be sure $2k won't happen 🙂

— Tone Vays (@ToneVays) March 5, 2019
That is some distance away and a brave bet. And while he has since partially walked that back, Vays still insists the crypto winter is not over yet.
"[I don't see] too much external money coming into the [bitcoin and cryptocurrency] space," he said.
---
Every Gray Cloud Has a Silbert Lining
It could depend on where you're looking. Barry Silbert recently reported quarterly figures for Grayscale Investments, a boutique crypto investment fund manager. According to these figures, company enjoyed capital inflow increases of 42 percent from Q4 2018 levels.
Even more notable was the source of those inflows: 73 percent came from institutional investors. To Silbert, that's a sign that investors are eyeing a market entry opportunity:
It seems rather unusual that an analyst and former JPMorgan VP does not see numbers that are being reported by a highly respected investment company.
---
Glass Half Empty, Glass Half Full
Silbert could be taking a glass half full approach, but numbers don't lie. And since Tone Vays brought it up, it would be instructive to mention bitcoin's impending block reward halving, set for around May 2020.
The last two halving events drove bitcoin prices higher, and the trend typically begins about a year before the halving. Indeed, Silbert alluded to the impending halving when elaborating on Grayscale's figures:
---
Warnings To The Choir
Vays remains a bitcoin advocate, and did temper his predictions with the this-is-not-advice kind of advice: "everyone should have some bitcoin." And who's to say his gloomy prediction won't end up being correct?
He may be expecting a correction, which would be a natural market phenomenon for an asset class whose prices have doubled in six months. Bearish sentiment is always part of the picture in a market that is healthy and functioning properly.
Tone Vays is still a respected figure in the bitcoin community, but this is one debate where he's likely to be outnumbered. He may yet turn out to be right. On the other hand, if the majority of traders are correct, Vays could be struggling to see the light for the haze.