Bumble Bee Foods Uses Blockchain To Track Tuna
Using blockchain to make sure there's nothing fishy about your tuna.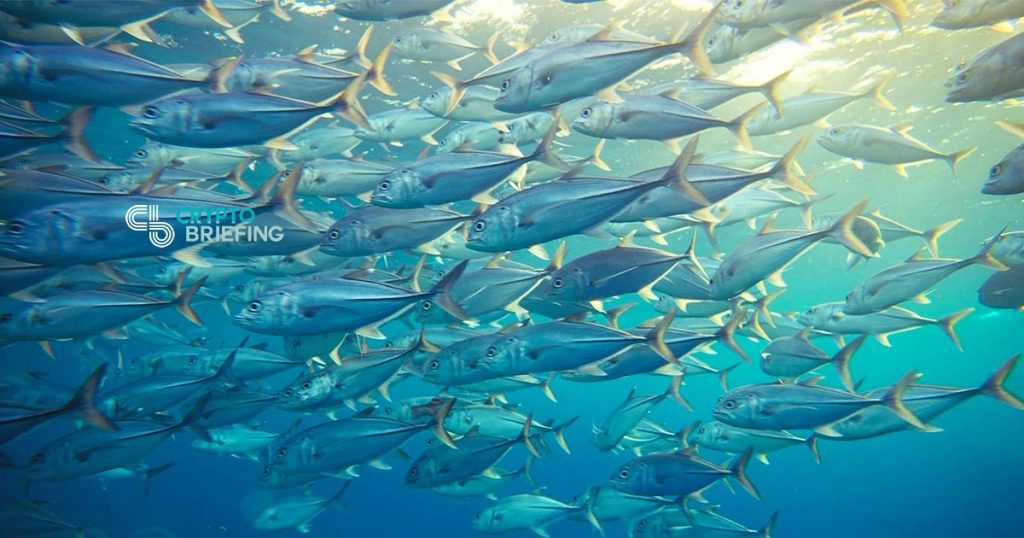 The next time you eat a tuna sandwich, think about where it came from. You might enjoy your lunch a bit more if you knew it was sustainably harvested, with the help of blockchain technology.
Aiding this possibility is SAP, a cloud-based blockchain platform, and Bumble Bee Foods, a shelf-stable seafood company based in North America. Bumble Bee is using SAP's services to track the journey of yellowfin tuna from an Indonesian fishing village to a nearby port city processing plant before finally reaching grocery stores in the US.
Founded by a handful of fishermen 120 years ago, Bumble Bee Foods is aiming to transform the company in bold ways that include product innovations and a fight for the long-term health of our oceans, said Tony Costa, CIO of Bumble Bee Foods, to Crypto Briefing.
"SAP's blockchain technology allows us to trace all tuna entering the supply chain and ensure it is legally harvested while meeting our International Seafood Sustainability Foundation sourcing commitments and the highest standard for quality assurance and food safety worldwide," Costa said.
By simply scanning a QR code on the product package, consumers and customers can access the origin and history of Bumble Bee Foods' Natural Blue yellowfin tuna with the blockchain. This information will track the entire fish-to-market journey, including the size of the catch, where it was caught, and the fishing community that caught it. Additional information will show the authenticity of the catch, its freshness, safety, fair trade fishing certification, and sustainability.
These fair-trade certified ahi (as yellowfin is often marketed) tuna steaks can be found in 12 oz. bags at retailers nationwide, including Albertsons, Hy-Vee, Price Chopper, and Safeway.
With consumers becoming increasingly aware of, and concerned about how their food is sourced, the food industry needs to take a proactive approach to making safety and sustainability a top priority.
For Gil Perez, senior vice president of products and innovations and head of digital customer initiatives at SAP, the aid of the blockchain can establish a higher level of trust and assurance in the quality of food and products being sold.
"Consumer demand for such information and certification will trigger multiple companies to follow and eventually the majority of the industry will adopt this as an 'industry standard practice,'" Perez told Crypto Briefing. "I am certain that this usage of blockchain in the enterprise will be good for the consumer, the industry, and save lives."
---
Blockchain Applied to Food Traceability
When it comes to the use cases involving the blockchain, food traceability is a good example, and its impact is clearly visible to consumers.
According to Perez, there are five reasons why food traceability is a good example of blockchain use cases:
Price sensitivity. When consumers can verify a certain product or food – in this case tuna – it creates additional value and consumers are willing to pay extra for it.
Sustainability and customers' preference. Companies who are acting in an environmentally responsible and sustainable manner want to show this to their customers, as it impacts the demand for their product and amplifies the companies' vision and promotion of a sustainable and safe planet.
Quality. By tracking the product from start to finish and enabling improved visibility of the entire life cycle, while also sharing the data with all stakeholders, it results in an improved quality of the product.
Regulation. In industries where regulation is required, the use of the blockchain to track products end-to-end can significantly simplify and help in addressing current and future regulation guidelines.
Ability to take action. Creating transparency and visibility of the entire supply chain has limited value if it can't be couple with actions.
"In the food industry, there are countless examples of food recalls," Perez said. "Having a blockchain-based traceability of goods can and should help consumers, companies, and regulators act quickly and contain – and hopefully in the future also prevent – food recalls more efficiently."
Perez added that any industry with these characteristics would be a good use case for blockchain technology. The pharmaceutical industry, the energy industry, and others are already exploring blockchain use-cases.
---
Turning to Technology
Interest in the blockchain continues to grow at a quickening pace. Many new use cases are cropping up, using the technology to improve services.
In February, Crypto Briefing reported that a blockchain-based ticket authenticity and fan identity management company was using the technology to prevent ticket fraud. Another was employing the blockchain to streamline the patent system.
Tracking yellowfin tuna is just one example of how the technology is being used. But this one is likely to strike a chord with many consumers, who may not know much about tech but care deeply about environmental sustainability.