Treasury Revives Russian Sanctions Referencing Crypto
A 2021 U.S. executive order that includes limitations on digital assets will be expanded upon in the wake of Russian aggression against Ukraine.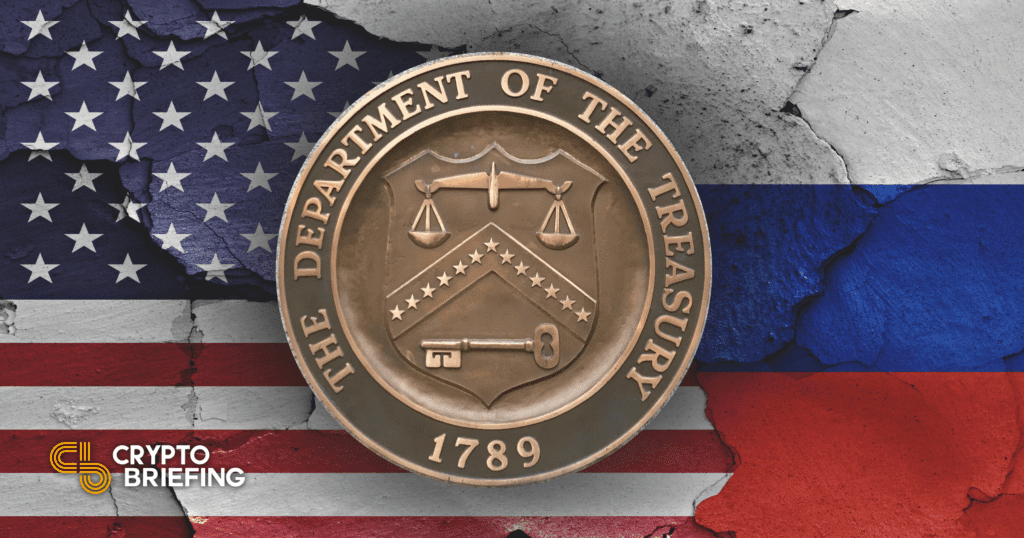 Key Takeaways
The U.S. Treasury has published a document suggesting that sanctions against Russia from last year will be expanded upon.
Those sanctions originated in an executive order from April 2021, which resulted from findings related to election interference.
One section of the order targets actors who engage in deceptive transactions involving digital currencies.
The U.S. Treasury has published a document indicating that it will expand upon sanctions against Russia put in place last year. One section makes specific reference to digital currency.
Executive Order Mentions Cryptocurrency
The current document explains that the U.S. Treasury's Office of Foreign Assets Control (OFAC) is "adding regulations to implement an April 15, 2021 Russia-related Executive order."
This executive order in question is titled "Blocking Property With Respect To Specified Harmful Foreign Activities of the Government of the Russian Federation." The order was created last year when the Biden administration found that Russia interfered with U.S. elections and other democratic activities in the country.
One section of the order targets individuals who are engaged in "deceptive or structured transactions or dealings to circumvent any United States sanctions, including through the use of digital currencies or assets or the use of physical assets."
That phrase was also found in the original 2021 version of the document and attracted attention at the time. The Treasury initially used the order to add 28 crypto wallets to a blacklist.
It is not clear how whether the rules around digital transactions will be affected by today's news. The Treasury's notice says that it could issue guidance and definitions, general licenses for certain types of transactions, and provisions for the order as a whole.
U.S. Sanctions Against Russia Continue
Though the executive order makes reference to events that occurred last year, such as election interference, the decision to expand upon the original order is undoubtedly tied to ongoing measures against Russia in the wake of its invasion on Ukraine.
Today, Biden announced new sanctions against Russia's central bank, a decision that will prohibit American entities and citizens from transacting with Russia's main financial institution.
The Biden administration imposed several other sanctions that limit Russia's ability to make financial transactions this month. On Feb. 26, the U.S. and allies removed Russian banks from SWIFT. On Tuesday, Feb. 22, the U.S. announced the first sanctions against two Russian financial institutions and high-ranking individuals within Russia.
Cryptocurrency exchanges are also responding to calls to block Russian users, though those calls have originated from Ukraine's vice prime minister rather than the United States. Two exchanges—Binance and Kraken—have indicated that they will not honor this request unless legally required to do so.
Disclosure: At the time of writing the author of this piece owned BTC, ETH, and other cryptocurrencies.