Trias ICO Review and TRY Token Analysis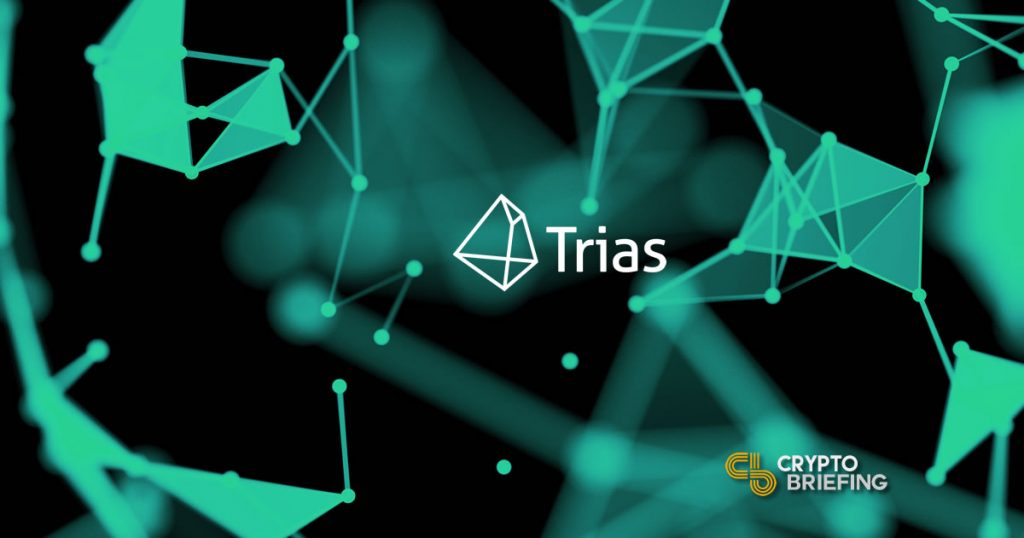 Trias ICO Overview
The Trias ICO and TRY token sale are raising funds to launch a decentralized, general-purpose computation infrastructure based on trust, to ensure distributed systems behave in a deterministic manner. Offering a product that combines trusted hardware with graph computing, Trias aims to increase throughput across a wide array of dApps and underlying platforms through an advanced development framework and collaborative ecosystem.
Trias ICO Value Proposition
The possibility of running general-purpose dApps on common devices like PCs and mobile phones presents a number of challenges that require attention for a viable ecosystem to flourish. Reaching consensus via mechanisms like PoW requires high amounts of computation resources, and network congestion presents a limitation on the number of programs that can run in parallel.
The layer 1 solution offered by Trias enhances public blockchains through enforcement of trusted relationships between consensus nodes, reducing the amount of overhead resources expended on network communication (and thereby, increasing tp/s).
The layer 1 solution in essence serves to prove block generation occurs as written, recording transaction validation details, ordering of blocks and corresponding fees, while allowing all nodes to generate blocks concurrently. Employing Trusted Execution Environments (TEE) for attestation, Trias mitigates potential threats to transaction speed through HashGraph, cutting down on the need for network communication and enhancing propagation. Trias has three subsystems:
Leviatom provides a network of TEEs to ensure the correct execution of general-purpose software. At its core, Leviatom utilizes a Heterogeneous Consensus Graph (HCGraph) algorithm, which combines multiple TEE hardware technologies with graph computing similar to Hashgraph. Employment of TEE in conjunction with graph computation algorithms allows Trias to quickly complete attestations among a large-scale network of distributed nodes.
Prometh offers a traceable development framework for establishing the functions and security properties of general-purpose software. With Prometh, critical information from the lifecycle of any software is recorded on the blockchain, including stages of development and distribution. Prometh also motivates network participants to apply formal verification through both automatic and manual examinations on the recorded information.
MagCarta is a smart contract language for defining dApp consensus strategies. MagCarta schedules and coordinates Prometh applications on the Leviatom computing network. It also acts to enforce self-defined consensus algorithms for determining the correctness of each invocation, and provides a means to set reward parameters for Leviatom and Prometh contributors.
The Trias token (TRY) provides the sole means of executing transactions and providing rewards on the network. The Trias network has three types of nodes: verifiers, routers and executors. Verifiers examine the trustworthiness of surrounding nodes through TEE-based "verification as mining". Routers collect verification data, disseminating information through gossip algorithms to network peers, constructing a "web-of-trust" in the process. Finally, executors run Prometh applications and are rewarded for their contribution of compute and storage resources.
Trias ICO Team
Ruan Anbang is the Founder and CEO of Trias and parent company Octa Innovations.
He holds a MEng in Computer Security from Peking University and a PhD in Computer Science from Oxford. Before bringing Trusted Computing expertise into the business realm, Anbang spent nearly 2 years as a Research Associate at the Oxford e-Research Center focused on Trusted Cloud Computing development. He has 21 published articles in the field of Trusted Computing, spanning the course of a decade.
Wei Ming is the Co-founder and CTO of both Trias and Octa Innovations. He holds an MSc and PhD from Peking University. Prior to co-founding Octa Innovations, Wei Ming spent 6 years at Beijing Shenzhou Aerospace Software Technology Co., where he was a Lead Software Architect.

Hao Shuang serves as CMO of Trias and PR Director for Octa Innovations. Shuang has previous experience as a PR Manager at both Tsinghua University and NetEase. From 2014 to 2016, Shuang spent 2 years with China News Service as a journalist. She holds a Master's degree in Media Management from Hong Kong Baptist University.

A complete list of the 8 founding team members can be found in section 6 of the Trias Whitepaper. Trias has yet to publicly announce project advisors.
Trias ICO Strengths and Opportunities
Many blockchain projects that incorporate TEEs tend to rely solely on integration with Intel SGX. Reliance on a specific hardware device invariably leads to a dependence on the centralized body responsible for the overall integrity of the product. TEE-based solutions that are only compatible with one type of hardware device also leave open the possibility of vulnerabilities, such as the recently discovered weakness in Intel SGX by scientists at Ohio State University.
Trias breaks with this dependency on hardware technology from a single provider for attestation. Instead, support for a range of TEEs is provided by the network. Besides Intel SGX, Trias initially plans to support Intel TXT, ARM TrustZone, and TCG TPM.
The Trias team is at the forefront of TEE-based distributed systems. Parent company, Octa Innovations, focuses on developing information-security products that rely heavily on TEEs for trusted computing. The most recent offering by the company is a private blockchain-driven enterprise security system, implementing several of the core components that comprise Trias, including Prometh.
Ruan Anbang himself has a demonstrable track record of published research on trusted computing and distributed systems spanning a decade. The previous experience of the team developing and deploying TEE-integrated blockchain tech for enterprise application scenarios strongly supports the ambitions of the project.
Trias ICO Weaknesses and Threats
While Trias has developed a partnership with Beijing University through the formation of a joint research lab, cooperation agreements with enterprises and other blockchains that would benefit from a layer integration have yet to be established.
Formation of real partnerships that demonstrate the myriad of potential use case scenarios of Trias will be an important stepping stone for the product. As of yet, progress in this area remains scarce and the roadmap provides little indication of what strategies Trias plans to deploy to this effect.
The Verdict on the Trias ICO
The Trias ICO offers an innovative product that leverages the benefits of hardware-based attestation with the high-throughput capability of graph computation algorithms to address crucial fault points in existing blockchain networks.
The established expertise of the core team in the realm of trusted computing and its application to distributed networks is a significant indicator toward the future prospects of the Trias ICO. While progress is still to be made building the ecosystem, an overall assessment of the fundamentals points to a strong project.
Additional Information
We have been in discussions with the Trias ICO team and our ratings are based on conversations and information that they have asked us to keep confidential. Please note that our review does take into consideration the token data that has been shared with us, but we have been specifically requested not to share the token metrics that we have seen at this point. We will share them as soon as they are made available by the team.
The Trias ICO team has a Telegram Group at https://t.me/triaslab and a Chinese group at https://t.me/TriasChinese for more immediate updates.
As a Top 5% rated project, we intend to participate and will make a medium bet on Trias.
Update, November 2018: As previously declared, members of our team participated in the Trias pre-sale.
Learn more about the Trias ICO in our 5500+ member Telegram Group.
---
We have rated hundreds of projects to unearth ICOs in which members of our team intend to invest.
We won't often go into further depth on projects that we don't consider as candidates for our investments after the initial rating process, which is why you will usually see our stamp on our detailed ICO reviews – they are the best we have found. However, on occasion, we might also rate a well-hyped project that does not meet our personal investing criteria.
The Crypto Briefing Top 5 stamp is awarded to ICO projects that we rate in the top 5% of all projects.
TRIAS ICO REVIEW SCORES
SUMMARY
The Trias ICO literature is not for novice readers. It's not what we'd describe as 'user-friendly' to many outside the blockchain world. The first line of their website declares them to be "An all-platform-supported native-application-compatible smart contract execution platform, development framework and collaborating ecosystem". This is important – it is indicative of the fact that the most promising recent private blockchain companies are putting tech ahead of promises of new dawns. Trias is, from a technical perspective, an exciting and creative new push for a decentralized and trust-based autonomous blockchain. Looking closely at Trias we see a serious, long-term, well-considered business. And that's what will be instrumental in the assimilation and adoption of blockchain technology, in the end.
Founding Team……………………….8.6
Product…………………………………..8.3
Token Utility…………………………..9.2
Market…………………………………..8.5
Competition…………………………..8.4
Timing……………………………………8.8
Progress To Date……………………7.4
Community Support & Hype…..8.8
Price & Token Distribution……..8.5
Communication……………………..9.5
FINAL SCORE……………………….8.4
UPSIDES
Team has developed much of the underlying tech and possess domain expertise

Core developers have blockchain development experience

Significant organic community support for early-stage project
DOWNSIDES
Pilot-projects with enterprises or other blockchain platforms yet to be announced

Current marketing efforts relatively low-scale
Today's Date: 8/14/18
Project Name: Trias
Token Symbol: TRY
Website: https://www.trias.one/
White Paper: https://www.trias.one/whitepaper
Additional Information: http://t.me/triaslab
DISCLAIMER
The team at Crypto Briefing analyzes an initial coin offering (ICO) against ten criteria, as shown above. These criteria are not, however, weighted evenly – our proprietary rating system attributes different degrees of importance to each of the criteria, based on our experience of how directly they can lead to the success of the ICO in question, and its investors.
Crypto Briefing provides general information about cryptocurrency news, ICOs, and blockchain technology. The information on this website (including any websites or files that may be linked or otherwise accessed through this website) is provided solely as general information to the public. We do not give personalized investment advice or other financial advice.
Decentral Media LLC, the publisher of Crypto Briefing, is not an investment advisor and does not offer or provide investment advice or other financial advice. Accordingly, nothing on this website constitutes, or should be relied on as, investment advice or financial advice of any kind. Specifically, none of the information on this website constitutes, or should be relied on as, a suggestion, offer, or other solicitation to engage in, or refrain from engaging in, any purchase, sale, or any other any investment-related activity with respect to any ICO or other transaction.
The information on or accessed through this website is obtained from independent sources we believe to be accurate and reliable, but Decentral Media LLC makes no representation or warranty as to the timeliness, completeness, or accuracy of any information on or accessed through this website. Decentral Media LLC expressly disclaims any and all responsibility from any loss or damage of any kind whatsoever arising directly or indirectly from reliance on any information on or accessed through this website, any error, omission, or inaccuracy in any such information, or any action or inaction resulting therefrom.
Cryptocurrencies and blockchain are emerging technologies that carry inherent risks of high volatility, and ICOs can be highly speculative and offer few – if any – guarantees. You should never make an investment decision on an ICO or other investment based solely on the information on this website, and you should never interpret or otherwise rely on any of the information on this website as investment advice. We strongly recommend that you consult a licensed investment advisor or other qualified financial professional of your choosing if you are seeking investment advice on an ICO or other investment.
See full terms and conditions for more.
Founding Team
This category accounts for the leaders, developers, and advisors.
Poor quality, weak, or inexperienced leadership can doom a project from the outset. Advisors who serve only to pad their own resumes and who have ill-defined roles can be concerning. But great leadership, with relevant industry experience and contacts, can make the difference between a successful and profitable ICO, and a flub.
If you don't have a team willing and able to build the thing, it won't matter who is at the helm. Good talent is hard to find. Developer profiles should be scrutinized to ensure that they have a proven history of working in a field where they should be able to succeed.
Product
What is the technology behind this ICO, what product are they creating, and is it new, innovative, different – and needed?
The IOTA project is a spectacular example of engineers run amok. The technology described or in use must be maintainable, achievable, and realistic, otherwise the risk of it never coming into existence is incredibly high.
Token Utility
Tokens which have no actual use case are probably the worst off, although speculation can still make them have some form of value.
The best tokens we review are the ones that have a forced use case – you must have this token to play in some game that you will probably desire to play in. The very best utility tokens are the ones which put the token holder in the position of supplying tokens to businesses who would be able to effectively make use of the platforms in question.
Market
There doesn't have to be a market in order for an ICO to score well in this category – but if it intends to create one, the argument has to be extremely compelling.
If there is an existing market, questions here involve whether it is ripe for disruption, whether the technology enables something better, cheaper, or faster (for example) than existing solutions, and whether the market is historically amenable to new ideas.
Competition
Most ideas have several implementations. If there are others in the same field, the analyst needs to ensure that the others don't have obvious advantages over the company in question.
Moreover, this is the place where the analyst should identify any potential weaknesses in the company's position moving forward. For instance, a fundamental weakness in the STORJ system is that the token is not required for purchasing storage.
Timing
With many ICO ideas, the timing may be too late or too early. It's important for the analyst to consider how much demand there is for the product in question. While the IPO boom funded a lot of great ideas that eventually did come to fruition, a good analyst would recognize when an idea is too early, too late, or just right.
Progress To Date
Some of the least compelling ICO propositions are those that claim their founders will achieve some far-off goal, sometime in the future, just so long as they have your cash with which to do it.
More interesting (usually) is the ICO that seeks to further some progress along the path to success, and which has a clearly-identified roadmap with achievable and reasonable milestones along the way. Founders who are already partially-invested in their products are generally more invested in their futures.
Community Support & Hype
Having a strong community is one of the fundamental building blocks of any strong blockchain project. It is important that the project demonstrates early on that it is able to generate and build a strong and empowered support base.
The ICO marketplace is becoming more crowded and more competitive. While in the past it was enough to merely announce an offering, today's successful ICO's work hard to build awareness and excitement around their offering.
Price & Token Distribution
One of the biggest factors weighing any analysis is price. The lower the price the more there is to gain. But too low of a price may result in an under capitalized project. It is therefore important to evaluate price relative to the individual project, its maturity and the market it is going after.
The total supply of tokens should also be justified by the needs of the project. Issuing a billion tokens for no reason will do nobody any good.
Communication
Communication is key. The success of a project is strongly tied to the project leaders' ability to communicate their goals and achievements.
Things don't always go as planned but addressing issues and keeping the community and investors in the loop can make or break a project.