Police Called To Quell Wave-Field Protest Storm At TRON Beijing Office
TRON has denied this was a police raid, and claims it was a response to protesters.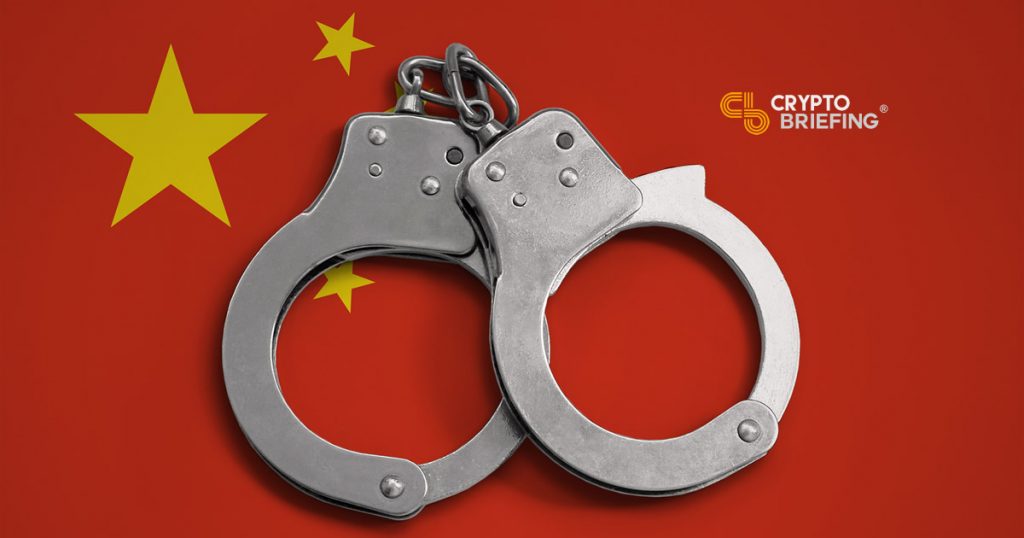 The offices of one of TRON's Chinese partners was the centre of a fracas today as victims of a scheme that had claimed to be affiliated with the company tried to disturb company employees as they came into work today.
A TRON spokesperson confirmed to Crypto Briefing that investors who fell victim to the "Wave-Field Super Community", a scheme that had been using TRON's Chinese name in order to raise tens of millions of dollars. According to the spokesperson, victims of the scheme had come into the Raybo office – which partnered with TRON in July 2018 – and created a disruption.
A TRON spokesperson said that the people – it is still unclear how many were involved – had become "quite irate" and police had been called in order to quell the disturbance and remove them.
"[A] number of people attempted to enter the office of Beijing research and development center of Raybo technology, a partner of TRON in mainland China," reads an official statement from TRON. Raybo employees ascertained many had been affected by the Wave-Field Super community scam and promised high returns for investing.
News first started coming in when a collection of videos taken on mobile phones, which appear to show approximately ten police officers standing outside an office entrance emblazoned with the TRON logo.
Chinese investors who fell for a #Tron $Trx related Ponzi scam storm the Tron Beijing office

It was basically a #Tron wallet promising guaranteed return with $trx deposits. Like #plustoken. pic.twitter.com/FkIZ4W2hbB

— ๑ THE CRYPTO PANDA ๑ (@PandaofBinance) July 8, 2019
The videos began circulating across various WeChat channels earlier today, before subsequently being uploaded onto Twitter. The initial response from the community was that this was a police raid, something TRON has now denied.
Police raids at #Tron offices in Beijing? Additionally, there's many angry people gathered there who are saying things like "Tron is a scam". $trx #trx @justinsuntron pic.twitter.com/qFykQErQu6

— Hayden Otto (@haydenotto_) July 8, 2019
TRX has dived at the news. The coin's total value stood at $2.3bn at around 10:30 BST, but in the past couple of hours has sunk by more than $100M, according to CoinMarketCap.
Representatives of the "Wave-Field Super Community" claimed to be closely affiliated with TRON and even one of the platform's 27 super representatives, which have key governance function in the ecosystem. In China, TRON is also referred to as "Wave-Field".
The controversy continued as founder and CEO Justin Sun did not publicly disassociate himself or TRON from the company, leading to investors putting as much as 200M CNY – approximately $30M – worth of TRX tokens into the scheme.
Although Sun published a warning on microblogging site Weibo about the dangers of investing in schemes which use the TRON name, he did not specifically mention the Wave-Field Super Community project.
Chinese publication Nuclear Finance reported last week that Sun may have been reluctant to disassociate himself from the scheme because it was actually increasing publicity in TRON as well as improving liquidity in the ecosystem.
The TRON spokesperson said it was not normal procedure for the company to comment on individual scams, even ones that claimed to be affiliated with them.
Today's raid comes at the worst possible timing for TRON, which has just launched its BitTorrent Speed token as a means to incentivize people to seed content.
Justin Sun confirmed that disruptions had taken place at a partner office."Continued sympathy for those defrauded; working with police to try to help," he tweeted.
In a statement, Sun added: "[T]here's a heightened responsibility from those disseminating news to be fair AND accurate. The twisting of events did nothing to help people who in some cases saw their life savings wiped out, while it hurt investors in the TRON community who saw the value of their holdings decline on fake news".
This article has been updated to reflect new developments and include official statements from both TRON and Justin Sun.