Trump's Chance at Re-Election Plummeted After He Attacked Bitcoin
Donald Trump's mishandling of the pandemic and civil unrest in the U.S. is dampening his re-election chances, and Bitcoin traders agree.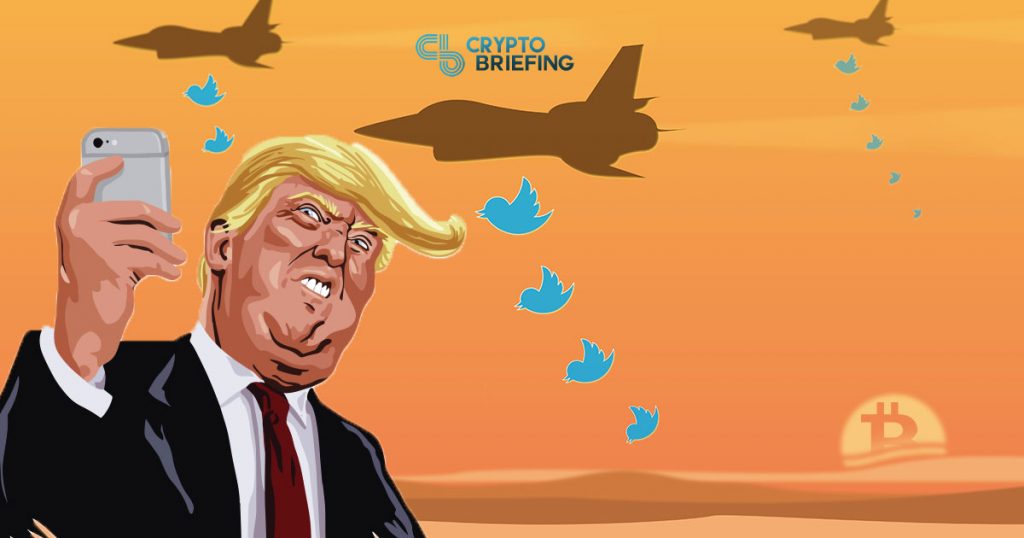 Key Takeaways
TRUMP contracts have plunged since their launch on FTX in February
TRUMP tokens, which pay out $1 if he wins, now sell for 44 cents
The slump in TRUMP contract prices comes after revelations that he wanted to target Bitcoin
Donald Trump's odds at re-election have fallen sharply, according to bets by crypto traders. Trump's chance at re-election has plummeted to 44%, compared to Biden's 52% likelihood of victory.
TRUMP Futures Plunge 30%
TRUMP futures contracts on FTX plunged from 62% when they were launched in February to 44%, as of press time. The tokens pay out $1 for a victory. TRUMPs now trades at 44 cents, translating to a perceived re-election chance of 44%.
The contracts are broadly in line with national polling data. A recent Fox poll, as reported by Politico, found the impeached Trump had slipped to 38% re-election chance. Now, 50% of respondents said they would vote for Democratic candidate Joe Biden.
A national poll from the Democracy Fund + UCLA Nationscape Project has Biden with a healthy 11-point lead over Trump, at 50-39.
Trump's handling of the coronavirus pandemic and the race riots following the death of George Floyd in Minneapolis have taken a toll on the president's polling numbers. His divisive administration has mishandled relations with China, dismantled the EPA, failed to respond to the coronavirus pandemic, and mismanaged tax and healthcare reform. Demonstrations against police brutality and Trump's handling of them mark the latest episode in a series of missteps since he was elected.
Crypto Traders Abandon Chaotic, Failed Presidency
The falling price of FTX TRUMP contracts contrasts with the price of BIDEN's, which are now trading at 52 cents. According to explosive revelations made by Trump's former national security advisor, John Bolton, in his book The Room Where It Happened, Trump told Treasury Secretary Steve Mnuchin, "Don't be a trade negotiator. Go after Bitcoin [for fraud]."
The book is slated for release June 23, and sections have already been leaked to the press. Crypto traders have been fast to abandon Trump as his chances of victory in the forthcoming presidential elections fall.
Trump's authoritarian response to the civil unrest following George Floyd's death and the mounting criticism of his mishandling of the coronavirus threat is likely to hurt his chances for re-election for a second term.
Over the United States' entire history, 7 presidents have failed to win re-election while 21 were able to secure a second term. On average, an incumbent president should have a 75% chance of re-election, if they're able to avoid impeachment, resignation, or worse.
In arguably the most chaotic administration in modern American history, Trump has frequently aired anti-immigrant sentiment and passed tax reform early in his administration that openly targeted his base—disaffected, white working-class voters.
His main hope for a victory in November lies in his continued efforts to suppress voter rights. He has described mail-in voting as the "biggest risk" to his re-election prospects. Mail-in voting is often thought to favor more progressive political parties and is typically supported by Democrats. However, the evidence suggests it has little influence on election outcomes.