Turds, Baby Brains, And Rat Poison: The Rich Aren't Loving On Bitcoin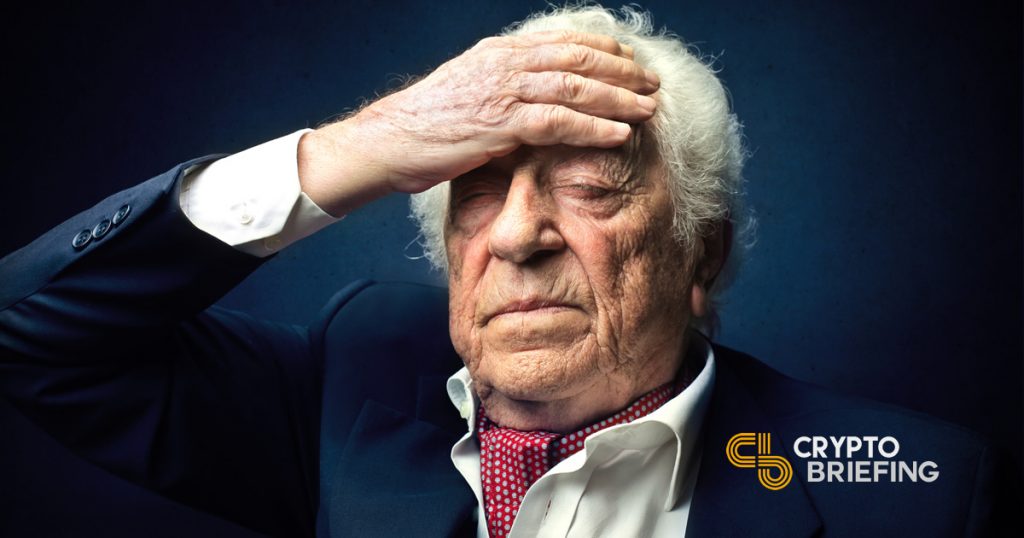 Warren Buffett does not seem to think that Bitcoin is a good investment.
Rat Poison
Bitcoin "is probably rat poison squared," the billionaire CEO told CNBC, shortly before Berkshire Hathaway's annual shareholder meeting.
During the meeting itself, Buffett compared cryptocurrencies to gold, explaining that "if you had bought gold at the time of Christ and you figure the compound rate on it, it's a couple tenths of a percent." He added a caution against charlatans, concluding that "most of them (cryptocurrencies) will come to a bad ending."
Turds
At the same meeting Charlie Munger, Buffett's vice chairman and long-time confidante, was even less favorable. "To me it's just dementia," he said. "Someone else is trading turds and you decide I can't be left out."
"Trading turds" is among the nicer ways Munger has described Bitcoin, having previously described the cryptocurrency as a "noxious poison."
Baby Brains
Munger, whose other investments include such salutary elixirs as Coca Cola and Kraft, doubled down on Bitcoin the following day, asking Yahoo Finance:
"Suppose you could make a lot of money trading freshly harvested baby brains. Would you do it? To me Bitcoin is almost as bad."
The Berkshire weekend closed out a dismal week for the cryptocurrency markets, with prices–already on edge due to regulatory fears–dropping sharply after Buffett's less-than-ringing endorsement.
Bill Gates
Munger was not the only one with an opinion on Bitcoin. Bill Gates, who is also on Berkshire's board, was also offered the opportunity to weigh in on cryptocurrency, albeit in less imaginative terms.
"Bitcoin and ICOs, I believe completely [they're some] of the crazier, speculative things," the Microsoft founder told CNBC. "As an asset class, you're not producing anything and so you shouldn't expect it to go up. It's kind of a pure 'greater fool theory' type of investment….I'd short it if I could. "
These verbal volleys are hardly unexpected from the world of traditional finance, which has come to regard cryptocurrency as a world of upstarts and pretenders.
Bankers
However, this isn't the first time that wealthy financiers weighed in on the decadence and stupidity of the nouveaux riches. In the past year, the crypto community has weathered plenty of blistering tirades, from Bank of America to to Mastercard to JPMorgan's Jamie Dimon, who called Bitcoin a fraud.
If any JPMorgan trader began trading in Bitcoin, Dimon told an investor conference, "I'd fire them in a second. For two reasons: It's against our rules, and they're stupid. And both are dangerous."
Lloyd Blankfein, CEO of Goldman Sachs, was even more blunt, saying last November that Bitcoin "does not feel like a currency. It feels like a vehicle for fraud."
Ironically
Since then, Goldman Sachs has announced the opening of its own cryptocurrency trading desk, and JPMorgan has made moves to offer Bitcoin futures. The company has gone quite a few seconds without firing anyone, suggesting that perhaps cryptocurrencies are not quite as stupid as once thought.
Which suggests that it's merely a matter of time before one of Buffett's enterprises begins investing in crypto tokens… and that time may come sooner than you think.
BNSF Railway Co., a division of Berkshire Hathaway, has already moved to join the Blockchain in Transport Alliance, which seeks to construct a digital ledger for maintenance, quality control and fraud prevention.
With part of his empire already invested in blockchain tech, Buffett may soon be up to his armpits in turds.
Anyone bidding on that lunch with him, this year?