UkraineDAO Organized for War Relief Efforts
Members of PussyRiot, PleasrDAO, and Trippy Labs have formed UkraineDAO to raise funds for war relief.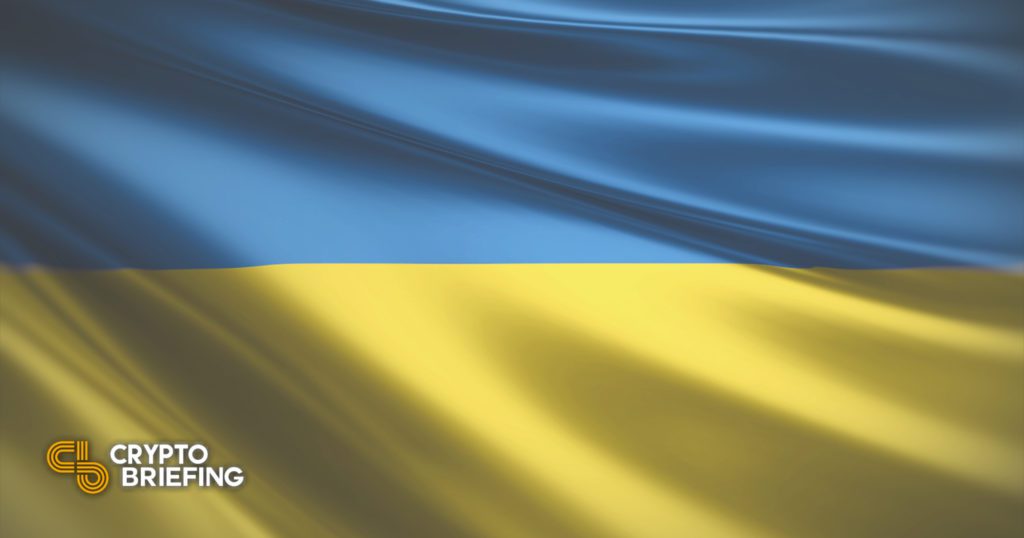 Key Takeaways
Russian protest band Pussy Riot is collaborating with PleasrDAO, Trippy Labs, and others to organize a DAO for Ukrainian war relief efforts.
The effort aims to buy NFTs of the Ukraine flag and donate the proceeds to charities aiding Ukraine residents.
NFT minting is expected to begin on Saturday, Feb. 26 with prices beginning at just over 0.08 ETH ($220).
A group of activists is creating UkraineDAO to raise funds for Ukrainian residents affected by Russia's invasion of the country.
UkraineDAO
Nadya Tolokonnikova, a founding member of Russian protest rock group Pussy Riot, is cofounding a DAO to raise funds for the Ukrainian war effort.
"Our goal is to raise funds to donate to Ukranian civilian organizations who help those suffering from the war that Putin started in Ukraine," Pussy Riot tweeted on Thursday, Feb. 24. "We'll be buying an NFT of [the] Ukrainian flag."
The effort will reportedly involve the minting of one unique, highly-priced Ukraine flag NFT alongside 10,000 Ukraine flag NFTs sold at lower prices to general investors.
Minting is expected to begin on Saturday, Feb. 26. The minting price of the NFT will be 0.08241991 ETH (about $220) in honor of Ukraine's Declaration of Independence on Aug. 24, 1991.
UkraineDAO has endorsed two charities: Come Back Alive, which has raised over $4 milllion in crypto over the past few days, and Proliska, an NGO aiding residents near the East Ukraine contact line.
In addition to the NFT sale, UkraineDAO will create a website to take crypto donations and accept traditional funds. The group plans to integrate the site with the Ethereum Name Service.
Pussy Riot Partners With NFT Veterans
Tolokonnikova, popularly known as Nadya Tolokno, is a founding member of UkraineDAO. Tolokno is best known for a controversial incident in 2012, when she was arrested during a performance that intruded on a Russian Orthodox church.
The group also includes members of PleasrDAO, the group behind 2021's FreeRossDAO charity effort, and members of Trippy Labs, a digital art collective involved in past NFT fundraisers.
Other groups supporting the effort include the NFT marketplace OpenSea and the crypto exchange MoonPay, according to statements from Trippy Labs quoted in Fortune. OhhShiny, a crypto influencer, has also donated 10 ETH ($27,000) to the fundraising effort.
Other Groups Raising Funds
Other groups are fundraising for Ukraine relief efforts as well. Matthew Liu, the founder of Origin Protocol, is seeking out creators to create a charity NFT. Liu said that he will "waive all proceeds and market [the NFT] heavily." UkraineDAO has contacted Origin Protocol to collaborate, but a partnership has not been confirmed.
Elsewhere in the crypto community, various NFT creators have banded together in an effort called RELI3F to support Ukraine. Meanwhile, The Defiant also suggests that two other groups, Unchain Fund and HoleDAO are raising funds to the same end.
Crypto fundraisers are likely becoming popular in Ukraine both due to greater media coverage and due to the fact that Ukraine has limited digital payments under martial law.
Disclosure: At the time of writing, the author of this piece owned BTC, ETH, and other cryptocurrencies.