Unibright ICO Review And UBT Token Analysis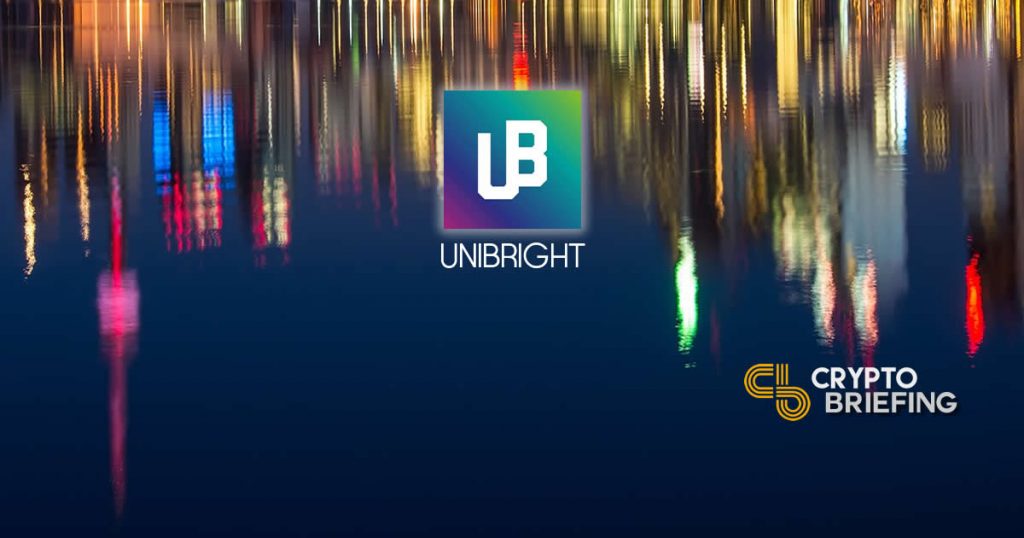 Unibright ICO Overview
The Unibright ICO and UBT Token sale are raising funds for a template-based, ERP blockchain integration system. Unibright offers a visual interface for the streamlined integration of business work and information flows along with the convenience of automatic smart contract generation.
The Unibright framework is designed to enable cross-blockchain and cross-system connections, providing a full-stack of components to connect disparate information silos from existing enterprise systems, increasing efficiency and productivity.
Unibright ICO Value Proposition
The Unibright Framework allows users to utilize and customize templates for a variety of business cases including multi-party approval, asset life cycles, shipping process monitoring and invoices, among many others. Users with no technical knowledge of blockchain can select and visually customize a workflow which can be deployed to bridge information between existing ERP systems.
The Unibright Framework consists of four 4 tools:
The UB Workflow Designer allows anyone, regardless of his or her familiarity with blockchain to visually define integration workflows, independent from any specific blockchain protocol
The UB Contract Lifecycle Manager allows users to transform a previously defined workflow into a blockchain specific smart contract code, publish the contracts, maintain existing contracts and generate automatic connection adapters (see below) for existing systems
The UB Explorer allows for the monitoring of ongoing processes from a single interface, amalgamating data from smart contracts and all systems that are connected via the template chosen by the user
The UB Connector allows on/offchain IT systems to utilize Unibright smart contracts and enables the creation of integrated cross-chain and cross-system workflows. An important piece of the UB Connector infrastructure is the SmartAdapter, which encapsulates all technical details needed to connect to a specific blockchain or ERP system. SmartAdapters bring dynamism to the Unibright Connector, enabling a vast array of integration possibilities.
At present, Unibright is testing their MVP, which connects Ethereum-based smart contracts to SAP ERP systems. Toward the goal of cross-blockchain scalability, Unibright is developing a Hyperledger-SmartAdapter and targeting major protocols as well.
Below is an example from the Unibright website of a "request for quote" use case for which a template has been created on the Workflow Designer: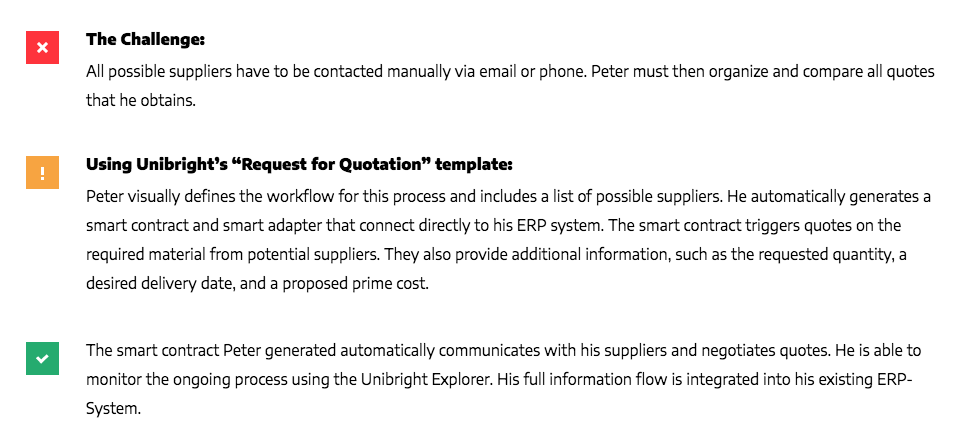 Unibright "Request for Quote" Use Case Example
The Unibright Token (UBT) is an ERC-20 utility token underlying the Unibright Framework. UBT is the only means of deploying smart contracts within the framework. Every UB Connector integration within an ERP system where information is exchanged will incur a transaction fee in UBT. It is also the only means of payment for services like deployment of SmartAdapters and integration of existing ERP Systems with the blockchain.
Only UBT can be queried and transacted within the Unibright ecosystem to guarantee standardization of the framework.
Unibright has adopted an enterprise friendly payment model to help streamline transition to UBT token usage. When a company onboards the product, they purchase a set amount of UBT using fiat. As an example, if one connection costs one UBT, worth $0.14 cents at the time of purchase, this price will be set for as long as the specified connection/integration is exchanging information.
Additional integrations are purchased according to the current price of UBT, remaining stable for the duration of that integration case, essentially on a subscription basis.
Unibright's primary source of revenue derives from this model, which is congruous with existing ERP integration business models, including their own.
Finally, business-specific templates or system-specific SmartAdapters will be traded on a marketplace as add-ons, purchasable with UBT.
Unibright ICO Team
Marten Jung is the CEO, Founder and Head of Blockchain Development with Unibright. Marten has been the CEO of parent company SPO Consulting for the past 2 years. He began his career with SPO in 2001 as a Software Developer before moving on to work for Jung & Schmidt as a Senior Software Engineer, where he maintains his position concurrently alongside his role as CEO with SPO.
Stefan Schmidt is CTO, Co-Founder and Head of Software Architecture. He currently serves in the same position with SPO Consulting. Stefan also is the head of Jung & Schmidt, and has been a software developer since 2004.
Ingo Sterzinger serves as Lead Frontend Engineer. According to his Xing profile, he has well over a decade of developer experience.
Daniel Benkenstein is CMO of Unibright. He has 8 years of experience as CEO with Neosmart, a web development and business integration company. He also has entrepreneurial experience with his own startup app company, Herzblut.io.
On the advisory end, Oleksii Matiiasevych, a Smart Contracts Engineer with Ambisafe, provides guidance to Unibright for blockchain engineering. Oleksii is well-known for his role in helping recover millions of dollars worth of ETH in an attempted hack.
More on the the team can be found on the Unibright homepage.
Unibright ICO Strengths and Opportunities
The team are already running a successful ERP integration business which offers a predecessor cloud-based ERP framework called PIP. Unibright is built on aspects of the existing framework, which has been deployed by the likes of Lufthansa, Siemens and Samsung.
With a track record of success designing, launching and scaling their existing product to large enterprise clients, the team have proven their capability in the realm of ERP and gained a clientbase that is a great advantage for scaling Unibright. In addition to their existing product, an onchain MVP of Unibright connects SAP to Ethereum smart contracts. The team has also provided a video walkthrough of the frontend tools which have already been developed.
The team have paid careful attention to formulating a strategy and product that is dynamic enough for the unpredictable development of blockchain technology. While the Unibright ICO MVP is built on Solidity, continuing development for more protocols will follow.
Not only does the Unibright Framework allow for integration of different ERP systems by SAP and Microsoft, but the product will also ultimately be blockchain agnostic. This concept helps to future-proof the product from the uncertainty of the burgeoning industry.
Unibright ICO Weaknesses and Threats
While the awareness around business applications of blockchain is increasing, companies such as IBM are stepping in to offer their own ERP integration systems based on Hyperledger. As mentioned above, one integration of the SmartAdapter will be Hyperledger-based.
In an interview with Unibright ICO Founders Marten and Stefan, they highlighted the ERP/blockchain-agnostic character of Unibright as a means to grow in conjunction with the proliferation new blockchain systems from big tech companies instead of engaging in direct competition.
The use of Unibright to bridge ERP and blockchain systems between enterprises is especially promising in this regard. The team's previous success with PIP has proven the viability of this strategy on a smaller scale, as their list of enterprise clients demonstrates.
The most pressing uncertainty pertains to the question of when and to what degree mass integration of blockchain with ERP systems will occur. At this stage, Unibright is tasked with the challenge of convincing both existing and new clients to adopt their blockchain product.
While the benefits may seem immediately obvious to some, it's important to keep in mind that large enterprises can be notoriously slow at onboarding more efficient systems. This is where the importance of leveraging partnerships and appealing to their existing client base will prove crucial.
As a means to encourage onboarding, enterprises that wish to experiment with blockchain integration can utilize Unibright's Workflow Designer freely and deploy the UB Connector on a single business case if they would like to explore the benefits of the Framework without incurring a large cost.
This model of incentivizing adoption, in addition to the ERP and blockchain agnostic character of the platform, could potentially help mitigate reluctance to onboard the product.
At this early stage in the market, we will pay special attention to further indications of progress on the business development front.
The Verdict on Unibright ICO
The Unibright ICO is led by a highly competent, cohesive team with an established grip on their target market. The design of the Unibright Framework is well conceptualized and the success of their cloud-based ERP product adds more credence to the project.
On the other hand, the question of adoption and scaling casts a level of uncertainty; the future will become more discernable as signs of progress appear.
Learn more about the Unibright ICO from our Telegram Community by clicking here, and remember to check out our other ICO Reviews.
As a Top 10% rated ICO, we will be placing a small bet on the Unibright ICO (UBT Token).
---
We have rated hundreds of projects to unearth ICOs in which members of our team intend to invest.
We won't often go into further depth on projects that we don't consider as candidates for our investments after the initial rating process, which is why you will usually see our stamp on our detailed ICO reviews – they are the best we have found. However, on occasion, we might also rate a well-hyped project that does not meet our personal investing criteria.
The Crypto Briefing Top 10 stamp is awarded to ICO projects that we rate in the top 10% of all projects.
UNIBRIGHT ICO REVIEW SCORES
SUMMARY
The Unibright ICO (UBT Token) combines a strong team with a track record of success and a major opportunity. The persistence of ERP solutions is a testament to their necessity within the enterprise, and the integration of blockchain technology into these solutions is seen by many as inevitable – with a history of working with giant conglomerates, the team behind Unibright seem well-positioned to secure an advantage – but competition will be fierce and could be overwhelming.
Founding Team……………………….8.2
Product…………………………………..6.0
Token Utility…………………………..9.0
Market…………………………………..5.0
Competition…………………………..5.5
Timing……………………………………8.5
Progress To Date……………………5.5
Community Support & Hype…..5.0
Price & Token Distribution……..9.5
Communication……………………..10.0
FINAL SCORE……………………….7.5
UPSIDES
Expert team in ERP sector

Existing network of large enterprise clients

Blockchain and ERP agnostic platform holds promise
DOWNSIDES
Unclear when large-scale enterprise adoption will occur in market

No announced enterprise partnerships for product pilot
Today's Date: 3/26/18
Project Name: Unibright
Token Symbol: UBT
Website: https://unibright.io/
White Paper: https://unibright.io/download/Unibright_Whitepaper.pdf
Crowdsale Hard Cap: $13,542,375 USD
Total Supply: 150 million
Token Distribution: 67% in the public token sale, 9% sold to early purchasers, 6% to the team (locked up for 12 months), 12% cold storage liquidity reserve, 6% legal / token sale expenses
Price per Token: 1 UBT = $0.14
Maximum Market Cap (at crowdsale price): $21 million USD
Accepted Payments: ETH and BTC
Countries Excluded: US, China
Bonus Structure: First quarter of tokens – 10% bonus, second quarter of tokens – 5% bonus, remainder of the tokens – 0% bonus
Presale Terms: N/A
Whitelist: No whitelist
Important Dates: Crowdsale- April 10th
Expected Token Release: TBA
Additional Information: https://t.me/unibright_io
---
ICO Review Disclaimer
The team at Crypto Briefing analyzes an initial coin offering (ICO) against ten criteria, as shown above. These criteria are not, however, weighted evenly – our proprietary rating system attributes different degrees of importance to each of the criteria, based on our experience of how directly they can lead to the success of the ICO in question, and its investors.
Crypto Briefing provides general information about cryptocurrency news, ICOs, and blockchain technology. The information on this website (including any websites or files that may be linked or otherwise accessed through this website) is provided solely as general information to the public. We do not give personalized investment advice or other financial advice.
Decentral Media LLC, the publisher of Crypto Briefing, is not an investment advisor and does not offer or provide investment advice or other financial advice. Accordingly, nothing on this website constitutes, or should be relied on as, investment advice or financial advice of any kind. Specifically, none of the information on this website constitutes, or should be relied on as, a suggestion, offer, or other solicitation to engage in, or refrain from engaging in, any purchase, sale, or any other any investment-related activity with respect to any ICO or other transaction.
The information on or accessed through this website is obtained from independent sources we believe to be accurate and reliable, but Decentral Media LLC makes no representation or warranty as to the timeliness, completeness, or accuracy of any information on or accessed through this website. Decentral Media LLC expressly disclaims any and all responsibility from any loss or damage of any kind whatsoever arising directly or indirectly from reliance on any information on or accessed through this website, any error, omission, or inaccuracy in any such information, or any action or inaction resulting therefrom.
Cryptocurrencies and blockchain are emerging technologies that carry inherent risks of high volatility, and ICOs can be highly speculative and offer few – if any – guarantees. You should never make an investment decision on an ICO or other investment based solely on the information on this website, and you should never interpret or otherwise rely on any of the information on this website as investment advice. We strongly recommend that you consult a licensed investment advisor or other qualified financial professional of your choosing if you are seeking investment advice on an ICO or other investment.
See full terms and conditions for more.
Founding Team
This category accounts for the leaders, developers, and advisors.
Poor quality, weak, or inexperienced leadership can doom a project from the outset. Advisors who serve only to pad their own resumes and who have ill-defined roles can be concerning. But great leadership, with relevant industry experience and contacts, can make the difference between a successful and profitable ICO, and a flub.
If you don't have a team willing and able to build the thing, it won't matter who is at the helm. Good talent is hard to find. Developer profiles should be scrutinized to ensure that they have a proven history of working in a field where they should be able to succeed.
Product
What is the technology behind this ICO, what product are they creating, and is it new, innovative, different – and needed?
The IOTA project is a spectacular example of engineers run amok. The technology described or in use must be maintainable, achievable, and realistic, otherwise the risk of it never coming into existence is incredibly high.
Token Utility
Tokens which have no actual use case are probably the worst off, although speculation can still make them have some form of value.
The best tokens we review are the ones that have a forced use case – you must have this token to play in some game that you will probably desire to play in. The very best utility tokens are the ones which put the token holder in the position of supplying tokens to businesses who would be able to effectively make use of the platforms in question.
Market
There doesn't have to be a market in order for an ICO to score well in this category – but if it intends to create one, the argument has to be extremely compelling.
If there is an existing market, questions here involve whether it is ripe for disruption, whether the technology enables something better, cheaper, or faster (for example) than existing solutions, and whether the market is historically amenable to new ideas.
Competition
Most ideas have several implementations. If there are others in the same field, the analyst needs to ensure that the others don't have obvious advantages over the company in question.
Moreover, this is the place where the analyst should identify any potential weaknesses in the company's position moving forward. For instance, a fundamental weakness in the STORJ system is that the token is not required for purchasing storage.
Timing
With many ICO ideas, the timing may be too late or too early. It's important for the analyst to consider how much demand there is for the product in question. While the IPO boom funded a lot of great ideas that eventually did come to fruition, a good analyst would recognize when an idea is too early, too late, or just right.
Progress To Date
Some of the least compelling ICO propositions are those that claim their founders will achieve some far-off goal, sometime in the future, just so long as they have your cash with which to do it.
More interesting (usually) is the ICO that seeks to further some progress along the path to success, and which has a clearly-identified roadmap with achievable and reasonable milestones along the way. Founders who are already partially-invested in their products are generally more invested in their futures.
Community Support & Hype
Having a strong community is one of the fundamental building blocks of any strong blockchain project. It is important that the project demonstrates early on that it is able to generate and build a strong and empowered support base.
The ICO marketplace is becoming more crowded and more competitive. While in the past it was enough to merely announce an offering, today's successful ICO's work hard to build awareness and excitement around their offering.
Price & Token Distribution
One of the biggest factors weighing any analysis is price. The lower the price the more there is to gain. But too low of a price may result in an under capitalized project. It is therefore important to evaluate price relative to the individual project, its maturity and the market it is going after.
The total supply of tokens should also be justified by the needs of the project. Issuing a billion tokens for no reason will do nobody any good.
Communication
Communication is key. The success of a project is strongly tied to the project leaders' ability to communicate their goals and achievements.
Things don't always go as planned but addressing issues and keeping the community and investors in the loop can make or break a project.