Uranus ICO Review and URAC Token Analysis
Uranus ICO Overview
The Uranus ICO and URAC token sale are raising funds for a platform to organize unutilized resources of everyday computational devices on a decentralized network. The Uranus network will serve as a juncture for computing resource providers and customers, allowing any compatible device to contribute spare compute power in exchange for a reward. Uranus presents the platform as a cheaper, more efficient alternative to centralized cloud computing service providers.
Uranus ICO Value Proposition
The Uranus platform facilitates aggregation and utilization of spare compute resources from devices like workstations, mobile devices and home computers. Users who require computational power access the network through a client interface, submit a request, and pay the corresponding about of Uranus Tokens (URAC), at which point a smart contract takes effect. The network selects nodes with the necessary compute power in accordance with the requested task and runs a computation. Once the task is complete, the output results are returned and settlement is completed automatically, releasing the token reward to the compute providers.
The Uranus Chain consists of a four-layer architecture:
The Storage layer provides a ledger of both transaction data and compute power container information, such as available CPU, memory and disk resources.
The Network layer facilitates interconnection and exchange of data on the chain. A data channel contains statistics on the computational resources available to the network and a management channel, or Computing Power Container Engine (CPCE), automates scheduling, deployment and management to maximize network coordination.
The Protocol layer runs the consensus mechanism of the platform. Uranus deploys a Delegated Proof of Stake (DPOS) + BFT hybrid consensus algorithm.
The Extension Layer houses the business logic components of the chain, including the smart contract module and infrastructure components for dApp integration.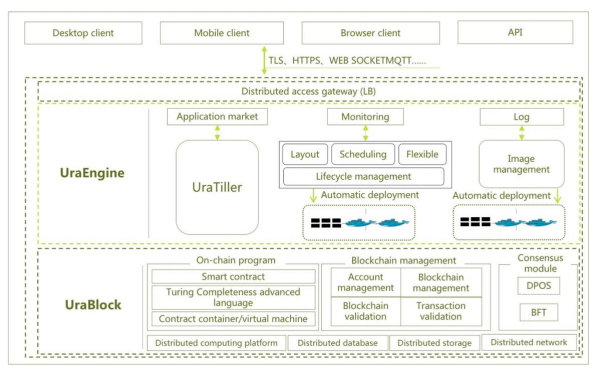 Diagram of Uranus Architecture
URAC is the native token for the Uranus Network. The token provides a store of value for transacting computational power, and also is integral to network governance, as a staking mechanism to gain voting power and elect validators. URAC will initially be released as an ERC20 token until launch of the mainnet.
Uranus ICO Team
James Jiang (Founder and CEO) spent the last 7 years as CEO of Beijing Cloud Times Technology Co., which he co-founded in 2011, developing enterprise-level cloud computing products. In 2001, James established a ZTE subsidiary company Shenzhen ZTE Integrated Telecom Ltd./ Shenzhen ZTE Mobile Telecom Co. Ltd, serving as a General Manager and Board Chairman until 2006. He holds 2 master's degrees; in Mathematics from Texas State University and in Operational Research from Nanjing University of Science and Technology.
Hally Han (Co-founder and CTO) is also the Co-founder and CTO of Beijing Cloud Times Tech. Prior to that, Hally spent over a year as Chief System Architect with iSoft Infrastructure Software Co. He has an additional 4 years experience as Co-founder and Chief Architect of a video surveillance technology company.
Fei Li (CPO) has served as CPO at Beijing Cloud Times Tech for over 6 years. As a Product Manager, he has an additional year of experience with iSoft Infrastructure Software Co. Fei has another 4 years prior experience as a Technical Manager between various IT companies.
Mingbo Li (Software Architect and Algorithm Expert) has worked as a Manager with Beijing Cloud Times Technology for nearly 7 years. In addition, he has 2 years of experience as a Software Architecture Manager.
Yaowen Chen (Blockchain Expert) has spent the last 2 years as an AI Expert at Shanghai Higgs Network Tech, an AI-based recruitment solution provider in Shanghai. His has an additional 3 years of experience with developing machine-learning algorithms. Before venturing into machine learning, he spend 6 years as a software engineer. His LinkedIn profile does not contain information on his role with Uranus at the time of publishing.
Cheng Zhang (Senior Expert at Blockchain) is a Co-founder of Shanghai Higgs Network Tech, where he spent over 2 years. According to his LinkedIn, he has served for the last 2 years as Technical Director with another AI recruitment company also located in Shanghai.
The Uranus ICO has 12 full time team members, along with 6 "technical advisors". While the technical advisors are distinguished from the "advisory team" on the Uranus website, they also do not contribute directly to the project but could be mistaken as full time team members from their order of display. The full details on the team and both sets of advisors are available here.
Uranus ICO Strengths and Opportunities
The Uranus ICO team share a fair deal of experience in the cloud computing domain and overall appear to be highly-competent developers. Adding credence to the business acumen of the executive team, Co-founders James Jiang and Hally Han have firsthand know-how developing cloud computing products and onboarding enterprise clients.
In addition, the product development team includes tech veterans specialized in blockchain, cryptology and AI. The project also solicits support from several well-established technical advisors, who could bring important resources throughout the product development phase with their expert knowledge of the core technology underlying the Uranus platform.
Uranus ICO Weaknesses and Threats
The Uranus ICO has set 3 milestones which correspond to the level of product development and user scaling, with the first version of the platform initially scheduled for a private beta test release in Q3/2018. Versions 2.0, 3.0, and 4.0 are set for release between Q4/2018 through Q1/2019, each corresponding with a target number of users: 10,000, 100,000, and 500,000. The final full-scale "Ecological" version, will launch in Q2/2019. With the release of a prototype already delayed until the end of September, the first milestone has been pushed ahead.
Along with the delay in technical progress, the 3 project milestones include references to continued user acquisition and an ecosystem growth strategy targeting enterprises, but an articulated strategy for accomplishing these goals is absent.
With no announcements either regarding strategic partnerships to pilot the platform, the Uranus ICO is missing progress on a front that is critical to success in this highly-saturated space. If we consider the number of distributed computing ICOs targeting the same market, which have already put significant effort into ecosystem growth, an aggressive, coherent go-to-market strategy is an absolute necessity for the future prospect of Uranus.
Without any significant headway in the tech or business realm, we invariably turn back to the team for evidence of past success that would indicate a higher probability for a repeat performance. While the team are undoubtedly well-experienced with cloud-computing development, several significant shortcomings are apparent. The team consists entirely of developers, with nobody to fulfill marketing or business development functions, which may provide one explanation for the absence of indicators toward current or future scaling efforts.
When weighing the value of the Co-founders' previous experience founding and running Beijing Cloud Times Tech, the differences between launching an enterprise-level product and a decentralized computing platform are substantial. The success of decentralized platforms like Uranus rests heavily on effective user acquisition and growth strategies, an area where the team has limited experience.
The Verdict on the Uranus ICO
The Uranus ICO is the latest contender in the distributed computing race. Competition aside, crucial indicators for a strong project are missing at this stage. While the lead team has experience founding a company in the cloud computing industry, the process did not involve quickly scaling a large user base of individuals. As the team is solely comprised of developers, there are no visible resources to dedicate toward marketing and growth efforts.
Coming up short on 3 basic determinants of a solid project, the Uranus ICO is a pass.
We are not going to participate in the Uranus ICO.
What Would Change Our Minds?
A deliverable from the team demonstrating the viability of the MVP

Addition of more developers with solid blockchain experience and a marketing/biz dev team who has prior success scaling a product

Inclusion of a detailed roadmap and go-to-market strategy with milestones for product development and a coherent strategy for ecosystem growth
Learn more about the Uranus ICO (URAC) from our Telegram Community by clicking here.
URANUS ICO REVIEW SCORES
SUMMARY
The Uranus ICO team (URAC Token) enters the race to develop distributed computing powered by blockchain technology. Their cloud computing experience is strong and comprehensive, but we see serious deficiencies in their core competencies. User adoption, likely formed through partnerships with enterprises, is conspicuously absent from their plan – while we question any project that immediately compares itself to a Web 2.0 model ("the Airbnb and Uber for computing resources"). Uranus is a neat idea that needs a stronger roadmap, commitment to hitting targets, and clearer distinguishing features in the marketplace. We pass on this one.
Founding Team……………………….7.3
Product…………………………………..6.1
Token Utility…………………………..9.1
Market…………………………………..8.5
Competition…………………………..4.6
Timing……………………………………6.5
Progress To Date……………………4.3
Community Support & Hype…..7.0
Price & Token Distribution……..7.1
Communication……………………..5.0
FINAL SCORE……………………….6.6
UPSIDES
Team has extensive experience in cloud computing domain

Large community support base
DOWNSIDES
Delayed release of MVP

No pilot-project partnerships

Scaling and go-to-market strategies are absent
Today's Date: 8/4/18
Project Name: Uranus
Token Symbol: URAC
Website: http://Uranus.ai/
White Paper: Uranus Whitepaper
Crowdsale Hardcap: 35,000 ETH
Total Supply: 3,500,000,000
Token Distribution: 35% to token sale, 3% to seed investors, 15% to team, 7% to ecosystem, 40% to mining reward
Fully-diluted Market Cap (at crowdsale price): $45,000,000 USD
Accepted Payments: ETH
Countries Excluded: US, China, Canada, New Zealand, South Korea
Whitelist: https://t.me/UranusAnn
Important Dates: TBA
Expected Token Release: TBA
Additional Information: https://t.me/Uraners
ICO Review Disclaimer
The team at Crypto Briefing analyzes an initial coin offering (ICO) against ten criteria, as shown above. These criteria are not, however, weighted evenly – our proprietary rating system attributes different degrees of importance to each of the criteria, based on our experience of how directly they can lead to the success of the ICO in question, and its investors.
Crypto Briefing provides general information about cryptocurrency news, ICOs, and blockchain technology. The information on this website (including any websites or files that may be linked or otherwise accessed through this website) is provided solely as general information to the public. We do not give personalized investment advice or other financial advice.
Decentral Media LLC, the publisher of Crypto Briefing, is not an investment advisor and does not offer or provide investment advice or other financial advice. Accordingly, nothing on this website constitutes, or should be relied on as, investment advice or financial advice of any kind. Specifically, none of the information on this website constitutes, or should be relied on as, a suggestion, offer, or other solicitation to engage in, or refrain from engaging in, any purchase, sale, or any other any investment-related activity with respect to any ICO or other transaction.
The information on or accessed through this website is obtained from independent sources we believe to be accurate and reliable, but Decentral Media LLC makes no representation or warranty as to the timeliness, completeness, or accuracy of any information on or accessed through this website. Decentral Media LLC expressly disclaims any and all responsibility from any loss or damage of any kind whatsoever arising directly or indirectly from reliance on any information on or accessed through this website, any error, omission, or inaccuracy in any such information, or any action or inaction resulting therefrom.
Cryptocurrencies and blockchain are emerging technologies that carry inherent risks of high volatility, and ICOs can be highly speculative and offer few – if any – guarantees. You should never make an investment decision on an ICO or other investment based solely on the information on this website, and you should never interpret or otherwise rely on any of the information on this website as investment advice. We strongly recommend that you consult a licensed investment advisor or other qualified financial professional of your choosing if you are seeking investment advice on an ICO or other investment.
See full terms and conditions for more.
Founding Team
This category accounts for the leaders, developers, and advisors.
Poor quality, weak, or inexperienced leadership can doom a project from the outset. Advisors who serve only to pad their own resumes and who have ill-defined roles can be concerning. But great leadership, with relevant industry experience and contacts, can make the difference between a successful and profitable ICO, and a flub.
If you don't have a team willing and able to build the thing, it won't matter who is at the helm. Good talent is hard to find. Developer profiles should be scrutinized to ensure that they have a proven history of working in a field where they should be able to succeed.
Product
What is the technology behind this ICO, what product are they creating, and is it new, innovative, different – and needed?
The IOTA project is a spectacular example of engineers run amok. The technology described or in use must be maintainable, achievable, and realistic, otherwise the risk of it never coming into existence is incredibly high.
Token Utility
Tokens which have no actual use case are probably the worst off, although speculation can still make them have some form of value.
The best tokens we review are the ones that have a forced use case – you must have this token to play in some game that you will probably desire to play in. The very best utility tokens are the ones which put the token holder in the position of supplying tokens to businesses who would be able to effectively make use of the platforms in question.
Market
There doesn't have to be a market in order for an ICO to score well in this category – but if it intends to create one, the argument has to be extremely compelling.
If there is an existing market, questions here involve whether it is ripe for disruption, whether the technology enables something better, cheaper, or faster (for example) than existing solutions, and whether the market is historically amenable to new ideas.
Competition
Most ideas have several implementations. If there are others in the same field, the analyst needs to ensure that the others don't have obvious advantages over the company in question.
Moreover, this is the place where the analyst should identify any potential weaknesses in the company's position moving forward. For instance, a fundamental weakness in the STORJ system is that the token is not required for purchasing storage.
Timing
With many ICO ideas, the timing may be too late or too early. It's important for the analyst to consider how much demand there is for the product in question. While the IPO boom funded a lot of great ideas that eventually did come to fruition, a good analyst would recognize when an idea is too early, too late, or just right.
Progress To Date
Some of the least compelling ICO propositions are those that claim their founders will achieve some far-off goal, sometime in the future, just so long as they have your cash with which to do it.
More interesting (usually) is the ICO that seeks to further some progress along the path to success, and which has a clearly-identified roadmap with achievable and reasonable milestones along the way. Founders who are already partially-invested in their products are generally more invested in their futures.
Community Support & Hype
Having a strong community is one of the fundamental building blocks of any strong blockchain project. It is important that the project demonstrates early on that it is able to generate and build a strong and empowered support base.
The ICO marketplace is becoming more crowded and more competitive. While in the past it was enough to merely announce an offering, today's successful ICO's work hard to build awareness and excitement around their offering.
Price & Token Distribution
One of the biggest factors weighing any analysis is price. The lower the price the more there is to gain. But too low of a price may result in an under capitalized project. It is therefore important to evaluate price relative to the individual project, its maturity and the market it is going after.
The total supply of tokens should also be justified by the needs of the project. Issuing a billion tokens for no reason will do nobody any good.
Communication
Communication is key. The success of a project is strongly tied to the project leaders' ability to communicate their goals and achievements.
Things don't always go as planned but addressing issues and keeping the community and investors in the loop can make or break a project.