VeChain Price Surges With Mainnet Upgrade
VIP191 came into force today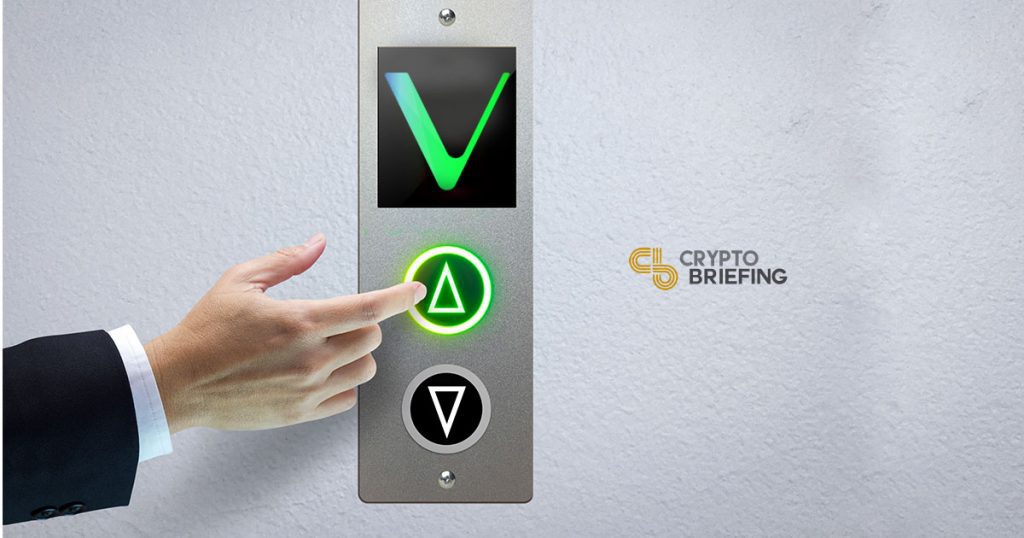 Crypto markets may look a little flat after last week. But that's not the case for the logistics and supply-chain network, VeChain Thor (VET), whose token price has surged following a mainnet upgrade that will allow users to delegate their transaction fees.
The latest movement follows a sharp drop in VeChain's market capitalization, which fell to $270M last Wednesday. It pulled back above the $300M threshold by Thursday afternoon and reached $336M by the start of the week.
The total value of the VeChain network surged by $10M over the course of the day. Token prices reached $0.006 each, giving VET a market cap of approximately $347.4M at the time of writing.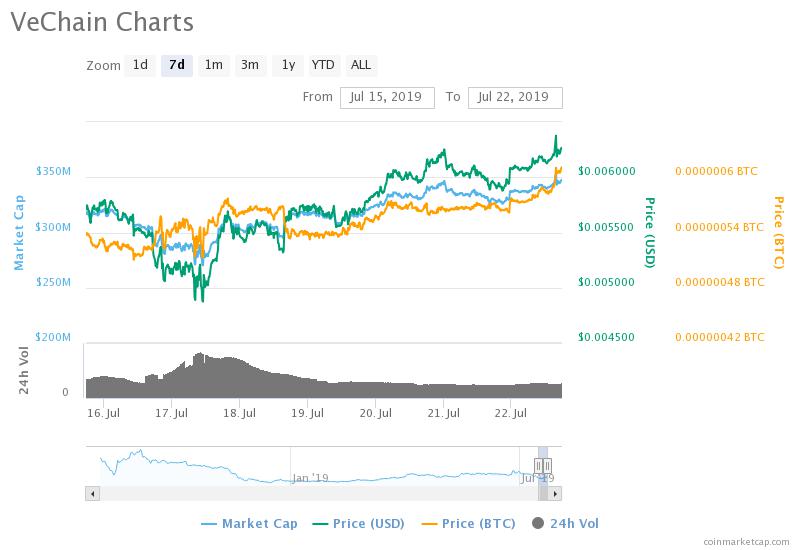 VeChain is a Blockchain-as-a-Service (BaaS) platform, designed specifically for the logistics and supply-chain industry. Based in Singapore, the project plans to replace the legacy system with a distributed ledger, complete with a smart contract layer, to address many of the industry's existing pain points. But the project had a volatile spring, with the market cap climbing to $520M in June before last week's drop.
Within the ecosystem, users can stake VET tokens to receive payouts in VeChain Thor (VTHO) tokens, which are used to pay transaction fees.
Today's upgrade – known as VIP 191 – is designed to make the core blockchain a little more friendly to third-party developers as well as end-users. It allows users to send tokens without incurring VTHO transaction fees. Instead, the sender can delegate transaction fees to the applications they're using.
VIP191 was proposed in mid-May by Totient, an activist crypto hedge fund. Dubbed "The Key To Mass Adoption" in the initial documentation, Totient described their proposal as an "innovative feature allows anyone to use a decentralized application regardless of their knowledge of blockchain technology by removing the toughest barriers for adoption.
By bypassing the complicated process of purchasing VTHO tokens, the upgrade can help streamline the user experience, making VeChain more competitive. The upgrade also allows dApp creators to adopt new pricing models, such as fiat-denominated subscriptions.
Mass-adoption still evades multiple cryptocurrency projects. The new upgrade may take some of the complexities out of blockchain and could go a long way towards making VeChain usable on a daily basis.