VeChain's Utility Expands Through China, Indicators Flash Buy
VeChainThor's latest strategic partnership in China is causing a surge in VET prices, adding fuel to a potential bull rally.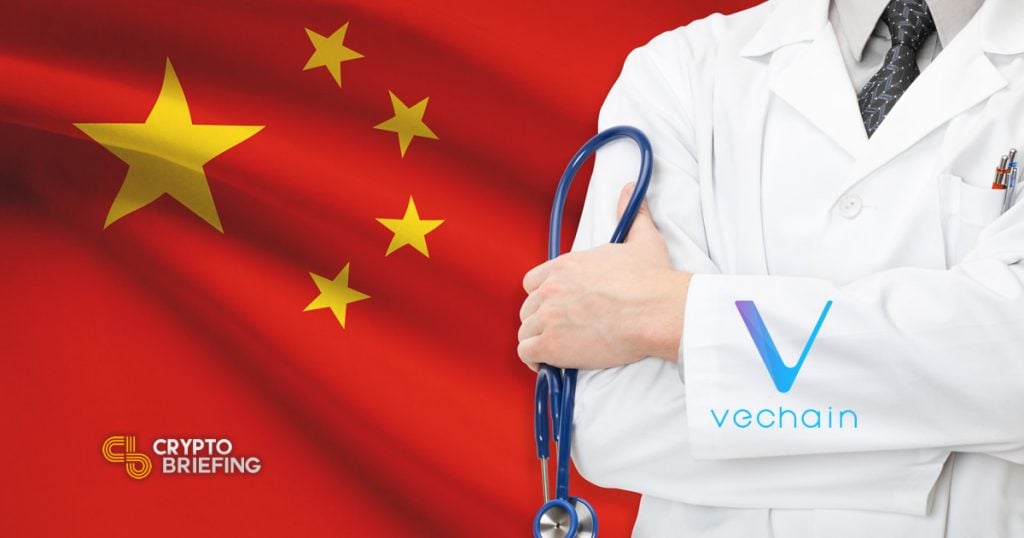 Key Takeaways
VeChain social engagement metrics skyrocketed over 600% with most interactions being bullish.
The hype around it seems to be related to its incorporation into China's Animal Health And Food Safety Alliance.
A further spike in the buying pressure behind VET could see it rise towards new yearly highs.
VeChain made headlines following a strategic partnership in China that could help them onboard thousands of businesses to its traceability solutions platform, VeChainThor.
The Crowd Goes Wild as VeChain Aims for Mass Adoption
The number of VET-related posts on different social media networks exploded over the past few hours, according to data from LunarCRUSH. Roughly 6.7 million social engagements were recorded in the last 24 hours, representing a 600% increase. More importantly, more than 69% of all the social interactions have been bullish about VeChain.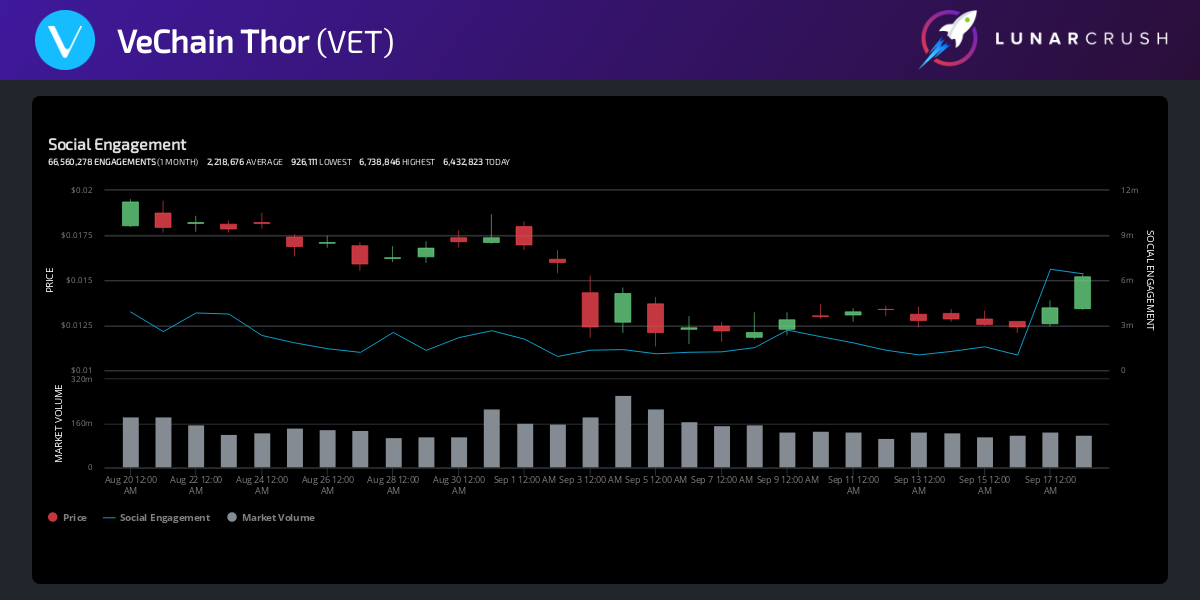 The rising chatter around VET across different social media networks appears to be related to one focal point: The blockchain startup announced that it has officially joined China's Animal Health and Food Safety Alliance (CAFA) as a council member.
VeChain is set to be the only public blockchain technology provider in the alliance, providing technical and infrastructural support for the creation of a "from-farm-to-table traceability system" across the country.
"By using VeChain ToolChain, all enterprise members of the alliance will be capable of logging key processes of food products onto the blockchain in an immutable and secured way, bridging trust between consumers and the enterprises. Traceability can start from cultivation, processing, packaging, logistics, to retail and more, which perfectly assists CAFA's vision of providing consumers with safe, high-quality and healthy food of animal origin," reads the announcement.
By adding more organizations to its traceability solutions platform, the VeChain Foundation seems to be staying true to its long-term roadmap. This could be one of the reasons why investors have given VET their vote of confidence.
Sitting on the Cusp of a New Bull Rally
The sudden spike in buying pressure behind VET seems to have helped validate the optimistic forecast that the TD sequential indicator signaled last week. This technical index presented a buy signal in the form of a red nine candlestick on the 3-day chart. The bullish formation came after the 50% correction that saw this cryptocurrency drop from a yearly high of $0.023 to a low of $0.011.
Now that a green two candlestick is trading above the preceding green one candle within the 3-day chart, VeChain could be about to start a new upward countdown and possibly reach new yearly highs.
IntoTheBlock's "In/Out of the Money Around Price" (IOMAP) model adds credence to the bullish macro outlook. This on-chain metric shows that there aren't any significant supply barriers ahead of the supply chain management token. The only area of interest that could hold rising prices at bay sits between $0.017 and $0.019.
Here, roughly 3,000 addresses had previously purchased nearly 14 million VET. Within this price range, holders may try to exit their underwater positions, putting a stop to VeChain's uptrend. But if demand is significant enough, prices could bust through this hurdle and retest August's high of $0.023.

On the flip side, the IOMAP cohorts show a prominent supply wall that could absorb some of the selling pressure. Approximately 4,000 addresses are holding 89 million VET between $0.013 and $0.015. These holders will likely scoop up tokens if prices fall below their buy price, allowing the altcoin to continue rising. Given these numbers, the odds currently favor an optimistic long-term outlook on VET.
For more key market trends, subscribe to our YouTube channel and get weekly updates from our lead bitcoin analyst Nathan Batchelor.