Watch Your Bakkt: CoinFLEX Raises $10M For Crypto Futures Exchange
Big incentives for market makers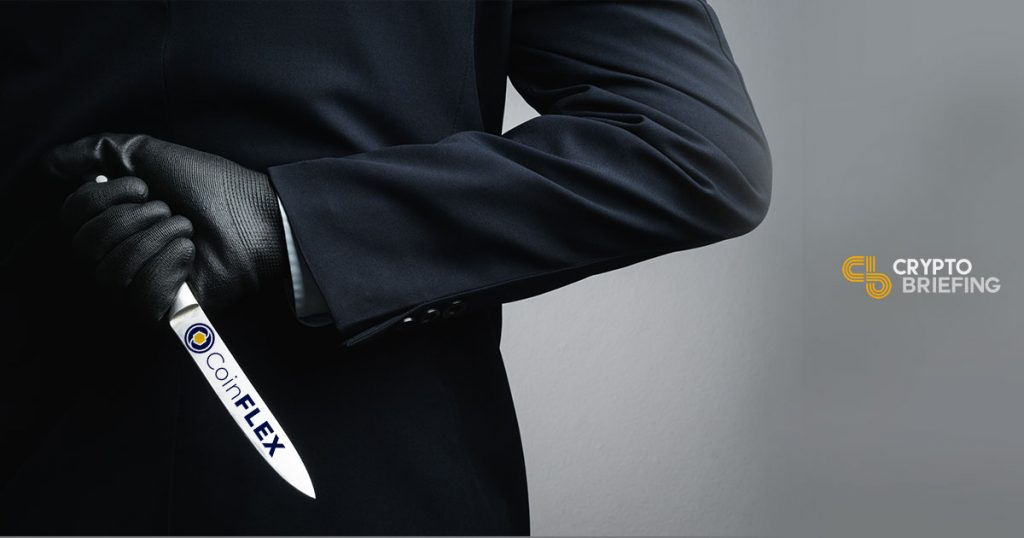 Bakkt is (finally) launching their Bitcoin futures exchange next month, but they might have some stiff competition. CoinFLEX is a step ahead in the race for crypto futures, with a substantial fundraise for what they call the "world's first physically delivered crypto futures exchange." The company announced a successful raise of $10 million from investors like Polychain Capital, NGC Ventures, Divergence Digital Currency, and Bitcoin Cash advocate and angel investor, Roger Ver.
The diverse group of heavy-hitting investors are no strangers to the industry, having supported a range of cryptocurrency protocols and companies, as well as a number of early-stage projects "leveraging distributed ledger and related technologies."
The main goal of the fundraise is to support growth and accelerate liquidity in cryptocurrency markets through a reward mechanism. CoinFLEX is launching their Market Making Program as an "incentive initiative" to spur investment by growing their trading volumes, thereby further accelerating liquidity.
---
Pump Up The Volume
CoinFLEX has enjoyed early success as a cryptocurrency futures exchange, with a trading volume of over $150 million USD reported by the platform. The Market Making Program is aimed at "professional proprietary trading firms, hedge funds and institutions within the cryptocurrency industry," and will incentivize eligible firms to participate in the platform's growth. Participants will enjoy hefty monetary rewards for meeting predetermined monthly objectives set out by CoinFLEX.
Companies have a range of attractive market making incentives for participating in the program. Firms who quote CoinFLEX-designated market spreads can be rewarded with a fixed stipend incentive, which will award the first ten firms $20,000 per month.
The top three market-makers can earn an additional $16,666 per month, for a total monthly reward to all participating firms of $250,000. Participants can also receive awards for achieving volume goals, such as the $500M Average Daily Volume (ADV) Incentive, or even so-called "flippening" objectives that achieve greater volume than major competitors like BitMEX and OKEx.
---
Game On!
Through the incentives of the CoinFLEX Market Making Program, firms are encouraged to compete in order to boost liquidity on the CoinFLEX platform.
For example, companies that qualify for the months of October, November, and December of 2019 will be in the mix for the "BitMEX Flippening Incentive." This incentive awards each of the ten trading firms an impressive $1 million USD if the average of CoinFLEX's daily volume in "front month XBT/USDT futures contract surpass the average of BitMEX's daily volumes in their XBT/USD perpetual swap product."
Mark Lamb, CEO of CoinFLEX, commented on the rapid adoption of the platform and the success of the recent fundraise. "Now, with a consortium of high profile and engaged backers in place, we're ready to grow liquidity even faster to create the leading way for investors to hedge their crypto exposure with zero manipulation risk," Lamb said. The Market Making Program, he explained, will help CoinFLEX achieve broader adoption.
Polychain CEO Olaf Carson-Wee described the innovation of cryptocurrency futures as "a natural evolution of trading." He attested to the quality of the CoinFLEX platform as it successfully brings "physically delivered and safe futures to the market."
Founding Partner at NGC Ventures, Tony Gu, talked about the importance of crypto derivatives as a financial tool for "mitigating manipulation risks…" He believes CoinFLEX will "play a vital role as the market matures and welcomes traditional financial players… bridging the gap between traditional financial practices and the emerging crypto economy…"