Wells Fargo to Offer Crypto Products to Wealthy Clients
After JP Morgan, Goldman Sachs, Morgan Stanley, and BNY Mellon, Wells Fargo is now ready to dip its toes into crypto.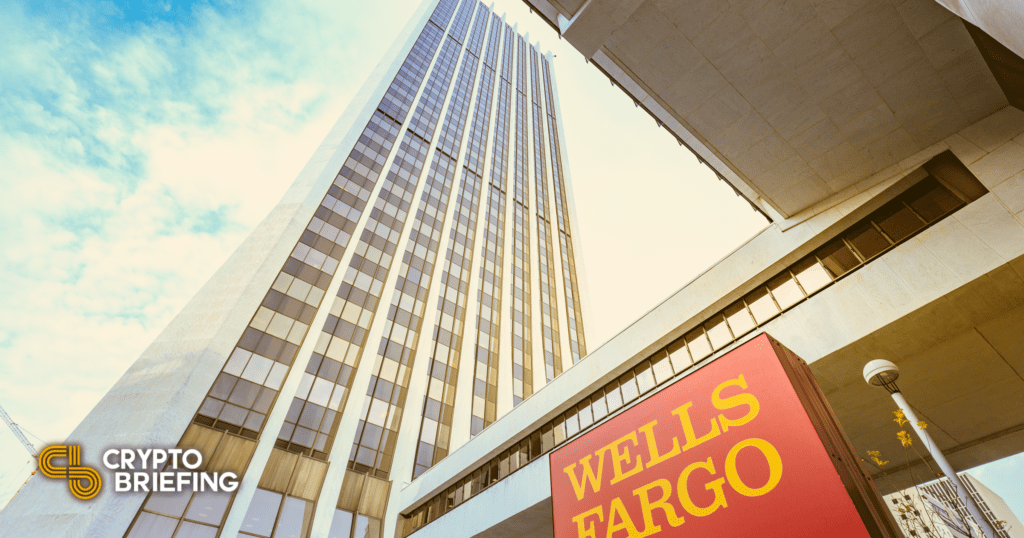 Key Takeaways
Wells Fargo Investment Institute has given the U.S. bank the green light to invest in cryptocurrencies.
Key strengths of crypto are its low correlation to traditional markets and its supply and demand mechanics, the organization found.
Wells Fargo is one of several major banks to adopt the asset class in recent months.
Wells Fargo's investment arm is in the final stages of creating crypto-related products for rich clients.
Crypto Attracting Major Banks
Wells Fargo will start offering crypto products to clients, it was announced Wednesday.
Darrell Cronk, the President of Well Fargo Investment Institute, told Business Insider that the firm is preparing to launch a range of crypto-related products as it now recognized crypto as "a viable investable asset." According to Cronk, the rising value and range of cryptocurrencies offered across the market are signs of the space's maturity.
He added that the firm had researched the best solutions to offer reliable and safe investment products to their interested clients for several months. These products, though, will only be offered to wealthier clients. Cronk also said that there had been "quite a bit of interest" in the products already. It's not yet clear what products will be offered.
Wells Fargo is only the latest in a number of established banks diving into the crypto space in recent months. Prior to today's announcement, Goldman Sachs, JP Morgan, Morgan Stanley, and BNY Mellon have all made clear moves towards adopting the asset class.
Wells Fargo Investment Institute has also published research on the crypto's correlation with stocks and commodities. They found that while cryptocurrencies appear to be tied to stocks and commodities on a short-term basis, the link is tenuous on a longer time frame. The long-term determinants for crypto prices are different enough from traditional markets that cryptocurrencies can be an attractive hedging option for any portfolio, they found.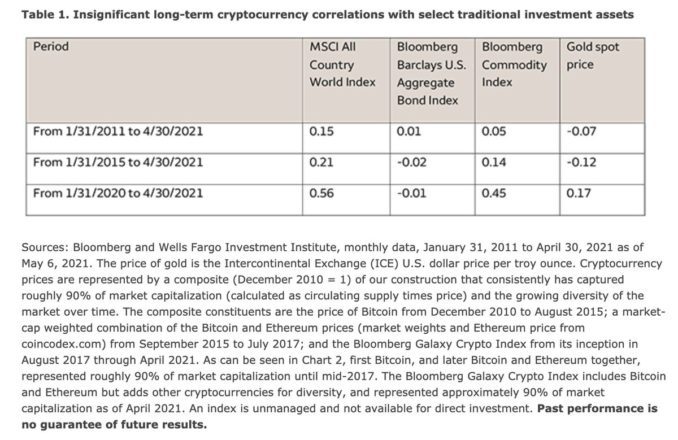 The report also points out that the fixed supply of Bitcoin is a key determinant in its long-term value. The supply and demand dynamics should keep its price increasing in the long run, the report found. Speaking of the future price of cryptocurrencies, Cronk said:
"Anytime you reduce the supply of anything, even if demand holds constant, it should increase the price. Over time, as people become more familiar with these [cryptocurrencies] and as they become more mainstream, I think it will naturally go up."
Disclaimer: The author held ETH, BTC, and several other cryptocurrencies at the time of writing.