WePower ICO Review and WPR Token Analysis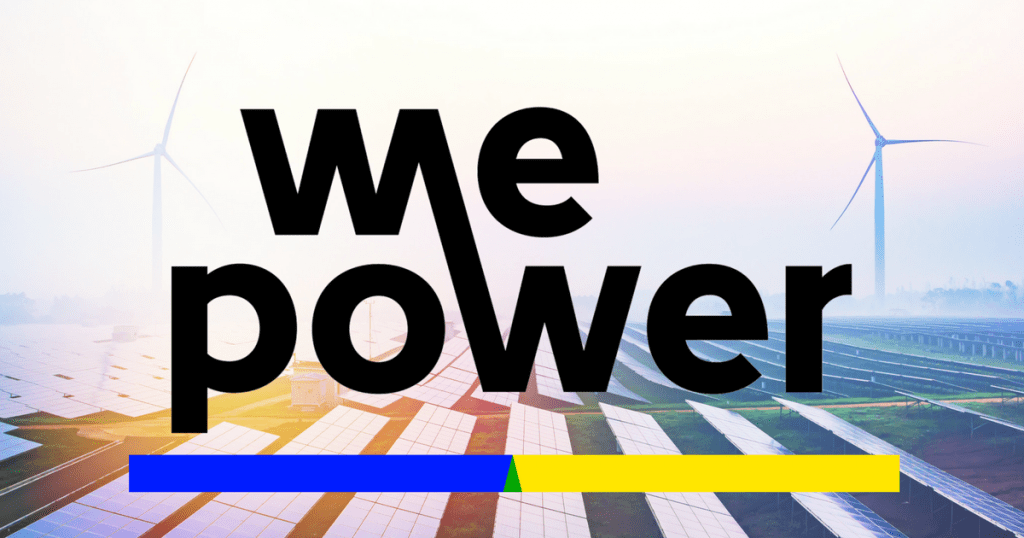 WePower ICO Overview
Large scale power projects are notoriously difficult to implement when it comes to cost, let alone those based on renewable energy. Yet, at this time when our climate is at a crossroads, access to renewable energy is more crucial than ever. For any privately-funded green power projects to be developed, procuring capital is the first step to realizing the end result. What if instead of relying on top-down investment from banks and institutional investors, power developers had access to capital at the grassroots level from anyone, anywhere in the world via cryptocurrency? This is the vision of the WePower ICO.
WePower ICO Value Proposition
WePower aims to increase the adoption of renewable energy through the creation of a tokenized platform for power project developers to raise capital. The tokens issued by energy producers represent the energy they commit to produce and deliver in the future. The WePower ICO model allows for energy producers to trade directly with the green energy buyers (consumers and investors) and raise capital by selling energy upfront, at below market rates. Tokenization further benefits the renewables market by increasing liquidity and expanding access to capital. Access to capital is particularly important because the debt-to-equity ratio required by banks for loans toward green energy projects has grown over the past several years, making it more difficult to develop non-subsidized, market-driven renewable energy projects. The tokenization model developed by the WePower ICO allows for wider access to capital by private projects by broadening the scope of potential investors to literally anyone who can purchase tokens. The following diagram provides an illustration of how tokenization simplifies the process of securing funding for a renewable energy project:
At the heart of this new platform is a dual token system- energy tokens provide smart contracts secured on the blockchain and WePower (WPR) tokens facilitate trading on the platform. The energy token price reflects the price of the energy itself and is therefore relatively stable. The functions of the WPR token are outlined below.
Holders of WPR tokens have access to energy auction priority on the WePower platform, where energy access is traded. Each renewable energy producer sells energy tokens using an auction model on the WePower platform. During the first the 48 hours, only WPR token holders can participate in the auction and buy energy tokens. WPR token holders can buy energy at the best initial price set by the auction holder proportional to the amount of WPR tokens held at that time. This model allows token holders to access energy at the most favorable prices and to then sell that energy onward to energy buyers. The auction model is vital to attract traders and speculators to use the platform as each auction features a speculation opportunity. After the first 48 hours, anyone can join the auction.

Holders will also have access to the green energy donation pool. All renewable energy producers on the platform will be required to directly donate 0.9% of their energy tokens to the WPR token holders. Therefore, WPR tokens will continually accrue value in the form of access to real energy credits. WPR holders can use those energy tokens: i) for their energy consumption (if they live in an area where WePower operates) ii) inter-platform trading or iii) selling to the wholesale market for a profit.
WePower ICO Team
CEO and Cofounder, Nikolaj Martyniuk, has an solid history of leadership in the energy sector. He previously served as CEO at Modus Energy, a renewable energy projects development company and has further experience prior to that in the power sector.

Arturas Asakavicius is also a Cofounder of WePower. He has been practicing law for over 5 years and has extensive experience at the crossroads of law and finance. Arturas was head of the start-up team at Sorainen, a major law firm in the Baltic region, as well as a member of the finance and private equity teams. He ended his time at Sorainen as a Senior Associate before departing to work with WePower. He also currently serves as Chairman of the Lithuanian Fintech Association.
CTO of the WePower ICO, Kaspar Kaarlep, also comes from the energy sector. He spent nearly 7 years at Elektrilevi, one of Estonia's largest electricity companies, finishing off his service there as CTO. At Elektrilevi, he was responsible for the development and execution of the company's technological roadmap as well as the management of the IT enterprise architecture for infrastructure.
Jon Matonis, Founding Director of the Bitcoin Foundation, is an advisor on the project. As his first advisory role with an ICO, his involvement certainly provides a welcome blessing from a huge figurehead in the cryptospace and an array of expertise and connections to benefit the project as well.
WePower ICO Strengths and Opportunities
The financing model created by the WePower ICO incentivizes both producers and energy buyers to use the WePower platform. For producers, the model deployed by WePower helps to increase return on equity by 20-25%. This prospect led to the first set of energy producing clients to sign up to use the platform (Conquista Solar, Civittas Projects, Novocorex) with a total of 1 billion EUR worth of solar energy development projects behind them. On the consumer end, buyers purchase energy upfront on the market for a reduced cost. Since the energy rights are held within a smart contract, energy that is not used is liquid and can be sold in the market. Buyers, therefore, have access to cheaper energy, using only what is needed and reselling the rights to access the surplus.
One of the most enticing aspects about the WePower ICO is that consumers do not have to be blockchain savvy to realize the benefits of using the service aspect of the platform. For many household consumers, WePower will be utilized simply as a means to purchase electricity (albeit one that offers reduced costs and easier access to renewable energy). When considering roads toward the mass adoption of blockchain-based products, services that can easily accommodate users with no real need to understand the underlying technology are crucial in bringing blockchain to the mainstream. A demo of the platform itself can be accessed here.
WePower's partnerships show how seriously some major players are taking the project. Their first partnership was established with Elering, an Estonian electricity transmission company, with the plan to launch a nationwide energy tokenization pilot in April, 2018. Beyond Estonia, the WePower ICO has established additional partnerships in both Spain and Australia. This gives the project three markets in which to scale from the outset.
One of the biggest startup accelerators in the world, SBC, has chosen WePower as part of the Startup Bootcamp Energy Australia program to be its first portfolio company using a tokenized model to incentivize and facilitate green energy adoption. SBC has connections to major players in the Australian energy sector and we will be paying close attention to where those connections might lead in terms of further pilots and consumer adoption.
WePower Weaknesses and Threats
The tokenization of electricity is one major use utility that has recently caught on in the blochchain space. A number of similar projects have popped up, with a major competitor, Power Ledger, vying for one of the same markets- Australia. High competition in this space plays a positive role overall as a driving force of innovation, but the implications for any individual company, including WePower, mean market dominance is not guaranteed. WePower have taken firsthand to addressing why they believe their project is superior to their competitors here.
One deficit we noticed while evaluating this project is the lack of progress on the blockchain development side. There is little progress to be seen on the Github and no verifiable evidence yet concerning any onchain products. With the ICO coming up on February 1st, it would be more reassuring to see some more traction on this front.
The Verdict on WePower ICO
To put it simply, WePower have established an all-round cost reducing platform for buying and selling a commodity that is essential to every single person on the planet. Moreover, they've created that platform to specifically foster the renewables sector, to the benefit of both consumers and the planet. As with any new application of an emerging technology like blockchain, the broader level uncertainties remain in question as always. Still, we think the WePower ICO holds a lot of promise and we're going to place a medium size bet on this one.
---
Today's Date: 1/11/17
Project Name: WePower
Token Symbol: WPR
Website: https://www.wepower.network/
White Paper: https://drive.google.com/file/d/0B_OW_EddXO5RWWFVQjJGZXpQT3c/view
Crowdsale Hard Cap: $35 million
Total Supply: 340,000,000
Token Distribution: 55% to crowdsale, 20% to team (lock up), 10% future (lock up), 15% community growth
Price per Token: 1 WRP = .00025 ETH (4000WPR = 1ETH) *subject to change before crowdsale
Maximum Market Cap (at crowdsale price): $63 million
Bonus Structure: 25% bonus for presale, 15% bonus on crowdsale until softcap is reached
Presale Terms: Closed
Whitelist: https://wepower.network/#video-token-model
Important Dates: Crowdsale- February 1, 2018
Expected Token Release: TBA
---
ICO Review Disclaimer
The team at Crypto Briefing analyzes an initial coin offering (ICO) against ten criteria, as shown above. These criteria are not, however, weighted evenly – our proprietary rating system attributes different degrees of importance to each of the criteria, based on our experience of how directly they can lead to the success of the ICO in question, and its investors.
Crypto Briefing provides general information about cryptocurrency news, ICOs, and blockchain technology. The information on this website (including any websites or files that may be linked or otherwise accessed through this website) is provided solely as general information to the public. We do not give personalized investment advice or other financial advice.
Decentral Media LLC, the publisher of Crypto Briefing, is not an investment advisor and does not offer or provide investment advice or other financial advice. Accordingly, nothing on this website constitutes, or should be relied on as, investment advice or financial advice of any kind. Specifically, none of the information on this website constitutes, or should be relied on as, a suggestion, offer, or other solicitation to engage in, or refrain from engaging in, any purchase, sale, or any other any investment-related activity with respect to any ICO or other transaction.
The information on or accessed through this website is obtained from independent sources we believe to be accurate and reliable, but Decentral Media LLC makes no representation or warranty as to the timeliness, completeness, or accuracy of any information on or accessed through this website. Decentral Media LLC expressly disclaims any and all responsibility from any loss or damage of any kind whatsoever arising directly or indirectly from reliance on any information on or accessed through this website, any error, omission, or inaccuracy in any such information, or any action or inaction resulting therefrom.
Cryptocurrencies and blockchain are emerging technologies that carry inherent risks of high volatility, and ICOs can be highly speculative and offer few – if any – guarantees. You should never make an investment decision on an ICO or other investment based solely on the information on this website, and you should never interpret or otherwise rely on any of the information on this website as investment advice. We strongly recommend that you consult a licensed investment advisor or other qualified financial professional of your choosing if you are seeking investment advice on an ICO or other investment.
See full terms and conditions for more.
Founding Team
This category accounts for the leaders, developers, and advisors.
Poor quality, weak, or inexperienced leadership can doom a project from the outset. Advisors who serve only to pad their own resumes and who have ill-defined roles can be concerning. But great leadership, with relevant industry experience and contacts, can make the difference between a successful and profitable ICO, and a flub.
If you don't have a team willing and able to build the thing, it won't matter who is at the helm. Good talent is hard to find. Developer profiles should be scrutinized to ensure that they have a proven history of working in a field where they should be able to succeed.
Product
What is the technology behind this ICO, what product are they creating, and is it new, innovative, different – and needed?
The IOTA project is a spectacular example of engineers run amok. The technology described or in use must be maintainable, achievable, and realistic, otherwise the risk of it never coming into existence is incredibly high.
Token Utility
Tokens which have no actual use case are probably the worst off, although speculation can still make them have some form of value.
The best tokens we review are the ones that have a forced use case – you must have this token to play in some game that you will probably desire to play in. The very best utility tokens are the ones which put the token holder in the position of supplying tokens to businesses who would be able to effectively make use of the platforms in question.
Market
There doesn't have to be a market in order for an ICO to score well in this category – but if it intends to create one, the argument has to be extremely compelling.
If there is an existing market, questions here involve whether it is ripe for disruption, whether the technology enables something better, cheaper, or faster (for example) than existing solutions, and whether the market is historically amenable to new ideas.
Competition
Most ideas have several implementations. If there are others in the same field, the analyst needs to ensure that the others don't have obvious advantages over the company in question.
Moreover, this is the place where the analyst should identify any potential weaknesses in the company's position moving forward. For instance, a fundamental weakness in the STORJ system is that the token is not required for purchasing storage.
Timing
With many ICO ideas, the timing may be too late or too early. It's important for the analyst to consider how much demand there is for the product in question. While the IPO boom funded a lot of great ideas that eventually did come to fruition, a good analyst would recognize when an idea is too early, too late, or just right.
Progress To Date
Some of the least compelling ICO propositions are those that claim their founders will achieve some far-off goal, sometime in the future, just so long as they have your cash with which to do it.
More interesting (usually) is the ICO that seeks to further some progress along the path to success, and which has a clearly-identified roadmap with achievable and reasonable milestones along the way. Founders who are already partially-invested in their products are generally more invested in their futures.
Community Support & Hype
Having a strong community is one of the fundamental building blocks of any strong blockchain project. It is important that the project demonstrates early on that it is able to generate and build a strong and empowered support base.
The ICO marketplace is becoming more crowded and more competitive. While in the past it was enough to merely announce an offering, today's successful ICO's work hard to build awareness and excitement around their offering.
Price & Token Distribution
One of the biggest factors weighing any analysis is price. The lower the price the more there is to gain. But too low of a price may result in an under capitalized project. It is therefore important to evaluate price relative to the individual project, its maturity and the market it is going after.
The total supply of tokens should also be justified by the needs of the project. Issuing a billion tokens for no reason will do nobody any good.
Communication
Communication is key. The success of a project is strongly tied to the project leaders' ability to communicate their goals and achievements.
Things don't always go as planned but addressing issues and keeping the community and investors in the loop can make or break a project.