What Do Attendees Wear At Denver's Monero Konferenco?
Groucho Marx noses? Fright wigs? Mr. Robot hoodies?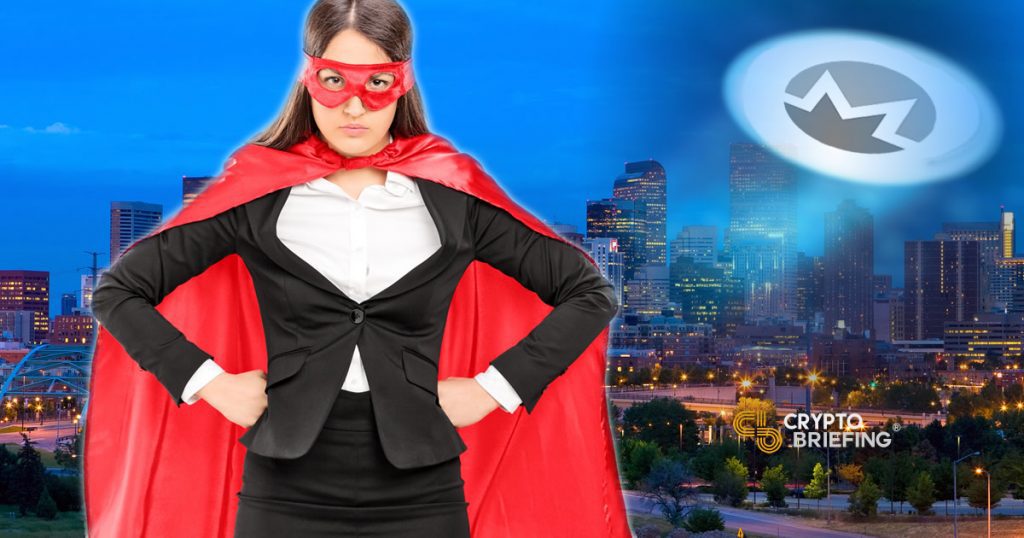 Monero Konferenco bill itself as an opportunity to meet and greet the "privacy advocates, cypherpunks, scientists, and philosophers" who make up the Monero community.
Which begs the question: why would a privacy-focused coin host a conference, where its mysterious developers and supporters attend in person? Doesn't that defeat the purpose of pseudonymity?
Founded in 2014 as a "response to privacy issues present in Bitcoin," Monero can be argued to be among the top of its class in privacy-focused cryptocurrencies. Monero, which is Esperanto for "coin," utilizes a unique ring signature protocol to protect the identity of participants in a transaction by masking their addresses.
Over its five-year lifespan, Monero's popularity among developers and cryptographers has seemingly increased. The inaugural Monero Konferenco, which will take place on the weekend of June 22nd and 23rd, in Denver, Colorado, may therefore be overdue.
Monero Research Lab (MRL), an independent academia-oriented branch that works independently of the Monero Project development team, tasked themselves with organizing the conference. In December 2018, the MRL requested funding for the conference and was able to raise the requisite amount sought from 35 contributors.
The Monero Team page highlights "well over 500 contributors [who have contributed] over the life of the project." Of whom, only seven of the Top 40 all-time contributors are pseudonymous. (And of Monero's five core contributors, only two have come forth with their identities.)
---
Colorado poised to discuss privacy and blockchain
Denver is a city that is no stranger to blockchain, in a state whose Governor hopes to help it become a "Mecca for blockchain companies." Some of the most active communities in the world can be found in the region, which borders Wyoming, the most progressive blockchain state in the Union.
In February, freshly seated Governor Jared Polis touted blockchain as a solution to trust issues that manifest between individuals, and "big business" and "big government."
When pressed on the reasoning behind locating the first Monero Konferenco in the Mile High City, the choice went beyond the beauty and offerings of the locale.
In the local community, Dr. Goodell hopes to spark the "discussion of privacy as a human right into the discussion around blockchain technology." He believes as "Jared Polis says, this tech unites the left and the right together by combining concerns about big government with concerns about big business."
---
The pseudonymity of developers at the event
Dr. Brandon Goodell (aka Surae Noether) is among the MRL team and the man behind the successful crowdfunding request. As the event organizer, he weighed the value of pseudonymity within the Monero community, and how to go about protecting the identity those who attend.
One would think, in such a privacy-oriented environment face-to-face interactions among community members may be minimal. As Dr. Goodell states, "due to the virtues of the Monero community, any in-person meeting loses a few of the most valuable contributors who are not transparent about their identities."
However, in his experience, most of the developers in the Monero community who prefer pseudonymity are happy to meet in person. It just happens they tend to get a bit uneasy around cameras.
To mitigate the potential of unintentionally uncovering an attendee's identity, Dr. Goodell says the organizers will "ensure that no one but speakers are clearly visible in our video shots of the talks."
He even said the event organizers would go as far as "distort voices and block faces for the video components of speakers talks, but this has not yet come up."
---
A weekend full of privacy coin conferences
Monero Konferenco aims to primarily cover Monero, but also aims to discuss privacy-oriented technology more broadly. Jack Gavigan of Zcash product and regulatory relations will participate in an intercontinental panel discussion covering government regulation and privacy.
In an atmosphere that contains blockchain-tribalism from time to time, it is nice to see communities playing nice; even if the second annual Zcash Foundation conference happens to coincide with Monero Konferenco. Zcon1 is scheduled to take place in Split, Croatia from June 22nd to 24th.
Competing coin conferences held on the same weekend may be seen by some as a malicious action or motivated by competition. However, Dr. Goodell suggests it is the opposite. The Monero Konferenco and Zcon1 organizers "all [got to] talking about making the weekend of June 22-23 just absolutely jam-packed with cryptocurrency and privacy content streaming online."
He explains that sharing the stage with other projects in privacy coin space increases transparency across the industry. Dr. Goodell believes that such collaboration ensures "that both communities are communicating with each other in the open, transparently, we can encourage that unethical behavior – in either community – is brought to light."
It appears that the Zcash team is of a similar mind on the subject. Dr. Goodell stated, "as a show of good faith, the Zcash Foundation decided to help donate to our funding request as a Monero community member (as opposed to, say, asking to sponsor the event)."
You can find more details about Monero Konferenco here.