What Is AuroraChain? Introduction to Aurora AOA Token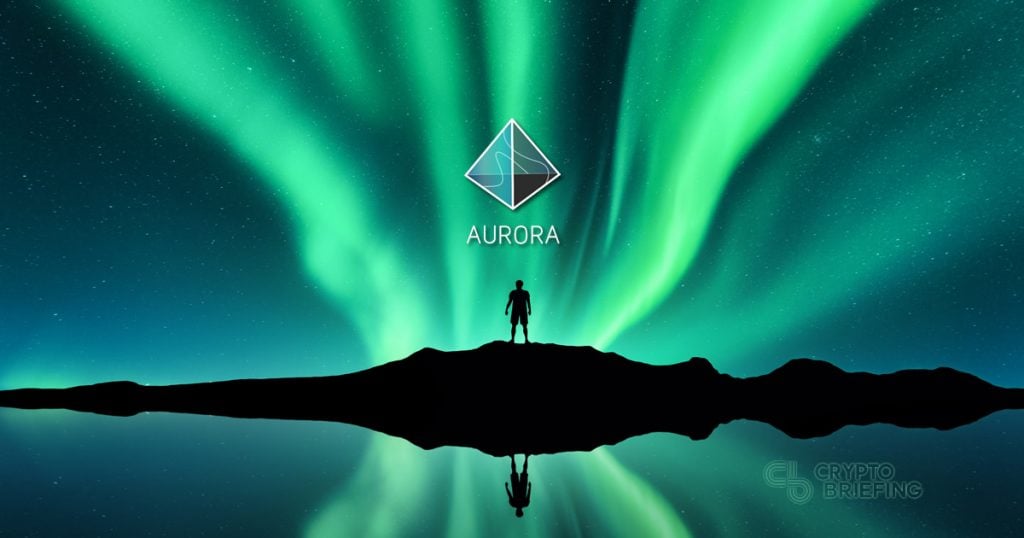 What Is AuroraChain?
AuroraChain is a blockchain-based smart-contract platform announced during May 2018's "Beyond the Blocks" event in Seoul, South Korea. It was created to compete with Ethereum's decentralized application ecosystem. Aurora AOA, AuroraChain's native cryptocurrency, was originally developed as ABitchain (ABTC), and uses a Delegated-Proof-of-Stake (DPoS) and Byzantine Fault Tolerance (BFT) consensus mechanism.
The AuroraChain mainnet launched in the summer of 2018 with support for both the Ethereum Virtual Machine and Solidity programming language. AuroraChain's average gas fees are 0.0001 AOA, and it can reach transaction speeds of 2000 transactions per second (TPS), which is on par with the EOS blockchain.
The key pain points AuroraChain relieves in Ethereum's blockchain are congestion, scalability, and upgradeability. It believes its P2P stereo network is the way to do this. But it's not even a year old yet and entering an already-crowded marketplace.
Every blockchain project is aware cross-chain functionality and integration with legacy systems and data is a must-have feature. AuroraChain's team was quick to market, but it still has a long fight ahead of it.
Will AuroraChain be snuffed out before it gets old enough to walk, or will it forge the right partnerships to stand strong against a wave of blockchain-based competitors?
We'll start our search for answers by examining the market performance of AOA, AuroraChain's proprietary token, on the cryptocurrency market.
---
Aurora AOA Cryptocurrency Summary
The total supply of Aurorachain is 10,000,000,000 AOA. Its peak price so far was $0.060106 on July 18, 2018.
The initial supply of AOA and ABTC was airdropped throughout 2018 for performing a variety of tasks, such as joining the Aurora Telegram group in a variety of languages or following the official Twitter account. The Aurora Foundation retained 40 percent of the initial supply, and early investors retained 34 percent. The remaining 26 percent was airdropped to the community.
Holding AOA in an approved wallet or exchange gives the power to elect a delegate to validate transactions for rewards and vote on network governance. Staking rewards are then distributed among the community. This helps maintain a mix of security and decentralization.
Despite being so young, nearly $2 million worth of AOA is traded on a daily basis. AOA is accepted by Kucoin, CoinEgg, Bitinka, and Indodax so far. It's constantly looking to secure more cryptocurrency exchange partnerships.
The AuroraChain Foundation created official Aurora wallets for PC and Mac, along with a Lite wallet for mobile. Third-party cryptocurrency wallets that support AOA include Kcash and Math Wallet.
---
Aurora Borealis or Aurora Australis?
Because it's late to the game, AuroraChain had plenty of time to learn from the mistakes of other blockchains. What the team essentially did was study the problems of existing blockchains and create a solution to those problems.
First, block forging and smart-contract validation is performed through a DPoS model described above. In addition, the nodes are kept honest through the BFT consensus which locates offline or faulty nodes to remove them from the network. This makes it a lean blockchain 3.0 project.
In addition, the P2P stereo technical structure it uses makes it a more distributed blockchain rather than other decentralized systems. This means trust is passed through a mesh network and the consensus model rather than every node needing the entire digital ledger.
This cluster-computing structure uses the interconnectivity of multiple parallel chains to allow for higher transaction throughput.
Intelligent App Isolation is AuroraChain's answer to speeding up transactions. Once smart-contract transactions are verified, they're stored in the Pending Zone as part of its Intelligent App Isolation system.
AuroraChain is targeting industries like gaming, artificial intelligence, big data, and the Internet of Things with this sleek new blockchain.
Co-founder and VP Bo Zhang told News BTC he believes AuroraChain's low transaction fee and open platform will attract a community of developers who build a dApp ecosystem to attract both enterprise and consumer users.
The sky is the limit for AuroraChain, but this lack of focus leads many analysts to believe it's all buzz with no brawn. NASDAQ reports Weiss Ratings gave the AuroraChain AOA project a D- rating, making it one of the lowest-grade cryptocurrency investments.
Talk of bulls and bears aside, the criticism boils down to AuroraChain building a somewhat-functioning product (many of its claims haven't been fully tested in the real world, as the mainnet has been on the market for less than six months so far) that may or may not get any use.
AuroraChain has great viral marketing and PR chops, and it's certainly not vaporware. But until the team secures enterprise partnerships and vendor buy-in, market acceptance of Aurora is a long ways away.
---
Summary
AuroraChain is a new project less than one year old. It hit the scene with a lot of hype, but it's still building an ecosystem that other blockchains already have. If the team can secure the right partnerships, it can stay afloat, despite analyst bets against it almost across the board. To do that, it needs to sell the world on these key factors.
AuroraChain is a distributed mesh network of blockchains that has a faster transaction rate than Ethereum and Bitcoin. It uses the same coding language as Ethereum.

AOA uses a Distributed Proof of Stake and Byzantine Fault Tolerance consensus model. This helps keep the network stable through a variety of common blockchain error scenarios.

AuroraChain has lower transaction rates than Ethereum, making it a better development ecosystem. However, Ethereum wasn't even the only chain on that block back in May.
For AuroraChain to succeed, it needs to continue its aggressive marketing and hope the "if we build it, they will come," strategy pays off. It's a gamble that has many analysts worried, but high-risk investors may appreciate it.