What Is Digitex Futures Exchange?  Introduction to DGTX Token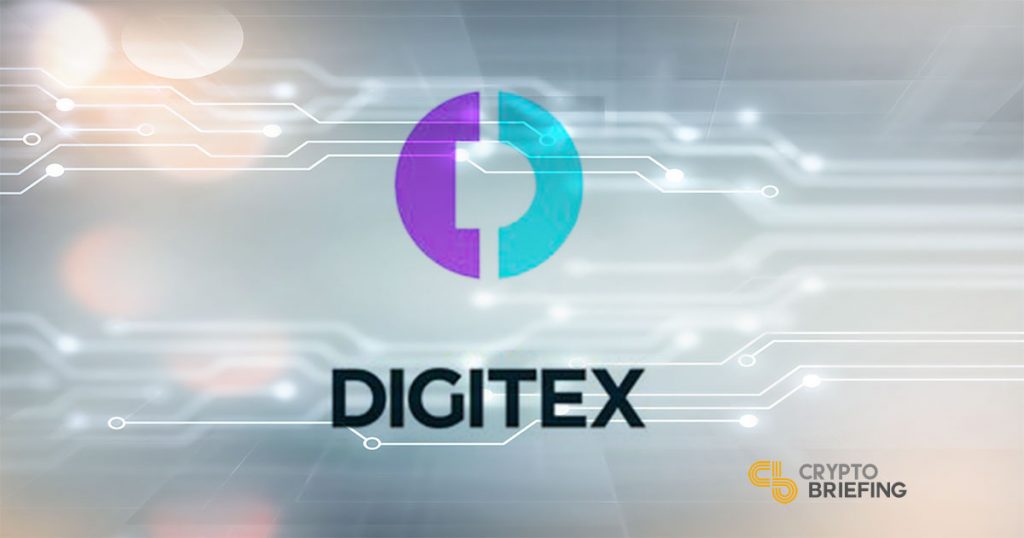 What Is Digitex Futures Exchange?
The Digitex Futures Exchange is a decentralized platform for trading futures contracts (also known as derivatives or options) on cryptocurrencies, commodities, and other assets. Digitex offers zero-fee transactions through it native DGTX token, which is used to bet against the future price of BTC against USD. Futures (and stocks in general) are a two-sided marketplace and play an important role in Wall Street, as highlighted in the film, The Big Short.
The Big Short shows the perspectives of three separate investors who realized that securities backed by subprime mortgages were going to crash. By shorting the market, they bet against the stocks of mortgage companies in anticipation of its collapse and made billions. Netflix's Dirty Money documentary also highlights short-sellers in the pharmaceutical industry.
Futures trading BTC for USD could have been very profitable in 2018. If you sold a Bitcoin future on December 18, 2017 for $18,771,20 and settled on November 24, 2017 for $4,278.54, you would've made a killing while everyone else in the market licked their wounds and lamented losses.
Of course, you'd need to find a sucker, err, buyer to take the long position. And the crypto market has to continue going down, as we all guess when it'll finally stabilize from 2017's alleged price manipulation.
Futures trading (also known as margin trading) is risky for both parties, and instead of the actual commodity, accounts are typically settled in cash on a daily basis. Are cryptocurrency traders ready to start adding all the complicated investment options that legacy trading markets like the New York Stock Exchange offer?
And can Digitex compete with crypto-exchanges like BitMEX, Bitfinex, and GDAX, along with the legacy options traders like the Chicago Board Options Exchange in the Bitcoin derivatives market?
Let's start our exploration of these questions with an overview of DGTX, the native cryptocurrency token of Founder and CEO Adam Todd's Seychelles-based Digitex Futures Exchange market.
---
DGTX Cryptocurrency Summary
The total supply of Digitex is 1,000,000,000 DGTX. Its peak price so far was $0.147011 on October 19, 2018.
The Digitex Futures Exchange ICO token sale occurred from Jan 15, 2018 through February 15, 2018. At this time, 700,000,000 DGTX was sold, raising $5,200,000 worth of ETH, BTC, LTC, and USD.
Another 6,000,000 DGTX is being airdropped through a Digitex early access waitlist and referral program leading up to the anticipated Q4 2018 launch, which was later delayed to April 30, 2019. Joining the early access program gives you 1000 DGTX upon launch. The remaining supply is held by the founding and development team.
New tokens will be created and sold through token issuance events approved by the network's Decentralized Governance by Blockchain.
DGTX is an ERC-223 token on the Ethereum blockchain. ERC-223 is a backwards-compatible upgrade to the ERC-20 token standard.
There are no trading fees for the upcoming Digitex exchange. Instead the team plans to cover its costs by minting a limited amount of DGTX tokens after a community vote. By forcing all trades to go through DGTX, it plans to create liquidity for the token which would allow them to avoid excessive price suppression. This decentralizes the exchange to make the main Digitex servers less attractive of a hacking attack.
DGTX can also be purchased on Mercatox and HitBTC cryptocurrency exchanges. Over $300,000 worth of DGTX is traded on a daily basis on these markets, and its trading pairs are BTC, ETH, and USDT.
As an ERC-223 token, DGTX can be stored in any ERC223-compatible cryptocurrency wallets, which includes most ERC20-compatible wallets.[/vc_column_text][/vc_column][/vc_row]
---
Is Digitex the Future of Cryptocurrency Exchange?
An employment contract is a great example of a futures contract. When you're hired at a $50,000 annual salary, that pay rate for your time and performance is contractually sealed, along with disbursement frequency. You go to work every morning with the assumption that you'll be paid a portion of your annual salary on a scheduled weekly, bi-weekly or monthly basis.
Instead of employers and employees, Digitex's BTC futures have short sellers and long buyers. Sellers are betting the cryptocurrency price will go down, and are selling based on future prices. In doing so, they place the BTC in escrow, with the terms of the derivative option set in an Ethereum smart contract. This "locks" the BTC while issuing the equal value of DGTX.
As the value of BTC fluctuates versus USD, accounts are settled in DGTX via smart contract terms. The Digitex beta launch in April 2019 is expected to have a sleek, simple, and intuitive user experience (UX) to create these futures smart contracts.
It's not necessary to hold the smart contract through to its end – buyers and sellers can sell their stake to another buyer. Like the game of hot potato, whoever is holding the futures contract at the expiration date either gives or receives a payout, depending on the respective position.
With high risk comes high reward, and operating as a futures exchange gives Digitex a specialization and association, for better or worse.
As the contract value fluctuates, one party or another will be responsible for paying a margin, or collateral deposit to cover credit risk.
Of course, Bitcoin won't be the only cryptocurrency available for futures trading. When the platform finally launches, we'll see the full capability, capacity, and support of the Digitex network. Eventually, it can be expanded to compete with major derivative exchanges like the Chicago Mercantile Exchange (CME), Intercontinental Exchange (ICE), and Eurex Exchange.
This means any crypto and non-crypto commodities can be traded. Digitex would fall under commodities regulators, which in the U.S. would be the Commodity Futures Trading Commission.
While it has lofty ambitions, the Digitex Futures Exchange is still a project launching in the future, as of this writing. We'll hopefully update at some point in 2019 when we have more hands-on experience with the working product, beta or not.
---
Summary
Digitex Futures Exchange is a cryptocurrency futures trading market like BitMEX that lets users place speculative bets on the future price of crypto tokens and other assets. These futures exchanges are competing with both cryptocurrency exchanges providing derivatives options and legacy derivative markets that support BTC futures trading. The success of Digitex hinges on these key factors:
The DGTX token is the native ERC-223 cryptocurrency token used on the Digitex platform. Futures terms are stored in Ethereum-based smart contracts.

Digitex offers zero-cost trading, but both long buyers and short sellers of cryptocurrency derivatives are making a high-risk investment.

Shorting cryptocurrency is a bet that the value will crash. Long buying is a bet that the value will continue going up. Futures can be sold at any point prior to the expiry date.
With these pieces in place, Digitex Futures Exchange needs to rely on providing fast trades and big payouts to the vocal minority with the risk aversion necessary to gamble on the future. There's money to be made in the future, but there's just as much to be lost. Which side of the future are you on?