What Is Nexo? Introduction to NEXO Token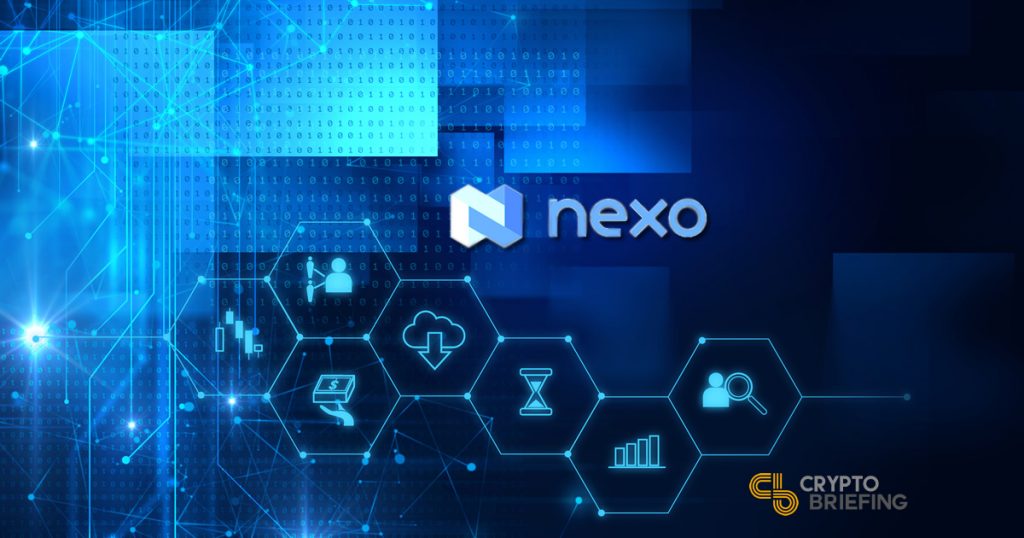 What Is Nexo?
Nexo is a blockchain-based, cryptocurrency-backed loan system created by European FinTech company Credissimo. Users deposit supported cryptocurrency coins and tokens into a Nexo wallet and receive an instant cash loan in either USD or EUR. Loan details are established by the Nexo Oracle and stored in an Ethereum smart contract. The NEXO token is an ERC-20 interest-bearing security token which the company markets as "SEC-Compliant."
Loans are a big business. Student loans, for example, account for $1.48 trillion in debt. Mortgages (loans collateralized by real estate) sum up to $14.9 trillion, a large fraction of the US GDP of $19.4 trillion. And Experian reports the average new vehicle loan in the U.S. is $31,099 in 2018.
And then there are payday loans, a $9 billion business with a national average annual percentage rate of nearly 400 percent. Another 2.5 million people every year take out auto title loans, collateralized by the title of their vehicles, according to Pew Research.
New loan types are popping up all the time, like the purchase financing loans offered by Wayfair and Casper to their ecommerce customers through Affirm. Using cryptocurrency assets to collateralize loans is a great way to bypass the tax consequences of selling. SALT Lending and Nexo are first to market.
Nexo supports over 20 cryptocurrencies, including Bitcoin, Ethereum, XRP, Cardano, Monero, Binance Coin, and more. Payments can be made in USD, EUR, BTC, ETH, and NEXO. A variety of loan options are available that we'll discuss in more detail in a minute. We're also going to talk about where these loan options fit in the general loan market.
But first, let's review the market performance of the native NEXO cryptocurrency token.
---
NEXO Cryptocurrency Summary
The total supply of Nexo is 1,000,000,000 NEXO. The peak price so far was $0.536074 on May 7, 2018.
NEXO was initially distributed through a February 2018 airdrop, March 2018 ICO pre-sale, and April 2018 ICO token sale. During this time a hard cap of 525,000,000 NEXO was distributed, raising approximately $52,500,000 worth of BTC and ETH.
NEXO token holders receive a dividend of 30 percent of company profits, divided proportionately by token balance. The dividends are paid in a currency of their choosing. To date there has been one distribution, on December 15, 2018.
Using NEXO to repay loans results in a lower interest rate (50 percent less, according to the team) and other discounts, while larger balances unlock higher loan limits.
The NEXO token is marketed as "SEC-Compliant" using Securities and Exchange Commission Regulation D Rule 506(c). This is something we'll discuss more in a minute, but understand that NEXO "securities" tokens aren't registered with the SEC. They're labeled as "restricted securities," which, as you can imagine, come with a few restrictions.
Still, over $1.5 million worth of NEXO is traded on a daily basis on cryptocurrency exchanges like Hotbit and HitBTC. Its trading pairs are ETH and BTC.
Because it's an ERC-20 token, NEXO can be stored in any ERC20-compliant wallet, including the MyEtherWallet and Nano cryptocurrency wallets.
---
Banking on the Blockchain
At the heart of the Nexo cryptocurrency loan platform is the Nexo Oracle. This Oracle is responsible for governance over the network, controlling real-time asset monitoring and data analytics to determine loan distribution and repayment structure. This means it determines how much you're given, how much it costs to borrow against your collateral, and how long you have to repay.
The Nexo Oracle uses a similar Loan-to-Value (LTV) ratio to legacy lenders to determine credit-worthiness without access to bank account or credit score information. Using simple numbers, if you had $2000 worth of BTC in your account and the algorithm determines your LTV is 50 percent, you can borrow $1000 (the minimum loan amount, issued in USD or EUR) by collateralizing your $2000 worth of BTC.
If the price of BTC drops below $1000 before you repay, you'll need to add collateral through a margin call.
Because you're taking a loan against your crypto assets and not selling them, you do not need to pay capital gains taxes against the loan. You can then pay the loan back via bank transfer and other fiat/crypto payment options.
The company paired with BitGo and PrimeTrust to store the collateral securely, and the marketing materials (along with the surface-level "research" performed by lesser crypto publications) really focus on how secure, fast, and easy these loans are.
But there's always a catch contained in the fine print, and in the case of Nexo, that fine print is hidden behind the Oracle.
---
Will This Crypto Loan Shark Tank?
Now that we've explained the basics, let's get down to the nitty gritty of the short-term loan industry and predatory lending in general. Payday loans are a great place to start, as one in five payday loan borrowers defaults, while 80 percent of these loans are rolled over beyond the "short term" advertised.
Interest rates, which are typically measured as Annual Percentage Rates (APR), on payday loans are in the range of 400 to 800 percent. They get around (some) laws by charging a short-term loan fee instead of an APR. Of course, years of these high-interest loans caused the government to crack down. Scott Tucker was famously sentenced to 16 years in prison for running an illegal $3.5 billion payday loan company.
And consumer watchdog groups warn auto title loans are just as predatory to consumers as payday loans. On the high end, you'll get 50 percent of your car's value in a title loan, as the lender needs to recoup costs related to repossession and resale. So why is Nexo using 50 percent of crypto's value in its examples?
One in five auto title loan borrowers lose their vehicle for failing to repay their debt, according to the Consumer Financial Protection Bureau. These industries are filled with predatory lenders.
I'm not accusing Nexo of anything: but the average consumer should do extra research before signing up with ANY lender. That's just commonsense.
NEXO isn't a normal registered SEC security. The document on file with the SEC is U.S. SEC form D, signed by Antoni Trenchev representing Nexo Capital Inc. and it states Nexo is exempt from registering its NEXO securities because of Regulation D, Rule 506(c). This means they're selling restricted securities.
Purchasers of NEXO (whether via ICO, crypto exchange, or NEXO loan) are legally required to hold NEXO for a minimum of six to twelve months. They must then register the securities when selling. Requirements for information disclosure are also provided. In fact, financial disclosure is a vital part in financial regulations across the U.S. and the rest of the world.
Nexo goes out of its way to avoid mentioning how much a loan will actually cost (though the minimum APR is 5.9%). The Nexo Oracle determines the exact terms, but its posted web terms do mention it's calculated daily. The terms also contain language that the lender may consider you in default at its own discretion, and more.
Nexo is a short-term lender, as is SALT Lending. It's the equivalent of taking out a payday loan or auto title loan: easier to borrow than to pay back. There are cheaper ways to gain liquidity, so use at your own risk.
---
Summary
Nexo is a short-term lending platform that uses cryptocurrency assets to collateralize loans. Over 40 cryptocurrencies are supported, and loans are made instantly in USD or EUR. Nexo requires no credit check and you pay no capital gains taxes for loans made against crypto assets. Nexo's success hinges on these key factors.
NEXO is an ERC-20 token that's traded as a "restricted security" per the SEC registration exemption filed by Nexo.

Nexo repayments can be made in fiat or crypto currencies. If NEXO is used to repay the loan, a 50 percent interest rate discount is gained.

Holding NEXO entitles you to higher loan limits and a 30-percent Nexo profit-share payment.
With these pieces in place, Nexo built a profitable business model. Whether these loans will place undue financial strain on consumers remains to be seen. Short-term lending is a great way to make short-term money, but it's a high-risk industry for everyone involved.
Editor's note: [12H UTC, Dec. 23, 2020] This article has been updated to reflect new information regarding Nexo's lending rates.