What Is Odyssey Coin?  Introduction to OCN and OCP Tokens
Will Odyssey reach its destination, or get lost along the way?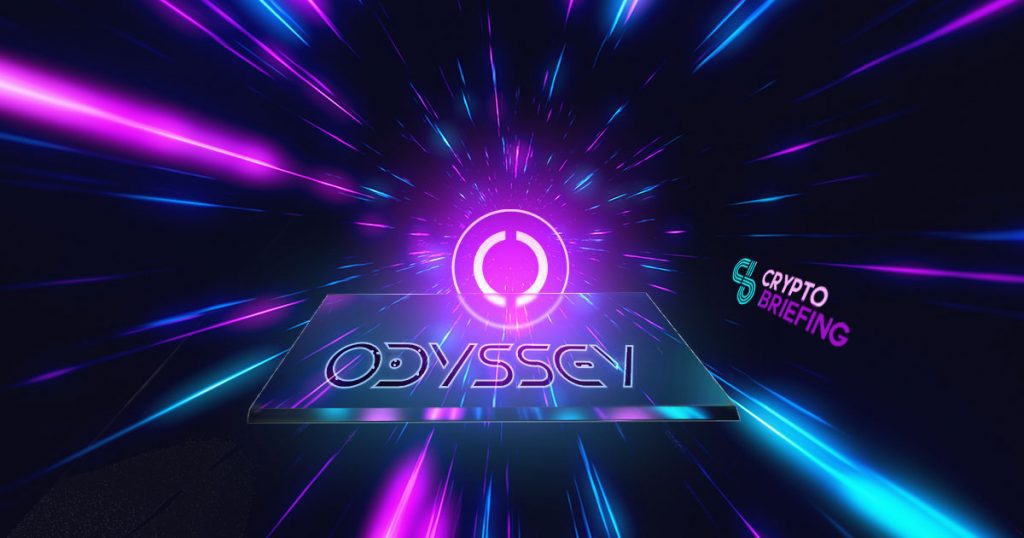 What Is Odyssey?
Odyssey is a blockchain-based platform helping to tokenize peer-to-peer sharing economies like Lyft, WyzAnt, or Airbnb. The ecosystem relies on participation from both sides of the two-sided marketplace, with consumers incentivized to review providers in ocoins (OCN), Odyssey's proprietary ERC-20 cryptocurrency token. In 2018 the project launched a second OCP token, which started airdropping to OCN holders November 2018.
The Odyssey platform already has a mobile crypto wallet payment service called OCPay, and its OCNEX cryptocurrency exchange went online in October 2018. It appears to have gone offline since then, though.
While it doesn't get a lot of media attention, this ambitious project is aiming for a great target by putting the sharing economy on the blockchain. According to PricewaterhouseCoopers estimates, the P2P sharing market will generate $335 billion in annual revenue by 2025. Uber (valued at $72 billion, as of August 2018) was the most valuable unicorn tech company for a long time, and it made co-founder and ex-CEO Travis Kalanick a multi-billionaire.
Other U.S.-based unicorn companies include:
The Singapore-based project's Chief Advisors include Tron CEO Justin Sun and Avazu Holding CEO Yi Shi, and both the TRON Foundation and QTUM Foundation are listed as cornerstone investors, along with Game.com Founder & CEO Le Xu and BlockVC Founder Kevin Hsu.
Can this crypto dream team tokenize and monetize this sleeping dragon of the shared economy?
We'll begin answering this question with an examination of OCN and OCP, the proprietary ERC-20 cryptocurrency tokens used on the Odyssey platform.
---
OCN and OCP Cryptocurrency Summary
The peak price of OCN so far was $0.110455 on January 27, 2018. There is a total coin supply of 10,000,000,000 OCN.
The Odyssey ICO ended January 23, 2018 and raised $50,000,000 worth of ETH, selling 40 percent of the total token supply (4,000,000,000 OCN).
OCN is technically airdropped, but it's done so in a manner similar to Proof-of-Stake mining. Users build credit by holding OCN and participating in the Odyssey ecosystem (i.e. providing services or reviewing providers). Distributions are then made on terms set by the Odyssey team proportionate to each node's credit ratings.
Credit will be important in Odyssey, as shared economies are trust-based systems. Services like Uber and Doordash require minimum ratings of their drivers, and both drivers and riders can decline a transaction if they don't like the ratings. Odyssey's credit system moves this system to smart contracts on the Ethereum Virtual Machine.
OCN is used to pay for tokenized transactions on the Odyssey network.
Over $6 million worth of OCN is traded on a daily basis. OCN is accepted on a variety of cryptocurrency exchanges, including Gate.io, LBank, Bittumb, Huobi, and Upbit. Trading pairs include ETH, BTC, and USDT.
As an ERC-20 token, OCN can be stored in any ERC20-compatible cryptocurrency wallet, such as MyEtherWallet and the Ledger Nano S hardware wallet.
OCP began airdropping to OCN holders proportionate to the average of their OCN holdings during the airdrop period. 10,000,000,000 OCP tokens were minted, and they're meant to be used as payments on the Odyssey platform.
Many industry analysts and Reddit forums are abuzz with wonder as to why two currencies are necessary for a platform seeking to unify shared economy platforms. Some see them as red flags that the project is just a cash grab by the founders.
---
Shared Problems in Shared Economies
While P2P services seem ideal on the surface, the shared economy is not without its dark sides. Both users and providers in marketplaces like Airbnb and Uber have gripes with the services. The best way to break down these important problems are by category:
Home-sharing – Marketplaces like Airbnb, VRBO, and Couchsurfing let you share your home with travelers looking for places to stay away from the typical hotel stay.
It sounds great on the surface, but homeowners (and renters who sublease through the services) come home to wrecked homes, squatters, and even police raids. Renters ran into their own scams and crimes, including murder.
Meanwhile, research in cities from New York to San Francisco report Airbnb raising rents, and SF's government even sued the service.
Ride-sharing – Marketplaces like Uber and Lyft let you drive people around, while others like Zipcar and Turo let you rent your car to others.
These are great ways to monetize your car and spare time, and Uber/Lyft kickstarted the investment craze in P2P services. But Uber drivers filed a class-action lawsuit against Uber for misclassifying drivers as independent contractors to avoid proper compensation, and Uber drivers aren't happy about pay either, according to their class actions.
Meanwhile, legacy transportation and taxi services, along with local governments, are grappling with these services in courts around the world.
P2P services – Marketplaces like Rover, Postmates, Bird, and Fiverr let you offer work services like dog walking, delivery, charging scooters, or any other chore or task for other people.
These marketplaces are great for connecting others to get a job done, but you get what you pay for these days, and often these services can feel more like Etsy when you're looking for Neiman Marcus. People are also learning very quickly the returns don't always add up to livable hourly wages.
And when one of these marketplaces blows up – like the e-scooter rental craze near every college campus fueled by Bird, Lime, and Razer – local governments immediately rush to ban them.
P2P marketplaces – Marketplaces like eBay, Craigslist, Letgo, and Facebook Marketplace let you sell goods (and often services) without the middleman of stores.
These marketplaces are great for making extra cash, and plenty of people built sustainable businesses on them. However, purchases can (and often do) go wrong, and the more you use them, the more likely you are to deal with flaky people, shady meetups, and substandard (sometimes knockoff or broken) products.
Using P2P marketplaces like this require trust, and some, like eBay, have those systems built-in, while others, like Craigslist, really don't.
These disconnected pieces are what prompted the creation of Odyssey Coin.
---
The Proposed Odyssey Solution
Odyssey's system is meant to function as the glue holding the entire shared economy together. Users would pay through the OCPay wallet and can track providers across a range of services. In doing so, they would be rewarded for giving reviews and other microtransactions on the network.
Meanwhile, providers would get the biggest boost from this service, because their credit would extend beyond the one platform.
If you build up your driver rating on Uber, for example, leaving for Lyft would be a bad idea because you have to start from the beginning. Of course, most drivers already know to drive for all the services at once, but what if you need to sell something on eBay or rent a room in your house when your car breaks down?
The reason eBay was one of the earliest success stories of the dotcom era is because of the ability to rate people. Ratings are important on Uber and Airbnb too. You want to know you're staying with someone you can trust.
Building a trust economy requires trust in itself, and as discussed above, the Odyssey Foundation is struggling to maintain that trust among investors. It needs partnerships to survive, and it looks like much of the team is busy working on other projects related to Tron, Qtum, or elsewhere. Odyssey is a side project when it should be the crown jewel.
If the team can find a way to partner with any (or, more importantly, all) of the shared economy platforms above, it'll be a big win. But that's easier said than done, and they have a lot to prove about this platform.
---
Summary
Odyssey is a blockchain built specifically for the shared economy. These P2P marketplaces have existed as long as the internet, and they're gaining huge investments even today. Shared economies are based on trust, and public trust in Odyssey will hinge on these key factors:
Odyssey is built on the Ethereum blockchain and uses two ERC-20 cryptocurrencies – OCN and OCP. These tokens fuel network transactions and are used as a form of in-house payment.

Odyssey's core team is heavily involved in Tron and Qtum, with interoperability a major focus of each project. However, Odyssey was built on Ethereum, not one of the partner blockchains.

Odyssey already has two supposedly working programs – a wallet/payment app for mobile called OCPay and a crypto exchange called OCNex.
With these pieces in place, Odyssey has the foundation built, but if they're hoping for people to simply come, they're dreaming. Enterprise partnerships and massive marketing dollars will be needed to make this a part of the technology lexicon. However, the project seems to be giving few signs of life lately.