What Is the Kin Ecosystem? Introduction to Kik's KIN Token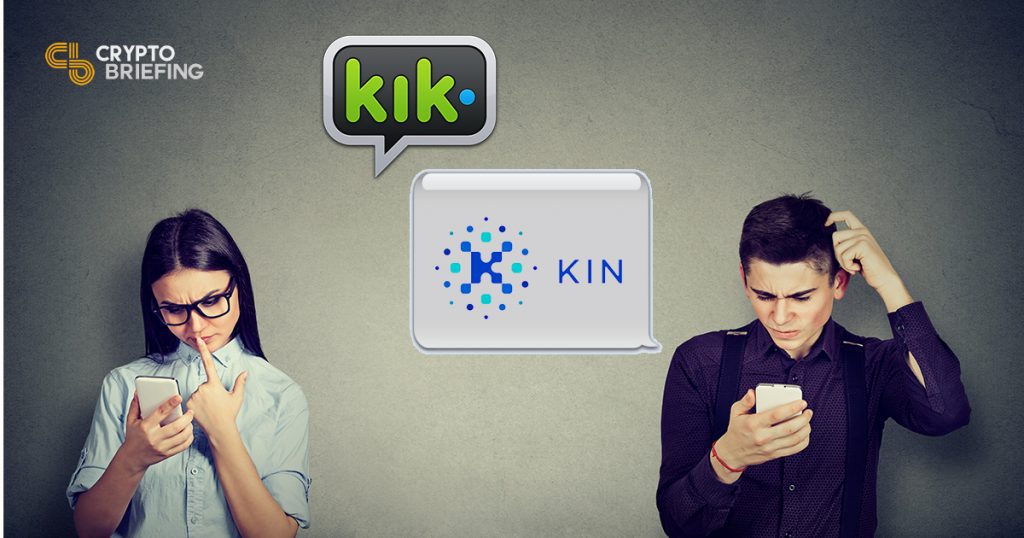 What Is Kin?
Kin is a blockchain-based ecosystem originally built on top of the Ethereum platform. It was developed by Canadian instant messenger company Kik Interactive to support microtransactions through its Kik Messenger platform. The Kin blockchain has since been updated to integrate Stellar too. Kin Coin (KIN) is the ERC-20 utility token used by the Kin and Kik ecosystems.
For those unaware, Kik is one of the most popular instant messaging applications on the market. Founded in 2009, it has been around for a decade now, with free apps available on both Android and iOS. As of December 2018, it reportedly has over 300 million unique user accounts created, with over 9.17 million active monthly users.
Kik is a preferred medium of communication for many users because it is much more anonymous than other messenger platforms like WhatsApp. Of course, this strength is also a weakness, as any anonymous platform can be used for both good and bad purposes.
The platform is also popular for branded bots that let users do everything from play a game to asking questions, hear a story, or even order a pizza.
Kik Interactive received over $120 million in funding by the time it held its $98 million ICO in 2017 for KIN. It has since pushed to become the leader in decentralized, P2P social media, competing with cryptocurrencies like Dogecoin (DOGE) and Reddcoin (REDD) in the process.
In July 2018, the Kin Foundation released Kinit for U.S. Android users. The app provides a marketplace to earn and spend KIN on a variety of goods and services outside of Kik.
Let's start our research into the Kin ecosystem with an exploration of Kin Coin (KIN), the native cryptocurrency token of the Kin blockchain.
---
KIN Cryptocurrency Summary
Kin has a total supply of 10,000,000,000,000 KIN. Its peak price so far was $0.001306 on January 6, 2018.
KIN exists as both an ERC-20 token on the Ethereum blockchain and a token on the Stellar blockchain. Both are connected via an atomic swap, so when either token is used, both are spent as one coin.
KIN cannot be mined and is instead earned through participating in surveys, engaging with apps within Kinit, and is sent P2P from content consumers to creators.
The KIN ICO token sale was held from September 12 through 26, 2017. It raised approximately $98 million worth of ETH, BTC, and USD.
KIN is traded on a variety of decentralized cryptocurrency exchanges, including Bancor Network, HitBTC, and FatBTC. Approximately $60,000 worth of KIN is traded on a daily basis, and trading pairs include BNT, ETH, DAI, and USDC.
As an ERC-20 token, KIN can be stored in any ERC20-compatible cryptocurrency wallet, including MyEtherWallet, Trust Wallet, and hardware wallets from Trezor and Archos. This may change after the 2019 token swap.
---
Kikking the KIN
Like many modern social media and messaging apps, Kik supports much more than just text. It's a full-blown multimedia chat platform, where users can exchange pictures, videos, audio, and more. It's also filled with chatbots that provide automated responses and can even perform specific actions, like make a purchase.
According the company itself, 70 percent of Kik users are between the ages of 13 and 24, with 33 percent of American teenagers reportedly using the service. This is a coveted marketing demographic, but the company isn't keen on monetizing its user base by serving ads.
Rival Snapchat was raked over the coals in 2018 for its heavy marketing to users. The company lost over $1.5 billion after popular social media celebrity Kylie Jenner announced she was leaving the platform early that year.
WhatsApp, another popular and more direct Kik rival, has a larger user base, but its association with parent company Facebook makes many avoid it. WhatsApp also requires you to verify your mobile phone number, providing more intrusion into who you are than Kik, which barely collects voluntary information.
To avoid the criticisms of its rivals, Kik focused on anonymity and privacy, and offered KIN as a way for consumers to reward content creators directly, without the need for advertisers and marketers as middlemen.
In this way, it is more a direct competitor to platforms like the Basic Attention Token (BAT), which connects advertisers to consumers, than projects like Reddcoin, which seek the same P2P transaction.
All of these platforms, however, are squarely aimed at the attention economy, where monetization is achieved by putting content in front of the right people at the right time.
---
Kin I Have Your Attention Please?
The Kin Foundation and Kik Interactive found themselves in the crosshairs of the United States Securities and Exchange Commission (SEC) in 2018. Kik argues that KIN is meant to be used as a currency, and is therefore not to be regulated as a security.
As of the 2019, it is still unclear what the SEC will rule in regards to KIN's status. In fact, KIN became 2019's mascot for ICO regulation, and the entire cryptocurrency industry is anxiously awaiting the results.
In the meantime, both Kik and Kin are moving forward – over 6 million people reportedly use Kin as of the end of 2018, with up to 200,000 transactions occurring daily on the platform.
The Kinit marketplace includes apps like Kik, Perfect 365, Nearby, Vent, Swelly, and Kinny, all accepting KIN as a valid form of payment.
In late April 2019, Coinbase Custody announced it was securely storing Kin's mainnet during its migration from Ethereum to its own mainnet.
So long as the Foundation can avoid the SEC hammer and continue growing its coveted teen user base, it stands to reason that KIN can remain valuable for a long time.
---
Summary
KIN is the proprietary cryptocurrency utility token issued by Kik Interactive for use within its platform, along with the Kinit marketplace. It was created to give consumers a way to reward content creators directly, rather than being exposed to ads and marketing. The success of the Kin ecosystem hinges on these key ingredients.
Kik has over 9 million daily active users, with a total user base of over 300 million unique user accounts. This makes it one of the most popular messenger or social media platforms.

Kik's primary user base is aged 13-24, a prime marketing demographic. Monetizing a platform with this user base can provide a sustainable business.

KIN exists as both an ERC-20 Ethereum and Stellar token. They are linked together via atomic swap, so both are spent any time one is spent.
With these pieces in place, Kin resolved many issues of scalability and interoperability. It's well poised to be a leader in the cryptocurrency market. It just needs to pass the SEC's Howey test and draw in more users.