Why FinCEN Has The Guns Out For P2P Crypto Exchangers
LocalBitcoins and others are already changing their models.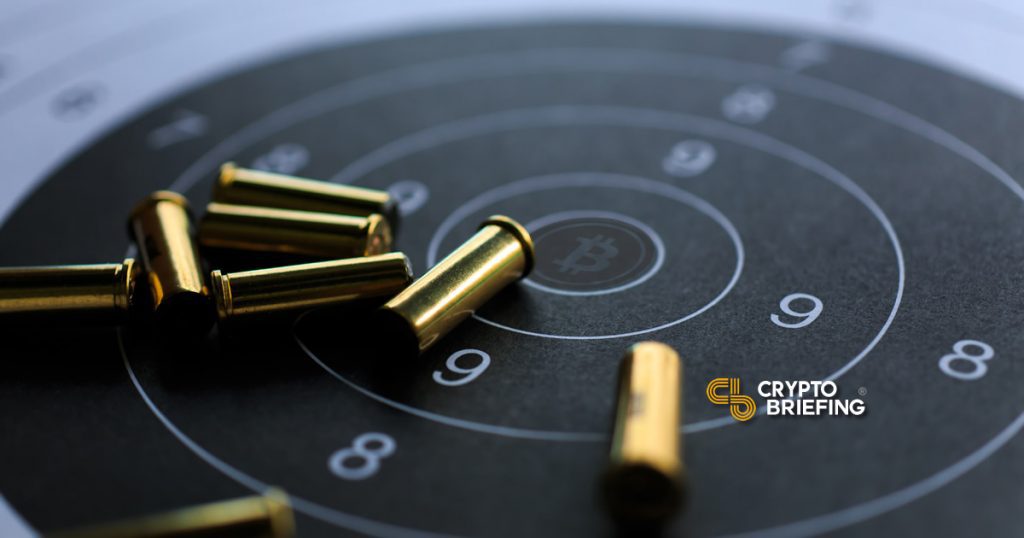 In the last few months, FinCEN has started to issue some more definitive guidance in how it intends to treat businesses operating in the cryptocurrency trading and exchange space. Previously, we looked at how the regulations are affecting crypto ATMs. Here, we take a deeper look into how FinCEN intends to treat peer-to-peer (P2P) exchangers.
Let's say you changed some BTC into USD for a friend once. He sent you his BTC, and you sent him some USD in return. That friend told a few of his friends, who all asked you to do a couple of crypto trades with them. The whole thing took off a bit.
Now, you have a little side business making cryptocurrency trades for your friends and their friends, and maybe a few other people you don't know, but who heard of you from that ad you put on the internet. Some of them seemed a bit shady, now you come to think of it.
Well, this little side business could end up being quite costly, now that FinCEN has made it explicit how they intend to handle P2P crypto exchangers in future.
---
What Does the FinCEN Guidance Mean?
FinCEN has recently issued two documents. The first one is a guidance document that aims to clarify the "application of FinCEN's Regulations to Certain Business Models". In plain English, the document explains how FinCEN will categorize different types of crypto businesses, in order to work out which legal instruments apply to them.
Under this guidance document, if you're buying or selling cryptocurrencies online yourself, then FinCEN considers you a "money service business." This means you're subject to particular requirements by law.
Requirements include registering as an MSB with FinCEN; conducting anti-money laundering (AML) checks on your clients; and certain record keeping obligations. Even the most legitimate P2P exchanger should know that their clients aren't using them to launder money, right?
These rules apply even if you're a person without any official business structure. The only caveat is if you could demonstrate that you're a natural person engaging in such activity on an infrequent basis and "not for profit or gain".
So, perhaps if you're the very specific kind of person who happens to buy crypto from a P2P exchange once every year or two and spend it very gradually on something until you need to go back and buy some more. If you're that person, it's possible you may be able to pull off your argument – but consult a lawyer, as this gets complicated quickly and we're not attorneys.
---
P2P Exchangers and Illicit Activities
The second piece that came from FinCEN is an advisory on "illicit activity involving convertible virtual currency." This document makes a clear link between P2P exchangers unregistered as an MSB and criminal activities. It points to a couple of different cases from Rochester, NY, and Arizona, where P2P exchangers had knowingly made trades enabling criminal activities.
Basically, if you're in the P2P exchanger business, and not registered as an MSB, you're likely already in hot water. The advisory note goes on to provide several examples of ways that financial institutions could spot a P2P exchanger through different transaction or customer data patterns.
---
Is There Any Precedent for How FinCEN Treats P2P Exchangers?
Just one. Back in April this year, FinCEN took action against a P2P crypto exchanger for the first time. Eric Powers was found to have willfully violated the requirements of the Bank Secrecy Act. Powers had been trading crypto on the dark web to avoid detection. He was served with a $35k fine and barred from ever practicing as an MSB in the future.
I Used LocalBitcoins Every Now and Again – Should I Be Worried?
If you used LocalBitcoins as a buyer, and it really was every now and again, and your crypto spending was for something legit, then you may be okay. (See above, regarding legal advice). But if you were selling crypto on a regular (or even semi-regular) basis and making a profit from it, anywhere on the internet, then you could find that you're operating an MSB. Perhaps unwittingly — we aren't here to judge.
LocalBitcoins themselves posted that:
"In order to adapt to the current regulatory environment, we had to reconsider our policy on local cash trades as well as on geographical areas where our service is available, among other platform features. As a consequence, advertisements in the cash category (i.e. local cash trades) were disabled in our platform on Saturday 1st June."
LocalBitcoins provided a specific service in that category that may have been valuable, but that also may have been a reminder of a darker side to Bitcoin – a history that might be best remembered, and not re-enacted.
At the risk of incensing any anarchists among the CB readership, it's worth remembering that regulations like these are there to weed out the bad guys.
And weedkiller is not a bad thing, as long as it doesn't also kill the grass.