Why is Avalanche Soaring?
Avalanche is onboarding blue chip DeFi protocols, and its token keeps soaring even as other coins retrace.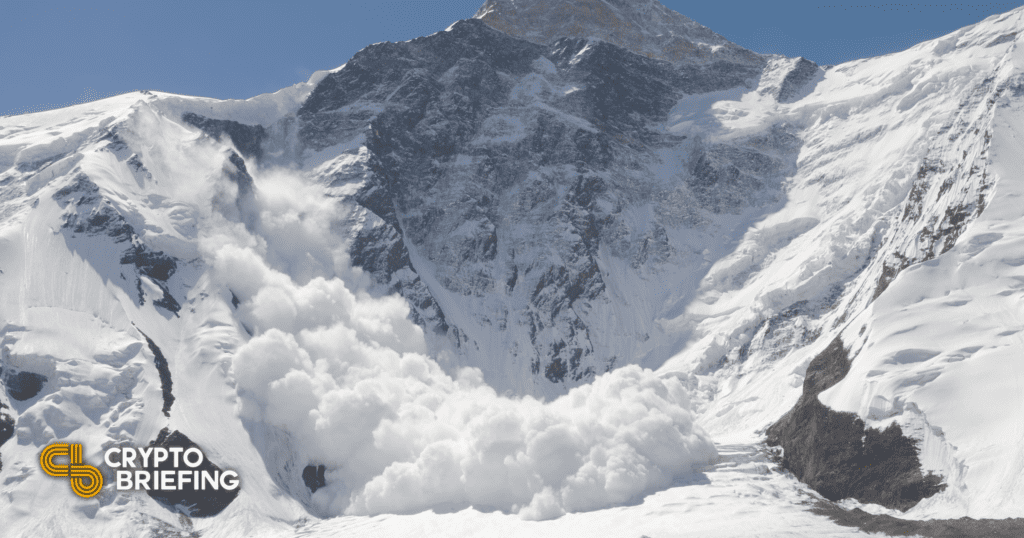 Key Takeaways
Avalanche's AVAX token is up 341% in the last 30 days.
Avalanche has recently attracted blue chip DeFi projects Aave, Curve, and SushiSwap.
Several other nascent DeFi projects in the Avalanche ecosystem are likely contributing to the growth.
As competition between Layer One protocols keeps heating up, one project in particular, Avalanche, is making big strides to secure its place at the top of the leaderboard.
DeFi Blue Chips Come To Avalanche
Avalanche, a Proof-of-Stake smart contract blockchain backed by some of the most notable players in the space, including Galaxy Digital, Three Arrows Capital, Bitmain, Andreessen Horowitz, and Dragonfly Capital, is nearing previous all-time highs.
According to CoinGecko, Avalanche's AVAX token is up 341% in the last 30 days, with no clear signs of stopping. Besides the network's big technical promise, its recent success can largely be attributed to its proactive approach to onboarding new projects onto the network.
Namely, on Aug. 18, Avalanche launched Avalanche Rush—a $180 million liquidity mining incentive program designed to bring the top blue chip DeFi protocols to the network. The program seeks to distribute $180 million worth of AVAX tokens over a period of three months to liquidity providers of a few hand-picked DeFi apps on the protocol.
In less than a week, the program attracted three top-tier DeFi protocols known for their close ties to Etheruem: Aave, Curve, and SushiSwap. Aave founder and CEO Stani Kulechov said of his project's expansion to Avalanche:
"Avalanche consensus is well suited for building DeFi applications due to its scalability features, particularly its high throughput and near-instant finality. The deployment of the Aave Protocol on Avalanche will allow users to leverage low transaction costs without compromising the security of the network."
Avalanche markets itself as "the fastest smart contracts platform in the blockchain industry, as measured by time-to-finality, and has the most validators securing its activity of any Proof-of-Stake protocol." It claims to process 4,500 transactions per second and boasts transaction finality of less than two seconds—all without making any security compromises. Transaction finality refers to the amount of time it takes for a transaction to settle. For comparison, excluding Layer Two protocols, Ethereum currently processes 14 transactions per second with a transaction finality of six minutes.
More Than Just Tech
Avalanche, however, is more than just tech—it's one of a few Layer One protocols that has experienced genuine ecosystem and community growth. In fact, this was the main reason SushiSwap decided to expand to Avalanche. Lead Sushi contributor 0xMaki said of the team's launch on the network:
"The community is one of the most compelling reasons to align incentives with the Avalanche chain. We are a community-driven platform and admire the community focus in the Avalanche ecosystem and look forward to providing them with a positive DeFi experience."
Besides the Avalanche Rush launch, Pangolin, the top decentralized exchange running on Avalanche, currently has around $376 million in liquidity but boasts an impressive average weekly trading volume of nearly $1 billion. BENQI, an algorithmic liquidity market protocol, is currently sitting at over $1.75 billion in total value locked despite launching less than a week ago.
1/ The last few weeks brought insane demand for @AvalancheAVAX and its hyper-growth ecosystem.

The @AvaLabsOfficial team and wider #Avalanche community have been hard at work innovating, building, and evangelizing all aspects of Avalanche.

Here's what led up to this moment:

— Jay Kurahashi-Sofue 🔺 (@jayks17) August 23, 2021
It is important to note that Avalanche is compatible with the Ethereum Virtual Machine, meaning that developers can seamlessly port their decentralized applications over from Ethereum at a low cost. The transition is also made seamless for Ethereum users looking to interact with the ecosystem thanks to Ava Labs' next-generation cross-chain bridging technology Avalanche Bridge, which is five times faster than the previous solution. Emin Gün Sirer, the founder and CEO of Ava Labs, spoke of how the bridge would improve the user experience when it launched last month. He said:
"The new Avalanche Bridge is a leap forward in bridging technology, but most importantly, it is a dramatic improvement in experience for users and developers across the community."
Adding to the relative success of the liquidity mining incentive program, another major factor that's likely contributing to Avalanche's rise in popularity is AVAX's tokenomics. As with Ethereum and its recent EIP-1559 update, Avalanche burns a portion of the transaction fees, putting deflationary pressure on AVAX.
Since its launch, more than 183,721 out of the total supply of 720 million AVAX tokens have been burned—a figure that should rise as the protocol gains wider adoption. Avalanche is currently trading just under $50, which puts its market cap at $8.66 billion. It's now the world's 20th largest cryptocurrency.