"Don't Sell Your Bitcoin": Wood and Saylor Evangelize for Bitcoin in Miami
The prominent Bitcoin enthusiasts predictably promoted the cryptocurrency at its flagship conference in Miami.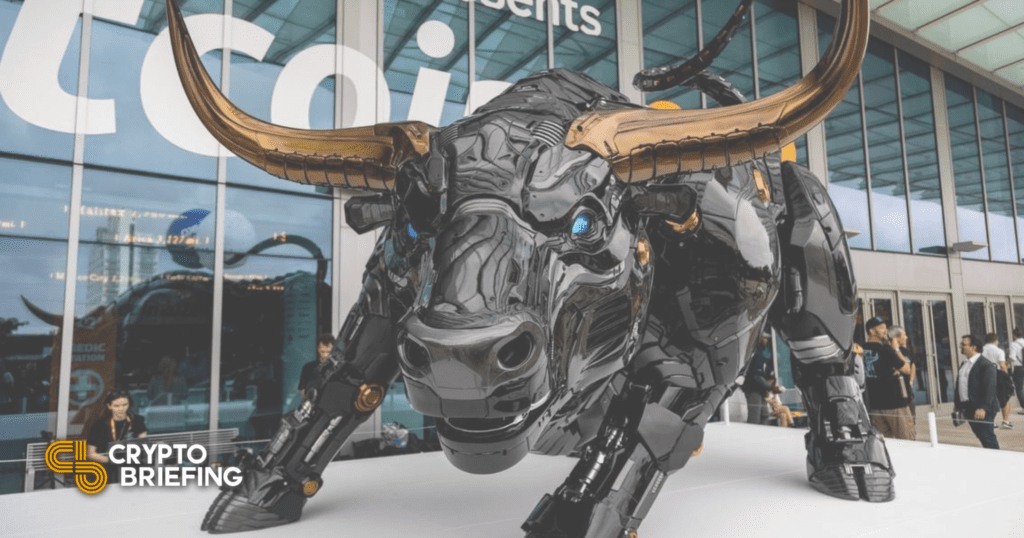 Key Takeaways
Cathie Wood and Michael Saylor sat together for a fireside chat at Bitcoin 2022 in Miami this morning.
In their conversation, both Wood and Saylor reiterated their optimistic takes on the future of Bitcoin.
Saylor's firm MicroStrategy is famous for accumulating Bitcoin, and Wood's ARK Invest is known for investing in disruptive technologies.
ARK Invest CEO Cathie Wood and MicroStrategy CEO Michael Saylor appeared together for a fireside chat at Bitcoin 2022 today. The duo talked about the shifting regulatory landscape, projections for the future, and their overall bullishness on the cryptocurrency.
Bitcoin Bulls In Conversation
The bulls are out in full force in Miami this week, and two of the biggest made their appearances today.
Cathie Wood and Michael Saylor, the respective CEOs of ARK Invest and Microstrategy, appeared for a fireside chat at Bitcoin 2022 in Miami this morning. Wood and Saylor, who are famous for their optimism about the future of the cryptocurrency, are often credited with popularizing Bitcoin among traditional investment firms.
In a talk tiled "The Future is Bright," both Wood and Saylor spoke in optimistic tones about the future of the cryptocurrency. Notably, both Wood and Saylor concurred that the regulatory landscape surrounding cryptocurrencies seems friendlier toward the space in recent months, and they commented on the apparent shifting views of regulators. Saylor, in particular, remarked:
"I think the last 12 months have been a 180-degree turn… I think a couple weeks ago, with the executive order, what we had was the President of the United States giving a green light to Bitcoin."
Saylor's MicroStrategy, which ostensibly provides business intelligence software, has made waves in recent years as a major institutional Bitcoin whale, accumulating billions of dollars in Bitcoin since August 2020. The company currently owns over 125,000 Bitcoin valued at around $5.4 billion. In March, MacroStrategy, a branch of MicroStrategy, borrowed $215 million from Silvergate in order to buy more Bitcoin.
Cathie Wood is the founder and chief investment officer of Ark Invest, an investment management firm that focuses on disruptive innovation in its many exchange traded funds. Ark's ETF's gained immense popularity in 2020, particularly with retail investors. Since the historic run-up of the firm's many ETFs, however, they have fallen sharply since February 2021. In her talk with Saylor, Wood reiterated ARK Invests' call that Bitcoin would hit $1 million by 2030.
Saylor closed with both a warning and advice to his audience: "If you want to turn $250 million into $6 billion, buy Bitcoin, not gold." He continued: "If I'd have bought $250 million in gold, I would have $250 million in gold instead of $6 billion in Bitcoin."
Before departing the stage, Saylor left the audience with a clear message reiterating his belief in the top crypto asset. "Don't sell your Bitcoin," he said.
Disclosure: At the time of writing, the author of this piece owned BTC and several other cryptocurrencies. Crypto Briefing is a media sponsor of Bitcoin 2022.