World Blockchain Roundup: Germany Continues To Drive Change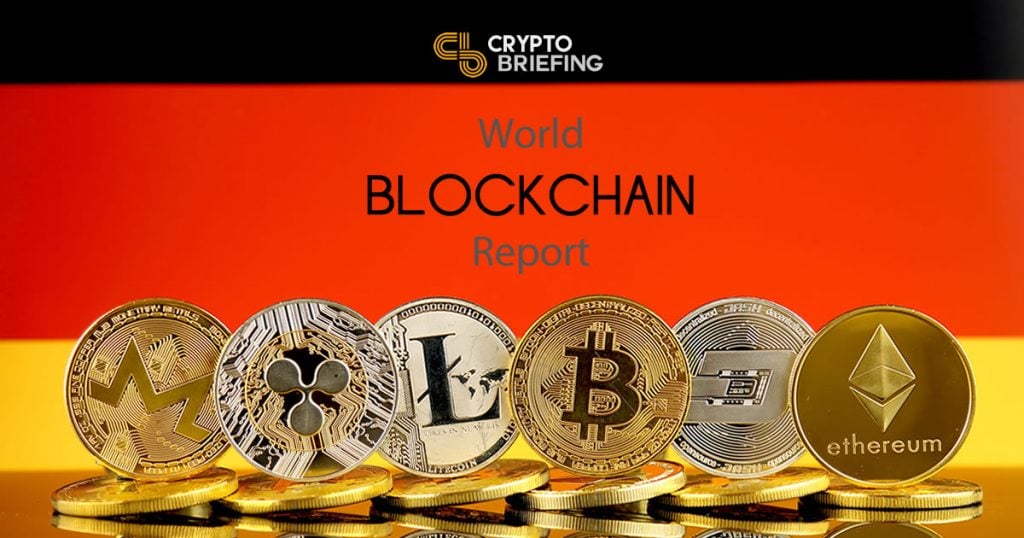 Recently, Crypto Briefing reported that Joseph Lubin of Ethereum referred to Berlin in Germany as one of the most important cities in the blockchain industry. German blockchain startups across the entire country are exploring the possibilities of blockchain tech to improve banking, real estate, and intellectual property and control over art.
Over the past few weeks, new developments and projects have been announced and the German market for blockchain continues to expand in surprising ways. A major German stock exchange is emerging as a player in cryptocurrency trading. ETHBerlin will only be utilizing Ethereum's blockchain and decentralized apps for their future operations. The Litecoin Foundation formed a partnership to get involved in German banking.
BitBay is partnering with a German firm to enable crypto trading with fiat currencies and blockchain tech is revolutionizing renewable energy for the country. These developments illustrate the work being done to advance cryptocurrency and blockchain tech throughout Germany. Here are five recent developments you may have missed that are helping to develop the country into a blockchain technology hub.
---
Boerse Stuttgart Establishing its Own Cryptocurrency Exchange
Boerse Stuttgart is Germany's second largest stock exchange on the market and is searching for success in cryptocurrency. The company made the announcement that an end-to-end infrastructure is now in development and Bison, the first crypto trading application from a major stock exchange, will launch soon.
The creation of Stuttgart's new infrastructure is being designed to offer German crypto traders simple, very secure, and regulated transactions. The platform will also offer trading free of charge for Bitcoin, Ethereum, Litecoin, and XRP to start. Over time, a lot more cryptocurrency exchanges will be added to the platform.
Bison will be launched in the fall and has been developed by Stuttgart to be an all-in-one application for the exchange's trading, initial coin offerings, and protection for German traders. With a major stock exchange in Germany's cryptocurrency market, the country should receive more attention and the market will grow.
---
BitBuy Partners With Berlin's Neufund
Neufund is a blockchain-powered equity fundraising platform based out of Berlin. The company announced a new partnership with BitBuy, a European crypto exchange, that will allow investors to buy and sell equity tokens with fiat currencies. The goal is for Neufund to become specialize in equity tokens and serve as the first end-to-end issuance platform for security tokens.
It's been reported by Polymath, a Toronto-based firm that the security token market is expected to see a big increase in security tokens by 2020. Apparently, the market's overall value might reach up to $10 trillion in the next few years. Neufund's logic is security tokens will provide liquidity for investment assets eventually.
---
Litecoin Foundation and Tokenpay Form Partnership to Acquire 10% of WEG Bank
Another important partnership has been confirmed between Tokenpay and the Litecoin Foundation. Their partnership has allowed both companies to acquire a shared 9.9 percent stake in WEG Bank AG. The press release revealed the deal and will see the latter provide its marketing and technology expertise to Tokenpay and other blockchain projects. However, there is a specific reason why the deal was for exactly 9.9 percent.
As a result of strict banking laws in Germany, no company can own more than 9.9 percent of a bank without regulatory approval. The deal between Tokenpay, Litecoin, and WEG Bank includes options to purchase an overwhelming ninety percent of the bank depending on the customary regulatory approval. Tokenpay has made it clear that if the approval is granted, the company will exercise those options to acquire WEG Bank.
---
ETHBerlin Reveals Intentions to Only Use dApps For All Operations Going Forward
ETHBerlin is the biggest meetup event in the Germany blockchain world. The operations for the event will be held at Factory Berlin in the middle of Gorlitzer Park. For conferences and meetups to this scale, the amount of requests for ticketing, hotels, raffles, and more creates a lot of paperwork. However, ETH Berlin has made an announcement that all the event's operations will be completed through decentralized apps.
The Ethereum community attending the event believes that dApps will replace our centralized systems in time. The upcoming live event wants to set a precedent in the industry that dApps are extremely important to our future and the ETHBerlin event is expected to create a dramatic increase in awareness of that fact.
For instance, Livepeer will be the go-to platform to stream video instead of YouTube. Anyone in Berlin who is looking for a place to stay through the event may well be using Winding Tree instead of other applications. The hope is the power of Ethereum's blockchain will be fully showcased and that will lead to future innovation.
---
Blockchain Forcing Major Changes to Germany's Energy Market
According to a recent report from Handelsblatt Global, 13 percent of German companies have begun using blockchain technology in the energy market. For many years, Germany's power supply was under the control of a few major electricity providers, but blockchain is offering a new freedom from those electric companies.
Through the use of smart contracts, renewable energy can be distributed and stored between homeowners to better use green energy and stop the reliance on major electric companies. Blockchain is providing the platform for users to determine where their own energy comes from such as wind turbines or power plants.
In Wuppertal, Germany, the WSW project is working to make public transportation more energy efficient in the city, but it's also allowing customers to buy and create their own green energy online. There's a serious initiative in Germany to change the way people use and get their energy.
---
There is a good reason why Joseph Lubin and other believe the German blockchain market is developing into an important hub for the cryptocurrency market. Lubin's own Ethereum will be showing the world the power of dApps. Green energy is becoming more important by the day in the country thanks to blockchain technology.
Multiple new partnerships are changing Germany's crypto market and even old-timers like Boerse Stuttgart sees the potential for the country to innovate in more exciting ways.
The author is not currently invested in any digital asset.