XRP Prepares for Volatility as Spark Airdrop Approaches
Ripple token XRP approaches explosive price movement alongside Saturday's SPARK snapshot.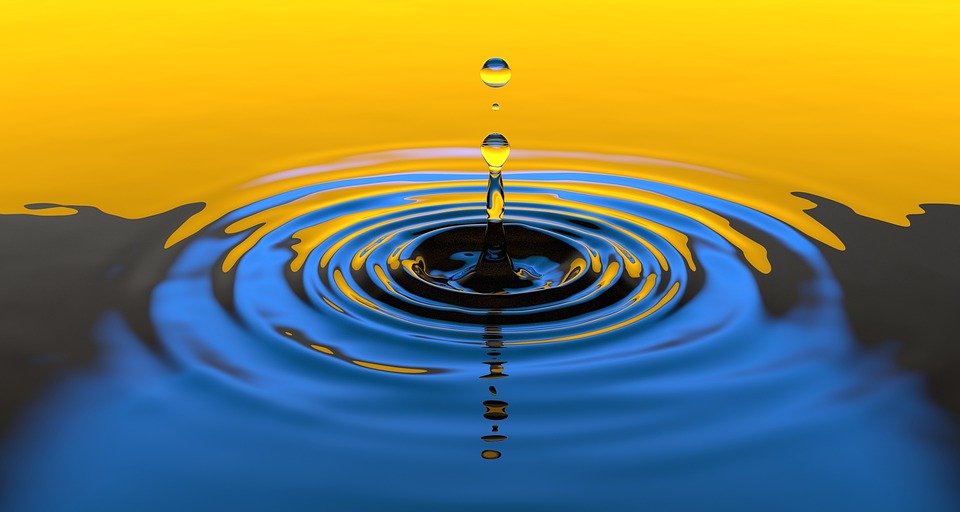 Key Takeaways
On Dec. 12, at 00:00 GMT, Flare Networks will take a snapshot of the XRP network in preparation for its SPARK airdrop.
The number of XRP whales holding 10 million or more coins has skyrocketed to a new all-time high.
Despite the spike in buying pressure, Ripple's XRP token continues to consolidate within a narrow range.
Investors are purchasing XRP en masse as they prepare to receive an equivalent amount of SPARK tokens via an upcoming airdrop.
Spark Airdrop Approaches
The utility of the XRP Ledger is about to expand via Flare Networks' upcoming XRP snapshot and SPARK airdrop.
Flare Networks is set to introduce Ethereum-like functionality to the XRP Ledger. This will introduce smart contracts and blockchain apps, and the protocol can be used as a "trustless pipeline" between XRP Ledger and other networks. The project's announcement explains that Flare "may be the first-ever utility fork whereby the origin network…benefits through increased utility."
On Dec. 12, at 00:00 GMT, XRP holders can participate in a balance snapshot in preparation for next year's airdrop, which will give away SPARK tokens at a one-to-one ratio against their current holdings.
For technical reasons, investors must also have an exchange account or Ethereum wallet that supports the SPARK airdrop. Compatible wallets include Metamask, Ledger, and many other wallet apps. Compatible exchanges include Binance, Coinbase, Kraken, Poloniex, and OKEx, among others.
Investors Joining En Masse
Over the past few days, more than 1.7 billion XRP tokens have been transferred to known exchange wallets in preparation for the snapshot. Furthermore, the number of "whales" holding at least 10 million XRP has skyrocketed to a new all-time high of 339.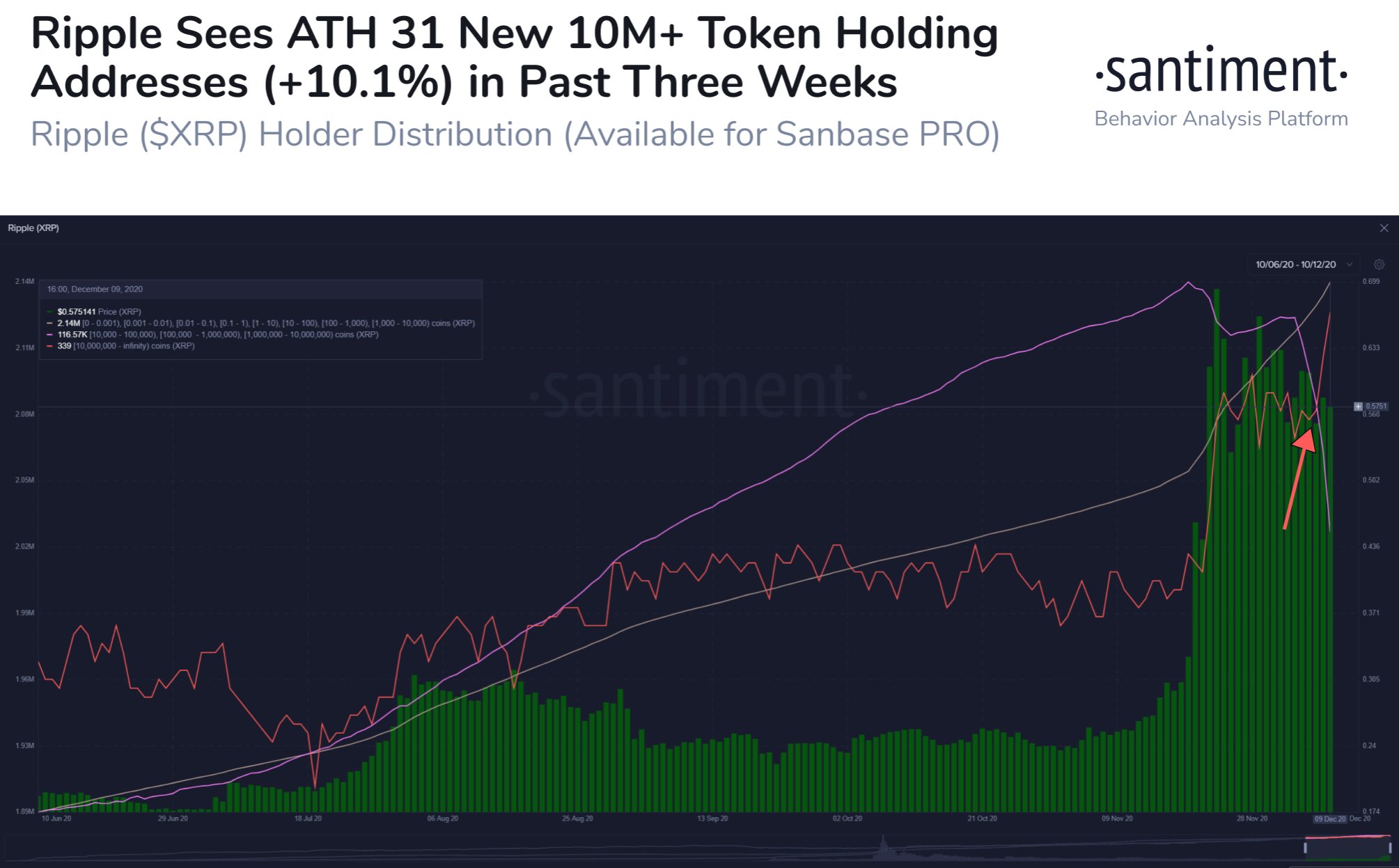 Although rising demand looks quite promising for near-term price action, the coin's market value is still consolidating without providing a clear path of where it is heading next.
Major Price Movement Ahead
XRP's lackluster price action over the past three weeks has led to the creation of a symmetrical triangle within the asset's 4-hour chart. A descending trendline has formed along with swing highs, while an ascending trendline has developed along with swing lows.
By measuring the distance of the triangle's widest range and adding it to the breakout point, this technical pattern estimates a potential target of more than 40%.
If XRP moves past the overhead resistance at $0.59, that could trigger a spike in buying pressure, sending the coin's market value to $0.80 or higher.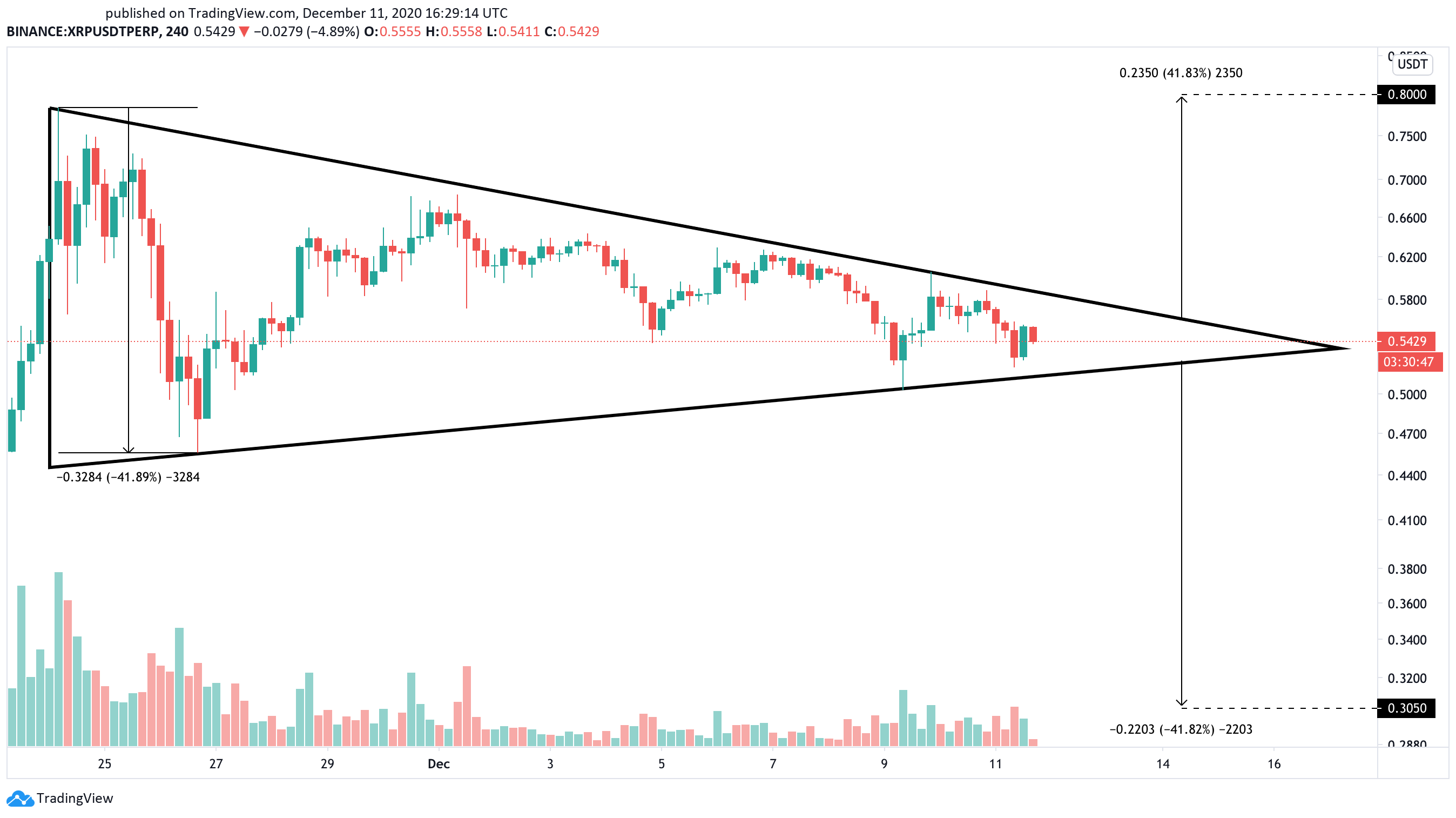 Even though symmetrical triangles can develop as continuation patterns to an uptrend, they can also form as reversal patterns. Therefore, investors must pay attention to $0.51 support levels, as slicing though that level will invalidate the optimistic outlook.
If this were to happen, XRP's market value could drop by 42% to $0.30. It remains to be seen what the actual outcome will be.
At the time of writing this author held Bitcoin and Ethereum.
For more key market trends, subscribe to our YouTube channel and get weekly updates from our lead bitcoin analyst Nathan Batchelor.