YGGDRASH ICO Review & YEED Token Analysis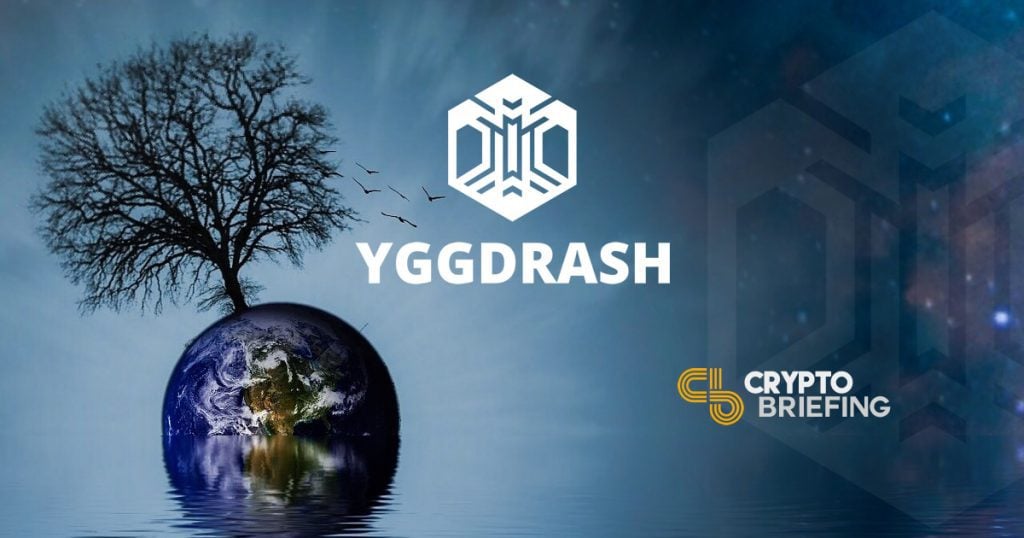 YGGDRASH ICO Overview
The YGGDRASH ICO and YEED Token are launching a 3rd generation blockchain protocol that is designed to tackle a number of pressing issues facing protocol scalability and utility. As blockchain technology is adopted on a larger scale, the increase in transactions and size of DApp data pose perhaps the most significant roadblock toward further progress.
YGGDRASH has designed a blockchain ecosystem that addresses scalability through a novel combination of performance processing technologies.
And before we go further, let's address the elephant in the room here. YGGDRASH? What the heck is that? Well, the term is derived from Yggdrasil, a gigantic tree that connects the nine worlds of Norse mythology – the symbolism will become clear as we progress. (And yes, it's the same Yggdrasil you may have met in the recent Marvel movies with Thor, or Advanced Dungeons and Dragons, if you're as nerdy as we are.)
As for ASH – the tree itself is presumed by scholars to have been an ash tree, and ASH is derived from HASH… so there. It all fits together much better than you might think, and we rather like it. Now we'll just practice spelling it.
YGGDRASH ICO Value Proposition
YGGDRASH is a trust-based, multi-dimensional blockchain ecosystem wherein each branch is governed by reputation to ensure integrity. The architecture of the YGGDRASH ecosystem will include a Decentralized Exchange (DEX) component and a DApp Store of Blockchain (DSB). The DEX is designed so that it will be possible to trade cryptocurrencies directly within the YGGDRASH personal wallet. The wallet will have the ability to connect directly to the blockchain rather than the internal wallets of existing exchanges.
The DSB concept refers to each individual "Branch Chain" of YGGDRASH itself, described in the whitepaper as "a service and a DApp at the same time". Each DApp exists as both an independent blockchain and a service, downloadable from an App Store like interface. Each DApp runs its own blockchain independently from all other chains within the YGGDRASH ecosystem.
Stem Chain: The Stem Chain is the main blockchain at the root of the YGGDRASH ecosystem. The Stem Chain contains information from all of the Branch Chains. It is optimized for transaction processing scalability and expandability by storing only minimum information such as the address of each Branch Chain. In addition, it has the ability to facilitate connections between Branch Chains and will manage the full life-cycle of each chain.
Branch Chain: A Branch Chain is both a DApp and an independent blockchain at the same time. As a Branch Chain itself is a blockchain, an independent consensus algorithm can be established for governance. It is important to note that Branch Chains are not side chains. YGGDRASH can connect any Branch Chains once it is connected with the Stem Chain, creating an environment where data between chains is easily transacted. Since a Branch Chain is operated as an independent blockchain, it cannot be affected by the overloading and failure of transactions on other Branch Chains.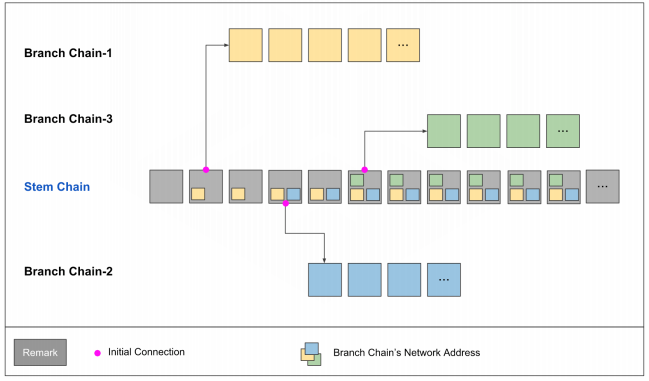 Diagram of Blockchain Architecture from Whitepaper
YEED is the underlying token of YGGDRASH. The primary utility of YEED is to create and sustain a branch chain for DApps. YEED is used to connect the blockchain to the main network of YGGDRASH and is gradually consumed over time to sustain the connection. As the ecosystem of YGGDRASH develops, the value of YEED and the stem and branch chains are designed to grow together. Initially, YEED will be issued as an ERC-20 token until the main-net is online.
YGGDRASH ICO Team
David Seo  is the CEO and Co-founder of YGGDRASH. He is also Co-founder of Bluepan, a remittance service for migrant workers that utilizes bitcoin for money transfers. His previous experience includes serving as COO of Coinone, a South Korean crypto exchange.
Peter Ryu  is CTO and Co-founder of the YGGDRASH. Peter previously served as Development Team Manager for ICON. Prior to ICON, he also helped develop the architecture of a private blockchain project. He has a decade of experience in software development.
Joonhyuk Seo  is CFO of the project. He intends to study for an MBA this Fall at UC Berkeley and most notably has five years of management experience with Ernst & Young.

Taejin Kang serves as one of the standout advisors of YGGDRASH. His background in the business world is impressive, having served in senior leadership roles with Hyundai, HSBC and Citibank.

Andrew Chu is also an advisor for the project. He currently serves as CEO of Lately, a Korean eCommerce site.

A complete list of team is available here.
YGGDRASH ICO Strengths and Opportunities
The tree-like structure of YGGDRASH provides a potentially limitless solution to the problem currently faced by smart contract protocols. Each Branch Chain possesses its own independent network, governance and data. The data contained on all other chains within the ecosystem remains separate; therefore all resources within a given Branch Chain are utilized for that chain alone.
As a result, processing delays on other Branch Chains have no bearing on the rest of the ecosystem. Taking this one step further, Branch Chain interoperability is also a possibility. YGGDRASH is able to link disparate blockchains by applying Akashic slice, a novel chain connection protocol.
To illustrate this, the whitepaper likens combining the services of disparate Branch Chains to a Google search. Users requiring services on other Branch Chains can create networks through the information contained within the Stem Chain.
The governance system of the protocol is designed to address the deficiencies of both POS and POW consensus algorithms. In the whitepaper, the team cites POW as an example, contending that such systems are governed by block verifiers driven by self interest. Transactions and DApp data are prioritized by profitability, resulting in higher costs and greater inefficiency as a network scales. Transactions can yield high value for verifiers, but increase costs for users and produce slower transaction times.
YGGDRASH will utilize Delegated Proof of Authority (DPOS) to address the disadvantages of other consensus mechanisms. DPOS will operate according to a self-consensus algorithm, by selecting the node with the highest reputation score as a representative through a dedicated "reputation evaluation chain". More authority is delegated to validators with "high credit scores" i.e. reputation. By attaching reputation to identity, validators are incentivised to uphold the transaction process, as a negative reputation would affect their identity and hence, their access to validation rewards.
If successful, DPOS will provide the benefits of higher security, less intensive computation and better performance/predictability (as blocks are created at steady time intervals every 10 seconds).
YGGDRASH ICO Weaknesses and Threats
The YGGDRASH ICO is up against the likes of 0Chain, ICX, EOS and other more recent protocols that are designed to address the same issues. At this stage in the game, it's impossible to know what the protocol landscape is going to look like in the future. Fierce competition could lead to only a handful of players coming out on top, or co-opetition may lead to interoperability between a multitude of ecosystems. Whatever the the future holds, right now the picture is clear – there are a lot of new protocols and they are all vying for mass adoption.
Timing of course is an important factor when it comes to the question of adoption and usage. The YGGDRASH test-net launches in Q3 2018 and main-net in Q2 2019. The timing could adversely affect adoption prospects for the YGGDRASH ICO as competitors leverage first-mover advantage.
Of course, a technologically superior protocol could help attract interest despite the drawn out schedule for main-net launch. That said, at this stage, there is an empty GitHub page and very little explanation in the whitepaper that outlines the technical details behind the protocol.
The Verdict on YGGDRASH ICO
YGGDRASH is a serious contender among next-generation blockchain protocols. The technology and architecture of the blockchain represent one of the most advanced concepts to date. Most importantly, the team behind the project are exceptionally well-equipped to turn this concept into a reality. With little in the way of product development at this point in time, we will be carefully watching for further updates.
As a Top 5% rated ICO, we have taken a medium position in the YGGDRASH ICO.
---
We have rated hundreds of projects to unearth ICOs in which members of our team intend to invest.
We won't usually go into depth on projects that we don't consider as candidates for our investments, which is why you will usually see our stamp on our ICO reviews – they are the best we have found. However, on occasion, we might also rate a well-hyped project that does not meet our personal investing criteria.
The Crypto Briefing Top 5 stamp is awarded to ICO projects that we rate in the top 5% of all projects.
---
YGGDRASH ICO REVIEW SCORES
SUMMARY
The YGGDRASH ICO ICO is a blockchain protocol established by seasoned entrepreneurs and technologists to solve scalability and interoperability issues. Described as a 'multi-dimensional' ecosystem, it is breathtakingly-ambitious and audacious. Competing with a number of other protocols, however, may be tough – since the project is not due for mainnet release until Q2 2019.
Founding Team……………………….9.4
Product…………………………………..4.5
Token Utility…………………………..9.6
Market…………………………………..9.2
Competition…………………………..6.4
Timing……………………………………8.4
Progress To Date……………………7.4
Community Support & Hype…..8.2
Price & Token Distribution……..7.7
Communication………………………10
FINAL SCORE……………………….8.3
UPSIDES
Team has ample experience in blockchain development

Technologically promising approach to current protocol issues

Solid community base and hype
DOWNSIDES
Product in nascent stages of development

Major competition with other protocols
Today's Date: 2/28/18
Project Name: YGGDRASH
Token Symbol: YEED
Website: https://yggdrash.io/
White Paper: http://cdn.yggdrash.io/docs/Yggdrash_WhitePaper_En.pdf
Crowdsale Hard Cap: $40 million
Total Supply: 10 billion
Token Distribution: 50% to crowdsale, 21% investment reserve, 15% to team, 10% to foundation, 2% to advisors, 2% for community
Price per Token: 1 YEED = $0.008
Maximum Market Cap (at crowdsale price): $80 million
Accepted Payments: ETH
Countries Excluded: USA, China
Bonus Structure: N/A
Presale Terms: N/A
Whitelist: Start date of AML/KYC: March 21st (expected)
Important Dates: Crowdsale- TBA
Expected Token Release: May 2018
Please note that this review has been updated to reflect the fact that CFO Joonhyuk Seo intends to study for an MBA this Fall, and has not already been awarded this honor from Berkeley. This was an error on our part and we thank reader P.C. for pointing it out.
---
ICO Review Disclaimer
The team at Crypto Briefing analyzes an initial coin offering (ICO) against ten criteria, as shown above. These criteria are not, however, weighted evenly – our proprietary rating system attributes different degrees of importance to each of the criteria, based on our experience of how directly they can lead to the success of the ICO in question, and its investors.
Crypto Briefing provides general information about cryptocurrency news, ICOs, and blockchain technology. The information on this website (including any websites or files that may be linked or otherwise accessed through this website) is provided solely as general information to the public. We do not give personalized investment advice or other financial advice.
Decentral Media LLC, the publisher of Crypto Briefing, is not an investment advisor and does not offer or provide investment advice or other financial advice. Accordingly, nothing on this website constitutes, or should be relied on as, investment advice or financial advice of any kind. Specifically, none of the information on this website constitutes, or should be relied on as, a suggestion, offer, or other solicitation to engage in, or refrain from engaging in, any purchase, sale, or any other any investment-related activity with respect to any ICO or other transaction.
The information on or accessed through this website is obtained from independent sources we believe to be accurate and reliable, but Decentral Media LLC makes no representation or warranty as to the timeliness, completeness, or accuracy of any information on or accessed through this website. Decentral Media LLC expressly disclaims any and all responsibility from any loss or damage of any kind whatsoever arising directly or indirectly from reliance on any information on or accessed through this website, any error, omission, or inaccuracy in any such information, or any action or inaction resulting therefrom.
Cryptocurrencies and blockchain are emerging technologies that carry inherent risks of high volatility, and ICOs can be highly speculative and offer few – if any – guarantees. You should never make an investment decision on an ICO or other investment based solely on the information on this website, and you should never interpret or otherwise rely on any of the information on this website as investment advice. We strongly recommend that you consult a licensed investment advisor or other qualified financial professional of your choosing if you are seeking investment advice on an ICO or other investment.
See full terms and conditions for more.
Founding Team
This category accounts for the leaders, developers, and advisors.
Poor quality, weak, or inexperienced leadership can doom a project from the outset. Advisors who serve only to pad their own resumes and who have ill-defined roles can be concerning. But great leadership, with relevant industry experience and contacts, can make the difference between a successful and profitable ICO, and a flub.
If you don't have a team willing and able to build the thing, it won't matter who is at the helm. Good talent is hard to find. Developer profiles should be scrutinized to ensure that they have a proven history of working in a field where they should be able to succeed.
Product
What is the technology behind this ICO, what product are they creating, and is it new, innovative, different – and needed?
The IOTA project is a spectacular example of engineers run amok. The technology described or in use must be maintainable, achievable, and realistic, otherwise the risk of it never coming into existence is incredibly high.
Token Utility
Tokens which have no actual use case are probably the worst off, although speculation can still make them have some form of value.
The best tokens we review are the ones that have a forced use case – you must have this token to play in some game that you will probably desire to play in. The very best utility tokens are the ones which put the token holder in the position of supplying tokens to businesses who would be able to effectively make use of the platforms in question.
Market
There doesn't have to be a market in order for an ICO to score well in this category – but if it intends to create one, the argument has to be extremely compelling.
If there is an existing market, questions here involve whether it is ripe for disruption, whether the technology enables something better, cheaper, or faster (for example) than existing solutions, and whether the market is historically amenable to new ideas.
Competition
Most ideas have several implementations. If there are others in the same field, the analyst needs to ensure that the others don't have obvious advantages over the company in question.
Moreover, this is the place where the analyst should identify any potential weaknesses in the company's position moving forward. For instance, a fundamental weakness in the STORJ system is that the token is not required for purchasing storage.
Timing
With many ICO ideas, the timing may be too late or too early. It's important for the analyst to consider how much demand there is for the product in question. While the IPO boom funded a lot of great ideas that eventually did come to fruition, a good analyst would recognize when an idea is too early, too late, or just right.
Progress To Date
Some of the least compelling ICO propositions are those that claim their founders will achieve some far-off goal, sometime in the future, just so long as they have your cash with which to do it.
More interesting (usually) is the ICO that seeks to further some progress along the path to success, and which has a clearly-identified roadmap with achievable and reasonable milestones along the way. Founders who are already partially-invested in their products are generally more invested in their futures.
Community Support & Hype
Having a strong community is one of the fundamental building blocks of any strong blockchain project. It is important that the project demonstrates early on that it is able to generate and build a strong and empowered support base.
The ICO marketplace is becoming more crowded and more competitive. While in the past it was enough to merely announce an offering, today's successful ICO's work hard to build awareness and excitement around their offering.
Price & Token Distribution
One of the biggest factors weighing any analysis is price. The lower the price the more there is to gain. But too low of a price may result in an under capitalized project. It is therefore important to evaluate price relative to the individual project, its maturity and the market it is going after.
The total supply of tokens should also be justified by the needs of the project. Issuing a billion tokens for no reason will do nobody any good.
Communication
Communication is key. The success of a project is strongly tied to the project leaders' ability to communicate their goals and achievements.
Things don't always go as planned but addressing issues and keeping the community and investors in the loop can make or break a project.