Yuga Labs Botches NFT Drop With Bad Code, Blames Ethereum
The $310 million Otherdeeds land sale quickly became the biggest NFT drop in history, but not everyone who tried to snag an NFT is happy.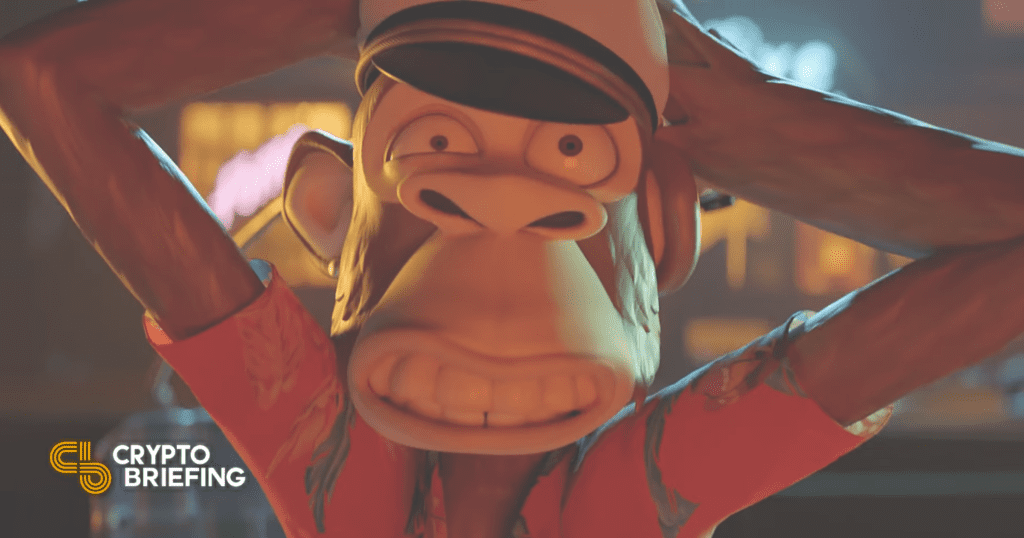 Key Takeaways
Yuga Labs' Otherdeeds NFT drop has cost minters $165 million in fees.
Gas wars and unoptimized smart contract code resulted in minting costing upwards of $7,000.
In response, Yuga Labs has suggested migrating future NFT drops to a dedicated sidechain.
Bored Ape Yacht Club creator Yuga Labs has faced backlash after its highly-anticipated Otherdeeds drop. Huge demand for the NFTs resulted in exorbitant gas fees leaving many hopeful minters out of pocket and out of hand.
Otherdeeds Mint Breaks Ethereum
The biggest NFT drop in history has left many in the NFT community reeling.
Yuga Labs, the company behind the Bored Ape Yacht Club franchise, launched its Otherdeed NFT drop early Sunday morning, allowing those who had previously passed know-your-customer verification to take part in the highly-anticipated mint.
Otherdeeds are NFTs representing plots of land in Yuga Labs' upcoming Metaverse called "Otherside." While Yuga Labs is yet to divulge details on Otherside, it has touted the new offering as a "MetaRPG," where everyone can bring their own NFT avatars and build in a single, unified space.
Despite the public supply of Otherdeed NFTs sitting at over 55,000, demand for the drop far outweighed supply. When the mint opened at 2 am UTC Sunday, gas fees on Ethereum quickly rose to absurd levels as hopeful minters offered bigger and bigger tips to Ethereum miners to get their transactions processed first. Additionally, as every Ethereum block being mined was at max capacity, the base fee on the network also quickly rose.
Those minting were regularly paying upwards of 2.5 ETH to have their transactions processed, significantly more than the cost of the 305 ApeCoin needed to mint the Otherdeed NFTs. However, spending thousands on transaction fees was no guarantee of success. One minter who goes by shoefeelme on Twitter reported paying $7,000 in gas fees and waiting two and a half hours only to have their transaction canceled when the mint sold out.
In addition to the huge demand clogging the network and causing gas fees to soar, the unoptimized smart contract governing the minting process also contributed to the high fees. A former Coinbase engineer who goes by 0x_Beans pointed out that Yuga Labs did not remove the contract logic for conducting a Dutch auction despite changing the mint to a flat fee sale. Leaving the unnecessary logic in the code meant Otherdeeds cost more ETH and took up more block space than was necessary to mint. "A contract poorly conceived is a mint poorly executed. This was a total disaster from any perspective," said one Bored Ape NFT owner who goes by themonsterguild.
After an approximately three-hour period of sky-high gas fees, the Otherdeed drop finally sold out. According to data complied by user hildobby on Dune Analytics, 60,234 ETH, worth over $165 million at the time, was used to mint the 55,000 NFTs. Additionally, over $4.4 million worth of ETH was lost in over 15,000 failed transactions. Despite being active for less than four hours, the Otherdeeds contract burned more Ethereum than popular applications such as MetaMask's swap router and Ethereum Name Service have in their entire lifetimes.
Yuga Labs Speaks Out
In response to the criticism leveled against the Otherdeed drop, Yuga Labs took to Twitter to address the NFT community's concerns. In a six-part tweetstorm, the company explained it had hoped the "on-chain KYC, max mint of 2 per KYC'd wallet, and significant clearing price at 305 ApeCoin," would have tempered any potential gas wars, while also hinting that ApeCoin and future Yuga Labs' NFT drops could take place on a dedicated sidechain to help ease congestion. "We're sorry for turning off the lights on Ethereum for a while. It seems abundantly clear that ApeCoin will need to migrate to its own chain in order to properly scale," Yuga Labs said.
However, many in the NFT community were not satisfied with Yuga's response. "This is deflection, not responsibility. There were a dozen ways you could have mitigated this irresponsible waste," said one Bored Ape NFT owner Adam Hollander. Others shared similar sentiments, accusing Yuga Labs of blaming the Ethereum network instead of its own failings. "The solution is not 'move Apecoin to its own chain.' It's [to] properly optimize the contract. Provide minting windows for those who are KYC'd that give ample time and guaranteed mint," said another user going by _jeffnicholas_.
In the same thread, Yuga Labs also announced it would be refunding those who lost ETH through failed minting transactions. However, for many, this isn't the full extent of their losses. Since the Otherdeeds sale ended, the price of ApeCoin, which was needed to mint the Otherdeed NFTs, has fallen hard, dropping over 19%. Those who bought ApeCoin in anticipation of the mint are now facing significant losses on their investment.
Despite the backlash against Yuga Labs, the hype surrounding the Bored Ape Yacht Club universe is at all-time highs. Trading for Otherdeeds on the secondary market has exceeded 154,000 ETH, making Otherdeeds the 8th most traded NFT collection ever less than 48 hours after its mint. Rarer Otherdeeds are already selling for upwards of 250 ETH, around $700,000 at the current price of Ethereum. For now, it seems little can stop the NFT community's excitement for Yuga Labs' Otherside Metaverse.
Disclosure: At the time of writing this piece, the author owned ETH and several other cryptocurrencies.