ZenCash Binance Listing Briefly Postponed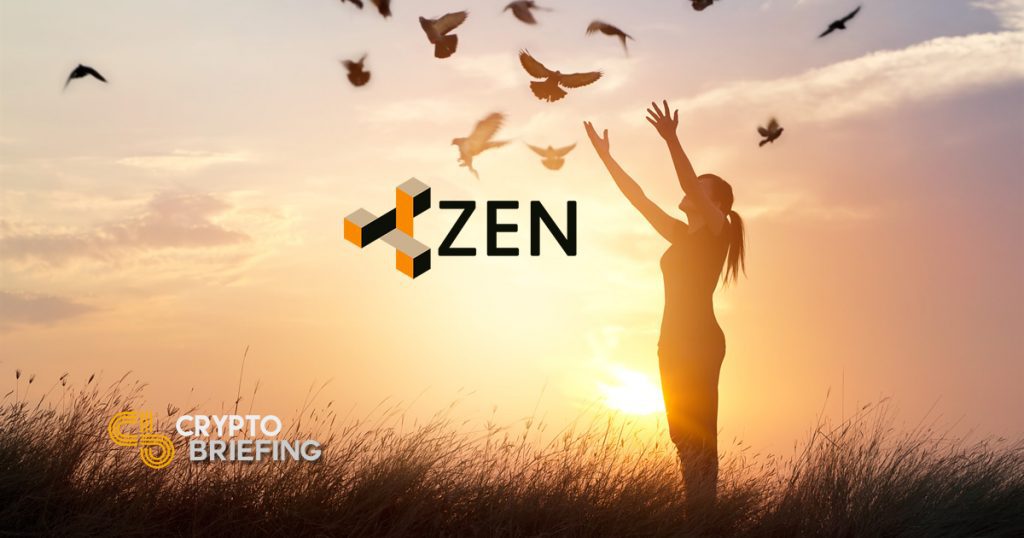 Being listed on a prominent exchange is normally a surefire way for a cryptocurrency to increase its public exposure and accessibility as well as experience a sudden surge in its value.
When the South Korean exchange Bithumb announced it would list Tron (TRX) on its servers in early April, the coin's trading volume shot up by 900% and its total value experienced a $1.2bn boom, creating a lot of very happy Tron holders in the process.
That said, it seems that the people at Binance – the largest cryptocurrency exchange by trading volume – aren't going to play ball any longer.
Early on Wednesday, the Hong Kong-based exchange announced via Twitter that it would be listing the privacy-orientated cryptocurrency ZenCash (ZEN) later that morning.
#Binance To Open Trading For #ZenCash ( $ZEN )https://t.co/AoTBFeKTyw pic.twitter.com/XZe0XThO9A

— Binance (@binance) May 23, 2018
The news, which hit the market at 04:30 GMT this morning, led to an immediate surge in the coin's price. According to CoinMarketCap, ZEN rose from $33 at the beginning of the day, to over $50 at just under an hour before ZenCash trading pairs were set to go live on Binance's servers.
However, following the strong surge in value, the exchange said it would postpone the listing until such time as the ZenCash platform became stable and in an announcement on their website, Binance said: "Due to high congestion on the ZenCash network, Binance will postpone the listing of ZenCash until their blockchain is stable."
Rob Viglione, Founder of the company, said "ZenCash's listing on Binance was temporarily postponed due to high congestion on the ZenCash network following the initial listing. Zen deposits remained open during the postponement. Working with Binance, we worked to quickly address the transaction issues, and ZenCash is now tradable on Binance with BTC, ETH, and BNB pairings."
The embargo did not last long however and Zencash is now trading on Binance as expected.
---
Crypto Briefing talked to ZenCash's founder, Robert Viglione, at Consensus last week about the ecosystem, which is designed to offer users personal privacy through a wide variety of applications.
By using strong cryptography to create infrastructure resistant to censorship or third-party interference, the platform is also busy developing a messaging protocol that keeps both the messaging histories as well as a user's contacts private.
"My journey into crypto is idealistic", said Viglione. "I want to use crypto to make the world better and promote things such as human rights and we have seen a big growth of users in areas like Russia, Ukraine, and Eastern Europe, where people very much understand the value of privacy on a personal level".
"With ZenCash, no one can see your messages or even the people you are messaging", Viglione added. "We are also currently developing an electoral system for the ecosystem which can aggregate results without participants knowing what others have voted for".
As a privacy coin, Viglione said he was also "concerned" with moves from Japanese regulators for a potential ban on privacy coins and with a background in military intelligence, argued a ban would only serve to push the technology underground:
"Of course, you can misuse our technology to evade tax but regulators have to understand that intelligence agencies will want to keep privacy coins on exchanges.
"If you push this stuff off exchanges it goes dark and with my background, I can tell you there is so much more information that the authorities can retrieve when privacy coins are legally tradeable".
---
Talking to the press over today's listing on Binance, Vigilione argued it would enable ZenCash to improve its global availability.
"Our listing on Binance is a critical step forward in expanding our Asian presence and making the Zen platform available to a broader audience", Viglione said.
"As we advance our mission to promote the human right to privacy, this listing will help us become the most useful and reliable cryptocurrency for private and anonymous transactions, messaging, and publishing."
As the crypto market as a whole took a slide to the tune of $30bn, ZenCash remains one of the few coins to have experienced a rise in its value today.
Binance's postponement of trade until later on that day, when enthusiasm had decidely cooled off, may have stopped the coin rising even higher in value and prevented speculators from turning over a quick return on their ZEN holdings.
With today's development fresh in the market's mind, could the era of rocketing prices at the faintest whiff of an exchange listing be coming to a close?