$300m Binance Coin (BNB) Burn Spurs Loss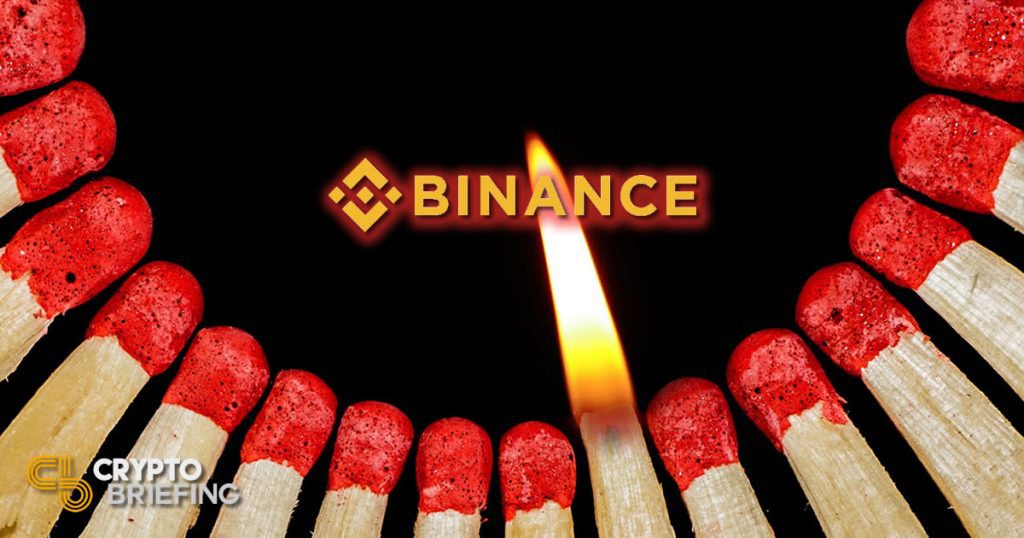 The price of Binance Coin (BNB) has slipped 7% in early morning trading even after 2m tokens were burnt yesterday.
Since the start of Sunday, Binance coin has depreciated from around $13.23 to $12.25 at just after 06:00 GMT: a 7.2% drop according to CoinMarketCap.
Over the same timescale, the coin's total value has lost roughly $100m, falling from $1.5bn to $1.39bn. As of 14:00 GMT, BNB is trading at $12.16, giving it a market cap of $1.38bn.
At midday Sunday, the cryptocurrency exchange Binance announced it had successfully burnt 2.2m Binance Coins, a little over 1%, which at yesterday's prices was roughly equivalent to $300m. This means that the total supply of BNB has decreased to just under 195m coins.
https://twitter.com/binance/status/985459743354322944
Originally issued as a means of crowdsourcing for the exchange, Binance plans to buy back all 100m BNB coins that were originally issued during its ICO in July of last year.
As it says in its whitepaper, each financial quarter the exchange uses 20% of its profits to reclaim BNB tokens which are subsequently burnt.
---
Have BNB holders also been burnt?
Using ICOs to raise initial capital is nothing new and other projects, like that of rival KuCoin, have also implemented similar buyback policies.
However, a decrease in supply – ergo increased scarcity – would normally lead to an automatic rise in the value of BNB tokens.
In the three previous buybacks, the value of BNB has risen by high margins: in October, Binance coins went from ∼$1.5 to $10; in January, the buyback led to a near 200% in the value of BNB to $25 per coin.
Referred to in its whitepaper, Binance offers financial incentives for users to pay transaction fees in its native coin. This includes a discount perk, which currently gives users 50% off any charges, but will be cut to 25% as of next quarter.
---
Although still beneficial, the potential savings made for Binance users will necessarily shrink. The price slip might therefore reflect a decrease in the inherent utility and value of BNB coins which would explain a declining price even with increased scarcity.
Despite bullish announcements on social media, January's buyback may well have been the high water mark for BNB. A cut in supply and a 50% discount, against a backdrop of a booming cryptocurrency sector is a winning formula and not something – that for Binance coin at least – is likely to be replicated.
As Binance moves towards a smaller role for its native token, so BNB will continue sinking and in just over four years, all financial incentives for using Binance coin will have eroded.