Alameda Research, Reef Finance Clash Offers Stark Crypto Warning
An $80 million agreement appears to have fallen through due to a misunderstanding on Telegram, leading to threats, accusations, and leaked Telegram conversations.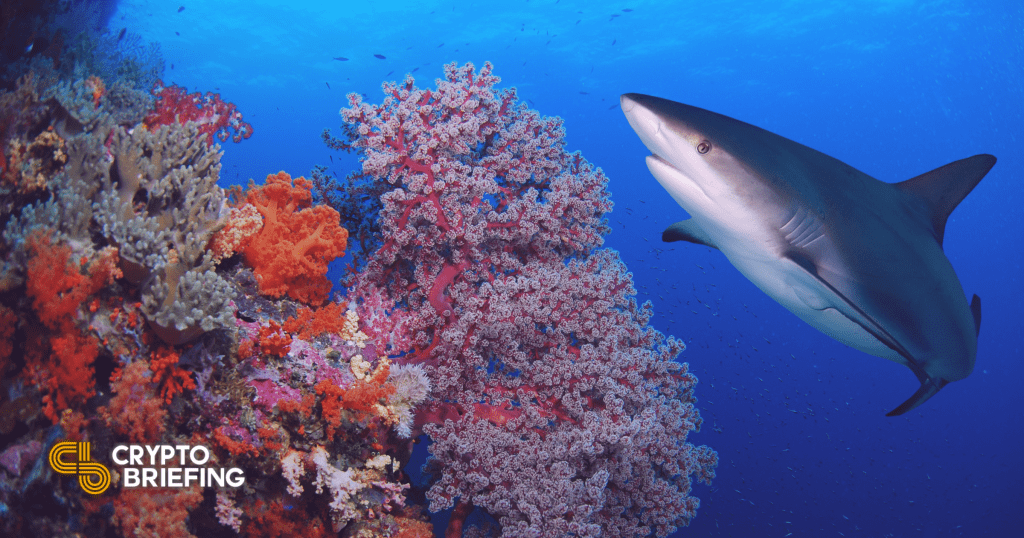 Key Takeaways
Alameda has cut ties with Reef Finance while sister company FTX accused Reef of being a scam, tanking REEF token by 26%.
Reef Finance leaked documents revealing that Alameda had threatened to ruin the project by dumping tokens, delisting it, and discrediting it.
It appears that an $80 million business deal fell through due to a miscommunication handled entirely through Telegram with no formal legal contract.
Days after "investing" $20 million in Reef Finance, Alameda Research refuted all ties with the DeFi project, leveling numerous accusations against it.
Reef Finance, however, reveals a wholly different take. So, what happened?
With screenshots and transcripts now available, the debacle ultimately reveals that $80 million deals are best brokered with legal contracts, not messaging apps.
FTX Denounces Reef as Rug Pull, Alameda Cuts Ties
On Mar. 15, the official Twitter account for FTX accused Reef Finance of being a scam, telling Reef Finance investors that their money was being stolen.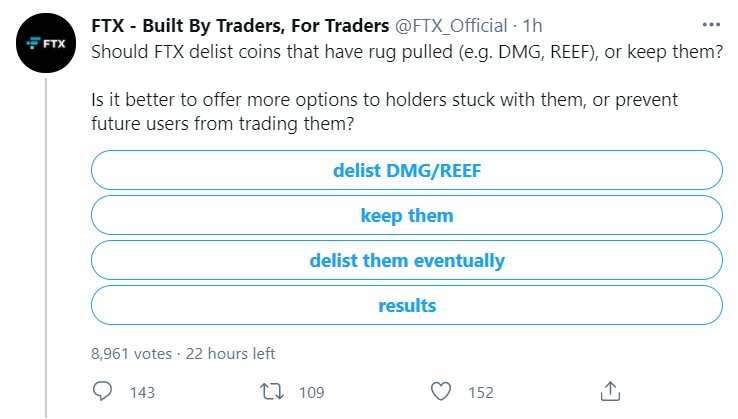 FTX did not respond to Crypto Briefing comment requests and has since deleted the tweet in question.
At around the same time, Alameda trader Sam Trabucco stated that Alameda had no connection to Reef Finance. He characterized the $20 million transaction as an OTC trade rather than a business investment, adding that Reef reneged on their deal and prematurely went to the media about it.
Brian Lee of Alameda's Venture Capital department retweeted Trabucco's post.
1. Alameda is not affiliated with REEF.
2. Alameda does not endorse REEF.
3. We agreed to an OTC trade with REEF; they immediately went to the press to brag.
4. They then reneged on the OTC trade.
5. We obviously do not recommend anyone do business with REEF in any way.

— Sam Trabucco (@AlamedaTrabucco) March 15, 2021
The claims from Alameda and FTX directly preceded a 26% drop in the price of REEF. Social media erupted with the news that Reef may be a scam and may have invented the story of an Alameda investment to pump its prices.
However, none of these claims offered the full story.
Crypto Briefing has obtained evidence that an investment announcement was carefully co-ordinated between both projects and released at the agreed time. Brian Lee himself greenlit the announcement, including the disclosure of a $20 million investment, on Mar. 10.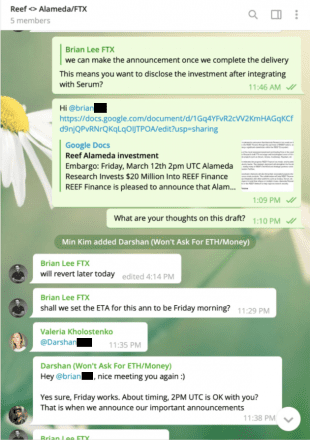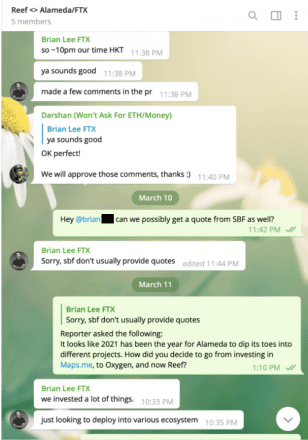 On Mar. 12, the announcement was made.
It appears that Alameda then sold some of their REEF, using the Binance exchange rather than their sister company, the FTX exchange.
An OTC Trade, Not an Investment
Alameda and FTX declined to comment, though Trabucco told Crypto Briefing that Alameda's blog post on the matter constituted his comments.
In the post, Alameda released conversation transcripts of their own. On Mar. 8, it appears that Alameda brokered a deal for $80 million worth of tokens at a fixed price, settling the first tranche of $20 million.
They agreed to market this OTC trade as an investment in Reef Finance.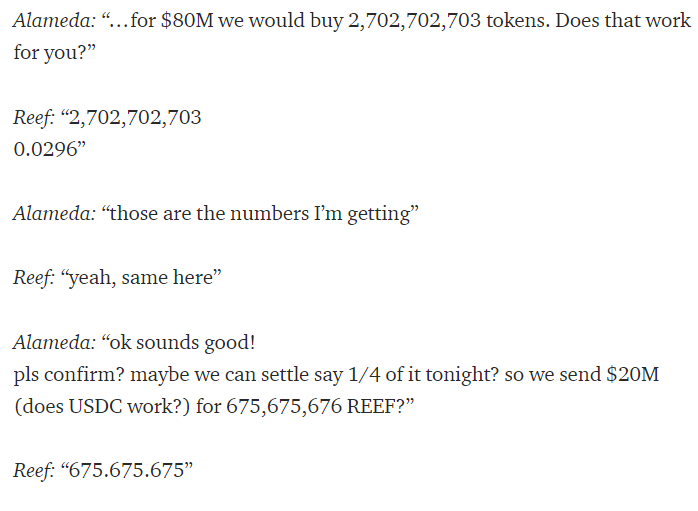 Reef wanted to reframe the trade as an investment for the public, saying, "I assume it is fine with announcing you guys as a big investor, right?"
20% Token Discount Without Vesting
Speaking to Crypto Briefing, Reef Finance CEO Denko Mancheski stated that the token sell-off was unexpected, believing Alameda would lock up their new holdings until further notice.
Reef Finance sources claim that Alameda bought $20 million worth of tokens at a 20% discount and then tried to squeeze the project for more tokens at discounted prices.
"They said that they are investing long term and wanted to buy $80 million," said Mancheski. "I sent them offers with vesting schedule but they said they are very reputable and long-term investors and professionals and have bought in even bigger projects even bigger amounts without lockups."
Crypto Briefing has seen no evidence that Alameda agreed to lock up tokens, and Mancheski claimed to no longer have access to the conversation logs where aspects of the deal were discussed.
Mancheski stated that Alameda started selling their tokens on Binance "the moment we settled the $20 million," further claiming that "they are lying that they still own the majority of the tokens." It certainly appears that Alameda did indeed move tokens to Binance, although how many were sold is unclear.