Algorand CEO Says Project's $60M Sale Will Benefit Blockchain
Funds go directly to the Algorand Foundation for research and development.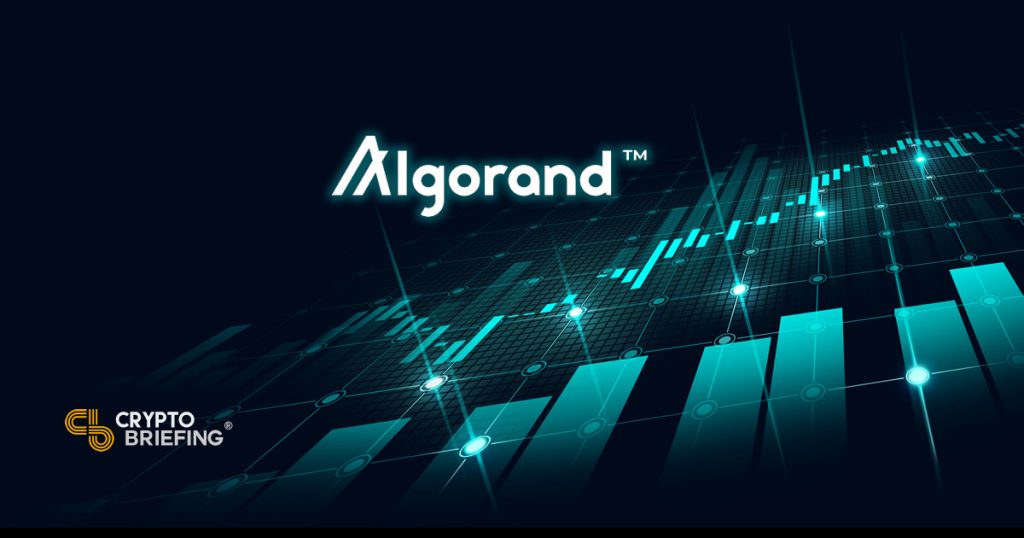 Algorand's CEO has defended the company's recent $60M token sale, saying that not only was it freely-determined by the market but that it actually complemented their objective: to broaden blockchain's appeal.
[The price] is not really for us to figure out," CEO Steve Kokinos explained to Crypto Briefing. What it did show, he said, was genuine enthusiasm for the project, with the Dutch Auction mechanism ensuring that the asking price for 'Algos' was market determined and "the same for everyone."
Algorand is a PoS protocol intended to make blockchain-based features accessible to a wider audience. Founded by Silvio Micali, an MIT professor and Turing Award recipient, its creators want to improve scaling and consensus mechanisms, implementing atomic swaps so digital assets can be traded seamlessly all on one platform.
The Financial Times reported in February that Algorand had been in talks with Facebook about potential acquisitions. Talks reportedly fell through and Kokinos said the company didn't comment on any talks, past or present, it had with Facebook.
By late 2018, Algorand raised more than $66M in an equity round from VCs, including Union Square Ventures, an early-stage Coinbase investor, and Circle backer, Pillar Venture Capital. Combined with the amount raised from the first sale, that meant the company has more than $126M in working capital.
Investors' initial reaction to the sale were raised eyebrows. Sources suggested this was an insane valuation of "ICO-class lunacy" proportions after unminted tokens were offered to some investors over the counter at $0.18, right up until the day before the sale. Early investors were able to participate at $0.05 although their tokens would also need to be minted over time.
"Algorand appears to be the benefactor of idle money on the sidelines getting antsy during a recovering market," said Crypto Briefing's Head of Product and Research Ilya Abugov.
Algorand was rapidly listed on a number of major exchanges, including Binance, Huobi, OKEx and KuCoin. Despite the shock factor, its value has already increased significantly, trading at just over $3.00 at the time of writing.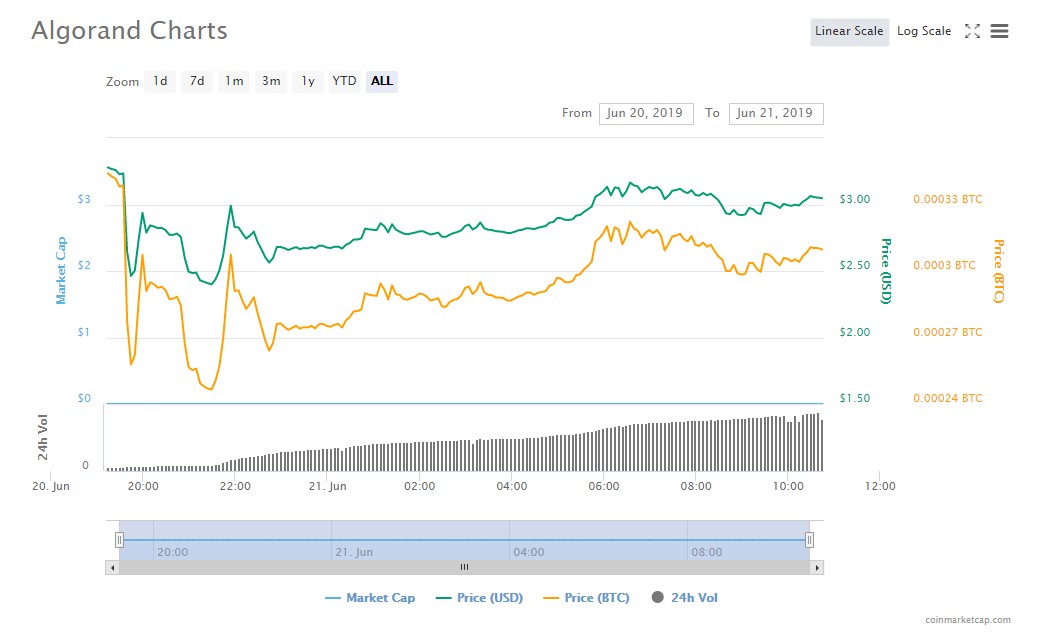 (via CoinMarketCap.com)
What's more, Wednesday's sale was to be the first in a series of sales that will go on for more than five years. If it's any indication of future ones, Algorand is set to raise more than two billion dollars.
But Kokinos said rolling auctions enable tokens to gradually enter circulation. Set to take place on a monthly basis, the Foundation will determine how many Algos will be auctioned per sale – maximum 600,000 tokens per year – so as not to cause significant price disruption to existing holders.
Kokinos also pointed out that their refund policy, which gave investors the option to return tokens within a year for a 90% refund, encouraged greater participation. It enabled users to experiment with the protocol without incurring any unnecessary financial risk, he claimed.
In fact some observers have suggested that the implied valuation, at $24 billion according to yesterday's auction, should be discounted by 90% precisely because of that refund policy.
According to Kokinos, all of the funds, including those raised during the equity round, had gone towards the Algorand Foundation, the protocol's non-profit research and development organization.
[Our] focus is on building a platform for the long-term," Kokinos said. The more capital raised now means the more they can develop and improve the protocol.
Not only would the sale build confidence for Algorand, Kokinos said, but it would also help users explore whole new use-cases for blockchain technology and, hopefully, bring more people into the space.
Token economics is a fascinating emerging field – projects like Algorand, Maker, IOST, and Ampleforth are pushing new boundaries of monetary theory as digital assets redefine value transaction. Pre-existing conceptions of what constitutes value may simply have to change as the adoption of a tokenized economy continues to gather pace.