Andreessen Horowitz Sees Consistent Trends in Bitcoin Epochs
The three crypto cycles have all followed similar paths and all contributed to the growth of the sector.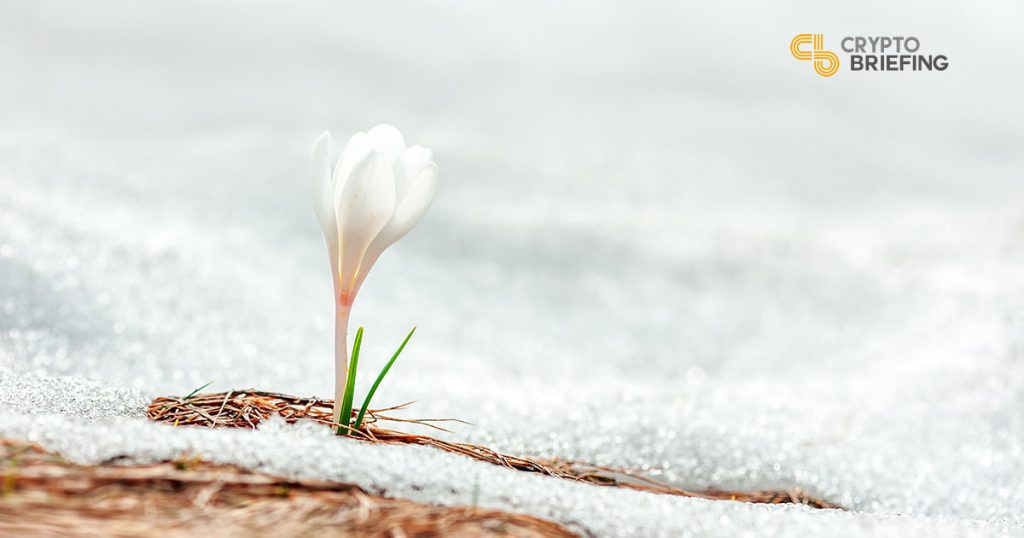 Key Takeaways
Crypto has seen three notable cycles.
Cycles see price drive interest and interest driving innovation.
The market has continued to grow over time and shows no real signs of stopping.
In a newly issued analysis, VC firm Andreessen Horowitz has identified clear trends in the history of cryptocurrency, finding order in what often feels like a chaotic industry.
Bitcoin's Price-Interest-Innovation Cycle
The firm's latest insights identify three basic cycles throughout cryptocurrency's path since Bitcoin's inception. The first cycle peaked in 2001, the second in 2013, and the third in 2017.
Each cycle has been characterized by a rise in price, followed by a renewed interest in digital assets, new ideas for use cases and implementations, and funding and startups as more people enter the space.
Interestingly, in all cycles, the firm discovered that interest failed to wane even after prices had spiked.

Cycle One: 2009-2012
During the first cycle from 2009 to 2012, the firm noted that after Bitcoin began rising in price, a number of innovations entered the space.
According to the research, it was during the first cycle when many crypto wallets, exchanges, and miners formed companies, realizing that cryptocurrency could form the basis of a business.
Cycle Two: 2012-2016
The second cycle, again following a price spike, saw the introduction of the smart contract platform, with Ethereum leading this wave.
Smart contract platforms would go on to form the most innovative and potentially disruptive area of the crypto economy, according to Andreessen Horowitz. Cryptocurrency was no longer just a digital form of money. It became programmable money.
Despite peaking in 2013, the second cycle was what drove much of the hype that occurred in the third cycle, with the researchers arguing that:
"A key feature of crypto cycles is that each one plants seeds which later grow and drive the next cycle."
Cycle Three: 2016-2019
The third cycle, which peaked in a frenzied end to 2017, was the one during which crypto began to attract genuinely mainstream attention, as measured by social media activity.
While this period will always be defined by the ICO boom, it also led to the emergence of major crypto players like Binance.
In Summary
Crypto cycles have all demonstrated the same pattern of prices driving interest, which accelerated developments and innovation.
Compounding annual growth rates from price, interest, developers, and small businesses all point to crypto's gradual upward trend.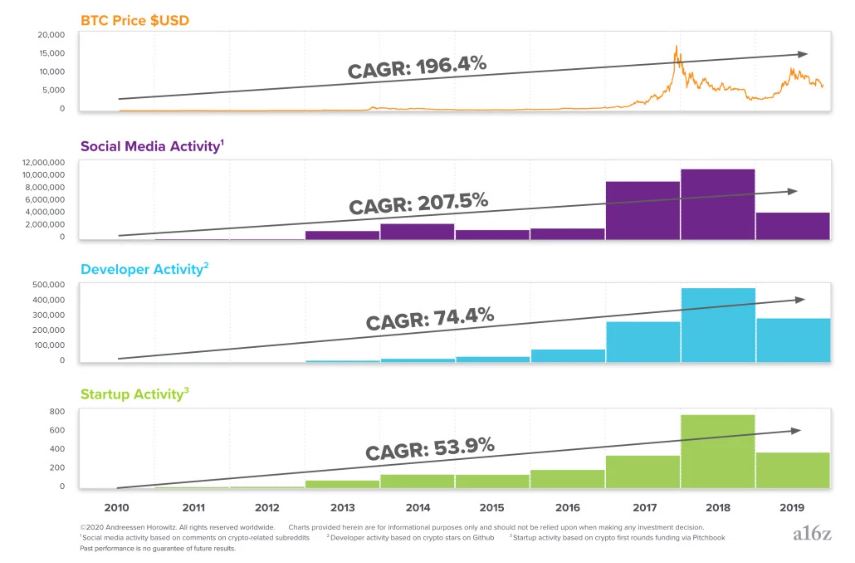 The study from Andreessen Horowitz suggests that despite what can often seem like a volatile journey, the crypto sector has been slowly building since it began, and given it remains very much a niche market, there is little to suggest it won't continue to grow.