Apple CEO Tim Cook Reveals Cryptocurrency Investments
The Apple CEO said he's been researching cryptocurrencies "for a while."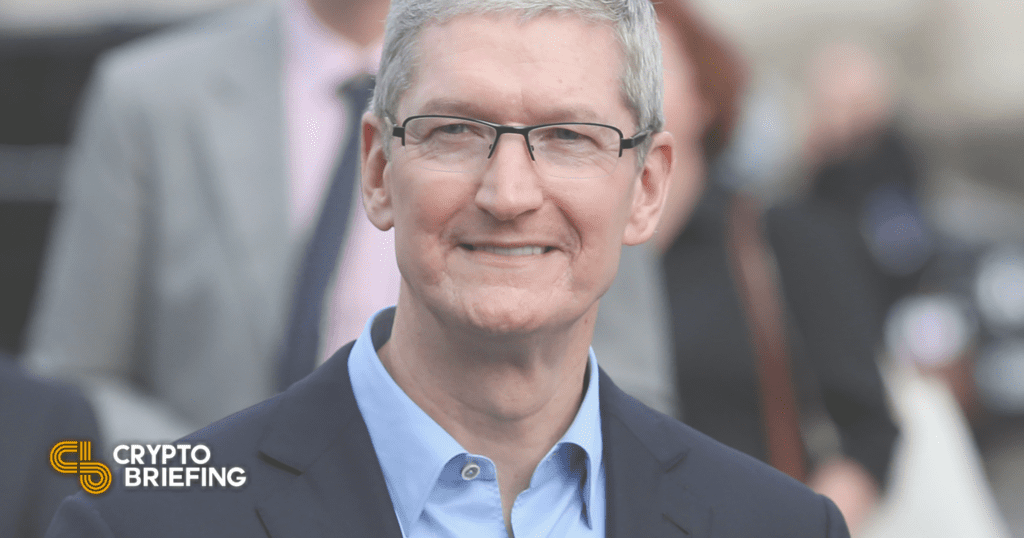 Key Takeaways
Apple CEO Tim Cook has stated that he owns cryptocurrencies.
Cook also stated that Apple is looking into allowing Bitcoin payments through Apple Pay.
Whether Cook's allocation means Apple will also invest in cryptocurrencies remains to be seen.
Apple CEO Tim Cook has revealed that he owns cryptocurrencies while discussing the asset class at the Deal Book Online Summit.
Tim Cook Reveals Crypto Investments
While Apple is yet to make a move into the crypto space, its CEO has.
Speaking at the Deal Book Online Summit Tuesday, Apple CEO Tim Cook revealed that he uses and holds cryptocurrencies.
Tim Cook of Apple reveals that he has personally invested in cryptocurrency. "I think it's reasonable to own it as part of a diversified portfolio," he said at the #DealBook Online Summit. https://t.co/xpahdlKfOe pic.twitter.com/CQpQgShu0x

— DealBook (@dealbook) November 9, 2021
"Do you own crypto—any Bitcoin or Ethereum—do you play around with it?" Asked host Andrew Sorkin. "I do," responded Cook, going on to state that he thinks it's reasonable to hold crypto assets as part of a diversified portfolio. While Sorkin mentioned Bitcoin and Ethereum in his question, it is not clear whether Cook owns there specific assets.
The Apple CEO further expressed his interest in cryptocurrencies revealing that he's been researching them "for a while."
For Apple, Cook also disclosed that the company might start allowing Bitcoin payments through Apple Pay. "It's something that we're looking at but not something that we have immediate plans to do," he said.
Cook is the latest in a long list of tech personalities to reveal their cryptocurrency investments publicly. Virgin Group founder Richard Branson, Microstrategy CEO Michael Saylor, and PayPal co-founder Peter Thiel have all previously stated that they own Bitcoin.
With Cook admitting to owning crypto assets, many are now speculating whether Apple will also invest in cryptocurrencies in the future. In October 2020, financial services company Square bought $50 million worth of Bitcoin, likely influenced by Jack Dorsey, the company's CEO. Dorsey, who also runs Twitter, is a long-time Bitcoin advocate and is rapidly integrating cryptocurrencies into Square's offerings.
Outside of finance, other companies have also put Bitcoin on their books. In February, Tesla made headlines when it revealed that it had bought $1.5 billion worth of Bitcoin. The Company's CEO, Elon Musk, is also a frequent exponent of cryptocurrencies revealing his own holdings to include Bitcoin, Ethereum, and Dogecoin.
Despite more and more companies investing in Bitcoin, it remains to be seen whether Apple will be the next company to continue this trend.
Disclosure: At the time of writing this feature, the author owned BTC, ETH, and several other cryptocurrencies.