Atonomi ICO Review and Token Analysis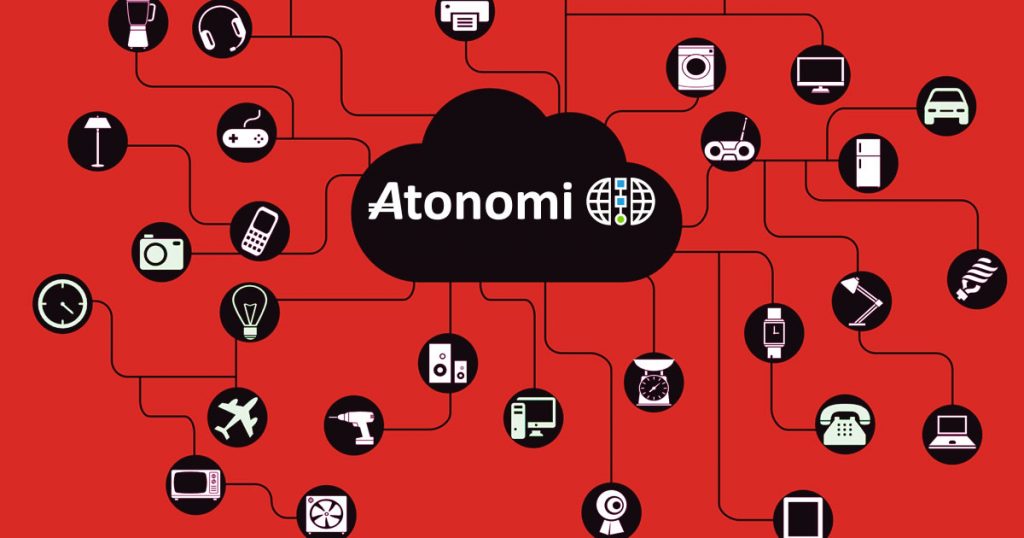 Atonomi ICO Overview
The Atonomi ICO is taking aim at bringing a comprehensive security solution to one of the largest technological developments of our time- the Internet of Things (IoT). The IoT market valuation is estimated to grow to $457 billion by 2020, with a Compound Annual Growth Rate (CAGR) of 28.5%. By 2020, the installed base of IoT devices is forecast to reach nearly 31 billion worldwide.
What is undeniably clear is that the IoT is set to revolutionize the world as we know it and will play an indispensable role in everyday life. But one particular issue has come to the forefront as the market takes off – security.
IoT experts agree that the current lack of security is of dire concern for the industry, with high-profile cases of attacks on IoT devices illustrating these concerns are well-founded. Ultimately, greater connectivity leads to ever more opportunities for security flaws to be exploited.
Atonomi ICO Value Proposition
The Atonomi ICO provides a new security protocol and infrastructure for billions of IoT devices to maintain trusted interoperability for both data and commerce. The underlying IoT security technology of the protocol, developed by parent company CENTRI Technology, is currently deployed by tech companies including Arm, Flextronics and Intel for use with their products. The Atonomi infrastructure will include four pillars that are indispensable to establishing a truly secure and scalable ecosystem:
Trusted immutable identity of devices through the device identity registration service

Reputation protocol to incentivize and enable Atonomi and decentralized third-party auditors to build systems that detect and remove bad device actors

Tokenized economy that includes registration and activation of devices, facilitation of a reputation-scoring ecosystem among third-party auditors and transaction validation services

Fully extensible architecture designed to serve as the base for vertical IoT security applications
The Atonomi Network runs on the Atonomi Token (ERC-20). The token acts as a utility to operate the Atonomi smart contracts while also serving as a digital unit of value that will facilitate the operation and expansion of the system by participants in the ecosystem. The token will play a central role in the device identity and reputation management functions of the Atonomi Network.

Atonomi ICO Team
Vaughan Emery is CEO/Founder of Atonomi and founded parent company CENTRI over 7 years ago. Since then, the company has achieved success with their offchain security software for IoT products.
Vaughan's experience in IT reaches back decades, having served as Managing Partner of an IT security services company for 15 years prior to founding CENTRI.
David Fragale is Co-Founder and Head of Product at Atonomi. David is an MIT graduate and former Director of Strategic Threat Management with PwC. For two years, David helped PwC client companies develop blockchain use cases, prototypes and pilots.

Michael Mackey is carrying over his 7 year role at CENTRI as CTO and VP of Engineering to the Atonomi project. He holds several patents for data security solutions and maintains an impressive background as a leader in software development and engineering.

Luis Paris' PhD work led to the core tech behind CENTRI products. He has served as Chief Data Scientist for the last 5 years at CENTRI and will continue on in the same capacity with Atonomi. Previous experience includes 12 years of academic research in computer science.
Andrii Zamovsky is the Strategic Development Partner with Atonomi. He is the founder of Ambisafe, a blockchain development and ICO consulting company. His comprehensive experience developing and launching decentralized projects will help contribute to the transition of CENTRI's product to the blockchain.

Dr. John Clippinger is an advisor for the Atonomi ICO. Dr. Clippinger's influencer status in the crypto space is substantial, having advised projects such as Bancor and holding the position of Chief Innovation Officer with Swytch. His involvement and accomplishments furthering disruptive technologies such as blockchain are extensive.

Dr. Ulf Lindqvist is another advisor for the Atonomi ICO. He is the Senior Technical Director at Stanford Research International and is a world-renowned expert on cybersecurity. Dr. Lindqvist has spearheaded numerous initiatives on advancing research and development of IoT security technologies.
Atonomi ICO Strengths and Opportunities
The combined expertise of the Atonomi ICO team is impressive. From the crypto space, both David Fragale and Andrii Zamovsky have demonstrable track records contributing to successful development of blockchain products from start to finish. The rest of the team are leaders in the market of IoT security and have proven their competency from both the business and tech angles with the success of their software product. The Atonomi ICO has the bases covered when it comes to a strong team.
CENTRI already has partnerships with some of the largest players in the IoT market. As the software predecessor to Atonomi is currently deployed by several leading IoT tech firms, these relationships will provide an important channel that is already open for adoption. Leveraging these partnerships to pilot the Atonomi Network will be an important strategy on the road to success. One of the most vital improvements to IoT security Atonomi offers is the immutable identity feature, rooted in the distributed ledger. This feature is a major selling point for encouraging current partners to adopt the platform.
Atonomi ICO Weaknesses and Threats
There is no shortage of ICOs right now targeting the burgeoning IoT market. In fact, one of the first major companies to hold a token sale – Hyundai – is offering a similar IoT services stack with device security as a focal point of the project.
Still, with an established base in the IoT security industry, we believe Atonomi could well be one of the more viable contenders at the moment. With security being of paramount importance in this space, the true test for the Atonomi ICO will be how effectively and efficiently their protocol functions when compared to the competition.
The Verdict on Atonomi ICO
With a successful offchain product and partnerships in the IoT industry, the Atonomi ICO holds promise. The question of how the team handles the competition will be a major deciding factor for the long-term success of the project. Building new partnerships, leveraging existing ones and staying ahead of the pack on technical development are all crucial for success. When blockchain companies have succeeded with IoT-based projects, their financial success has been very strong.
As it stands, we're placing a medium bet on the Atonomi ICO. We will be sure to update the hard facts below as more information becomes available.
Learn more about the Atonomi ICO from our Telegram Community by clicking here.

---
We have rated hundreds of projects to unearth ICOs in which members of our team intend to invest.
We won't usually go into depth on projects that we don't consider as candidates for our investments, which is why you will usually see our stamp on our ICO reviews – they are the best we have found. However, on occasion, we might also rate a well-hyped project that does not meet our personal investing criteria.
The Crypto Briefing Top 5 stamp is awarded to ICO projects that we rate in the top 5% of all projects.
---
ATONOMI ICO REVIEW SCORES
SUMMARY
The Atonomi ICO offers a promising improvement to IoT security by fusing proven offchain tech with the power of the blockchain. In a sector that's rife with competition, the Atonomi team come out on top for their previous successes in both IoT tech and blockchain development. We're making a medium bet on the Atonomi ICO.
Founding Team……………………….9.4
Product…………………………………..6.2
Token Utility…………………………..9.5
Market…………………………………..10
Competition…………………………..4
Timing……………………………………9.8
Progress To Date……………………7.6
Community Support & Hype….8
Price & Token Distribution……..7.5
Communication………………………9.3
FINAL SCORE……………………….82
UPSIDES
Established player in the IoT industry
Stellar team of accomplished experts in blockchain and cyber security
Already generating hype at an early stage
DOWNSIDES
Competition is rife and will continue to heat up
Awaiting concrete news on pilot projects
Project Name: Atonomi
Token Symbol: (TBA)
Website: https://atonomi.io/
White Paper: Atonomi White Paper
Crowdsale Hard Cap: $30 million
Total Supply: (TBA)
Token Distribution: 50% to crowdsale
Price per Token: (TBA)
Maximum Market Cap (at crowdsale price): $60 million
Bonus Structure: (TBA)
Presale Terms: (TBA)
Whitelist: Newsletter registration- https://atonomi.io/sign-up/
Important Dates: (TBA)
Expected Token Release: (TBA)
---
ICO Review Disclaimer
The team at Crypto Briefing analyzes an initial coin offering (ICO) against ten criteria, as shown above. These criteria are not, however, weighted evenly – our proprietary rating system attributes different degrees of importance to each of the criteria, based on our experience of how directly they can lead to the success of the ICO in question, and its investors.
Crypto Briefing provides general information about cryptocurrency news, ICOs, and blockchain technology. The information on this website (including any websites or files that may be linked or otherwise accessed through this website) is provided solely as general information to the public. We do not give personalized investment advice or other financial advice.
Decentral Media LLC, the publisher of Crypto Briefing, is not an investment advisor and does not offer or provide investment advice or other financial advice. Accordingly, nothing on this website constitutes, or should be relied on as, investment advice or financial advice of any kind. Specifically, none of the information on this website constitutes, or should be relied on as, a suggestion, offer, or other solicitation to engage in, or refrain from engaging in, any purchase, sale, or any other any investment-related activity with respect to any ICO or other transaction.
The information on or accessed through this website is obtained from independent sources we believe to be accurate and reliable, but Decentral Media LLC makes no representation or warranty as to the timeliness, completeness, or accuracy of any information on or accessed through this website. Decentral Media LLC expressly disclaims any and all responsibility from any loss or damage of any kind whatsoever arising directly or indirectly from reliance on any information on or accessed through this website, any error, omission, or inaccuracy in any such information, or any action or inaction resulting therefrom.
Cryptocurrencies and blockchain are emerging technologies that carry inherent risks of high volatility, and ICOs can be highly speculative and offer few – if any – guarantees. You should never make an investment decision on an ICO or other investment based solely on the information on this website, and you should never interpret or otherwise rely on any of the information on this website as investment advice. We strongly recommend that you consult a licensed investment advisor or other qualified financial professional of your choosing if you are seeking investment advice on an ICO or other investment.
See full terms and conditions for more.
Founding Team
This category accounts for the leaders, developers, and advisors.
Poor quality, weak, or inexperienced leadership can doom a project from the outset. Advisors who serve only to pad their own resumes and who have ill-defined roles can be concerning. But great leadership, with relevant industry experience and contacts, can make the difference between a successful and profitable ICO, and a flub.
If you don't have a team willing and able to build the thing, it won't matter who is at the helm. Good talent is hard to find. Developer profiles should be scrutinized to ensure that they have a proven history of working in a field where they should be able to succeed.
Product
What is the technology behind this ICO, what product are they creating, and is it new, innovative, different – and needed?
The IOTA project is a spectacular example of engineers run amok. The technology described or in use must be maintainable, achievable, and realistic, otherwise the risk of it never coming into existence is incredibly high.
Token Utility
Tokens which have no actual use case are probably the worst off, although speculation can still make them have some form of value.
The best tokens we review are the ones that have a forced use case – you must have this token to play in some game that you will probably desire to play in. The very best utility tokens are the ones which put the token holder in the position of supplying tokens to businesses who would be able to effectively make use of the platforms in question.
Market
There doesn't have to be a market in order for an ICO to score well in this category – but if it intends to create one, the argument has to be extremely compelling.
If there is an existing market, questions here involve whether it is ripe for disruption, whether the technology enables something better, cheaper, or faster (for example) than existing solutions, and whether the market is historically amenable to new ideas.
Competition
Most ideas have several implementations. If there are others in the same field, the analyst needs to ensure that the others don't have obvious advantages over the company in question.
Moreover, this is the place where the analyst should identify any potential weaknesses in the company's position moving forward. For instance, a fundamental weakness in the STORJ system is that the token is not required for purchasing storage.
Timing
With many ICO ideas, the timing may be too late or too early. It's important for the analyst to consider how much demand there is for the product in question. While the IPO boom funded a lot of great ideas that eventually did come to fruition, a good analyst would recognize when an idea is too early, too late, or just right.
Progress To Date
Some of the least compelling ICO propositions are those that claim their founders will achieve some far-off goal, sometime in the future, just so long as they have your cash with which to do it.
More interesting (usually) is the ICO that seeks to further some progress along the path to success, and which has a clearly-identified roadmap with achievable and reasonable milestones along the way. Founders who are already partially-invested in their products are generally more invested in their futures.
Community Support & Hype
Having a strong community is one of the fundamental building blocks of any strong blockchain project. It is important that the project demonstrates early on that it is able to generate and build a strong and empowered support base.
The ICO marketplace is becoming more crowded and more competitive. While in the past it was enough to merely announce an offering, today's successful ICO's work hard to build awareness and excitement around their offering.
Price & Token Distribution
One of the biggest factors weighing any analysis is price. The lower the price the more there is to gain. But too low of a price may result in an under capitalized project. It is therefore important to evaluate price relative to the individual project, its maturity and the market it is going after.
The total supply of tokens should also be justified by the needs of the project. Issuing a billion tokens for no reason will do nobody any good.
Communication
Communication is key. The success of a project is strongly tied to the project leaders' ability to communicate their goals and achievements.
Things don't always go as planned but addressing issues and keeping the community and investors in the loop can make or break a project.