CZ Says Binance Charity Listings Pivot Took Just 3 Days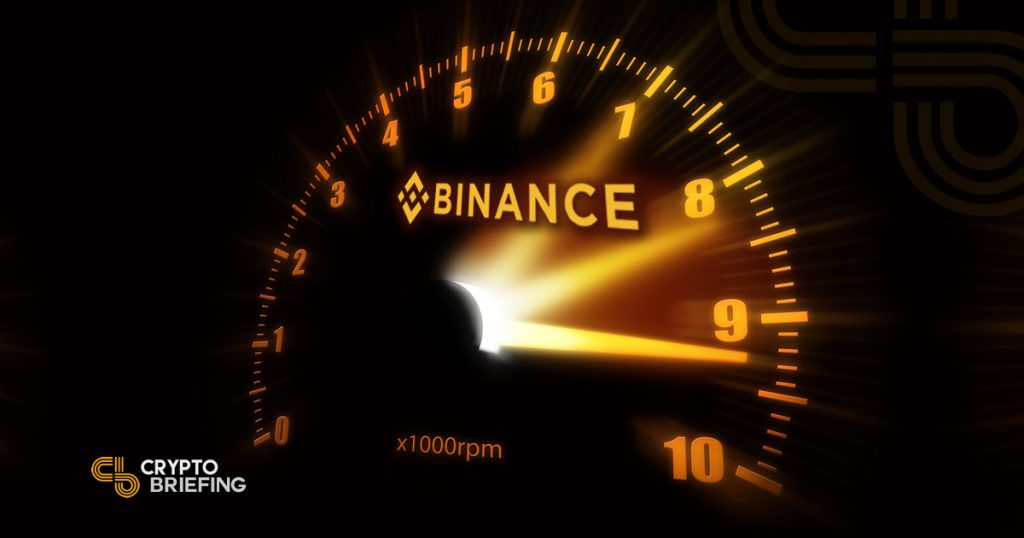 How long does the cryptocurrency exchange Binance take to make a multi-million dollar decision? A couple of months? A few weeks? According to its founder, Changpeng Zhao (better known as CZ), the deliberation process at the world's biggest exchange takes… a couple of days.
Binance made a surprise announcement today on its official blog post that it had changed its listing fee policy. Effective immediately, Binance itself will no longer charge fees for projects to list their tokens on its servers. Instead, token teams will make a compulsory donation to one of Binance's charity initiatives, with the amount to be given at their discretion.
In an email exchange with Crypto Briefing, CZ explained the idea first came to him in early September but he had kept it to himself. "I had this rough idea in my head for about a month, but didn't think about it too seriously or formally, mostly because there are always other distractions," CZ wrote. "After meeting with the President of Malta, where there is discussion surrounding charity initiatives, I began to think about it a bit more formally. I gave the idea into our leadership team 3 days ago (on the weekend, as usual), and got unanimous support."
"Today, we put the announcement out," he added.
---
CZ: 'We don't plan too far ahead'
Binance attracted criticism over the summer when crypto media outlets suggested that the exchange charged projects sometimes millions to be listed on its servers. A source cited by Bitcoinist claimed they were charged 400 BTC (equivalent to $2.6m at the contemporary market rate) by the exchange's account department; something Binance has strenuously denied.
CZ said in his email that the new listing policy would in part help to provide clarity to the exchange's users and the wider cryptocurrency community. "There was so much incorrect data, rumor and FUD [fear, uncertainty, doubt] about listing fees," he said. "We care about our community and want to address [that] once and for all."
CZ said that there were currently no plans for the exchange to donate a percentage of its trading fees to charity. He did consider that there might be a partial drop in trading fees, but had not ruled out anything for the future. Although there were plans long-term, quick decision-making was also needed. "As you can see, we don't plan too far ahead," he said. "We do have long-term visions, just no detailed plans. Things change too quickly".
---
Binance in Malta
CZ's meeting with Marie-Louise Coleiro (the President of Malta) on Friday afternoon, coincided with this year's Delta Summit, a cryptocurrency and blockchain conference, held in the seaside town of St. Julian's between Wednesday and Friday last week. St. Anton's Palace, the official Presidential residency is an approximate 15min drive from the conference site.
Was a true honor to have breakfast with Her Excellency @presidentMT and the bear hug! And the vision truly inspired me. pic.twitter.com/dxa3WkaVle

— CZ 🔶 Binance (@cz_binance) October 5, 2018
Binance is the world's largest cryptocurrency exchange, by adjusted trading volume. Over $900m has passed through its servers in the past 24 hours. The next largest competitor, fellow Hong Kong-based exchange OKEx, had a trading volume at just over $500m.
Binance launched little more than a year ago. It's early days coinciding with the major bull run that took the total value of the crypto market well above $800bn. The exchange experienced a sudden influx of users. CZ admitted to Bloomberg in January they had added 240,000 users in just one day. The true scale of its success was revealed when Binance reported a total of $200m in profits during its second quarter of operation.
---
Binance Listing Update Proves Leviathan Exchange Is Still Nimble
Crypto is still a very nascent space; one that evolves rapidly. The community was still serious about initial coin offerings (ICOs) well into this year, but things have moved on: security token offerings (STOs) are now vogue.
Considered on Friday, pitched at the weekend, and enacted on Monday, would be a remarkable pivot for the smallest startup; let alone a company which, at its last count, had just under 500 employees based all around the world.
Part of what underpins the Binance success story is the ability to enter and flourish quickly in new markets. A quick deliberative process is essential, something showcased in today's news.
The downside? Spare a thought for Binance's accountants. They must have had a great weekend sorting it all out…
Disclaimer: The author is not invested in any cryptocurrency or token mentioned in this article, but holds investments in other digital assets.