Bonjour, CZ: Could Binance Be Considering A Move To Paris?
The exchange says that France could become the global destination for cryptocurrency.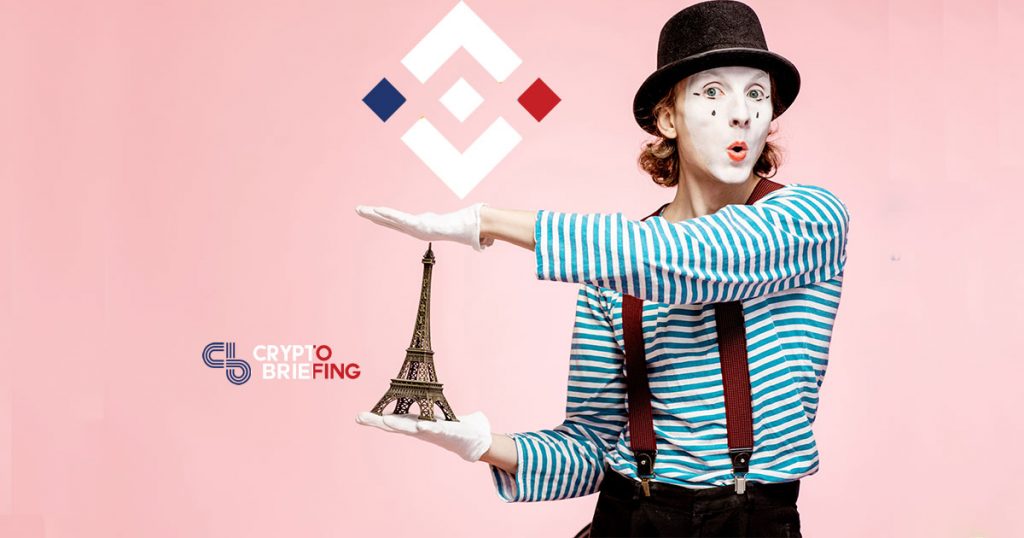 Paris is known for many things: gorgeous architecture, exquisite cuisine, and perhaps, one day, cryptocurrency. Binance has been in a series of talks with representatives from the French government, suggesting the world's largest exchange could be considering a move to France.
Binance CFO Wei Zhou confirmed to Crypto Briefing that he had met with key figures from French ministries and regulatory bodies during his recent visit to the capital during Paris Blockchain Week.
The exact contents of their meeting are still unknown, but Zhou said that he had met with representatives from the French Ministry of Finance and Ministry of Technology, as well as the AMF, the country's chief financial regulator.
Zhou told Crypto Briefing that Binance is attracted to France because of the "progressive legislation" which has helped legitimize cryptocurrency and provided certainty for businesses.
"We've already had success in Malta, which has now branded itself as blockchain island," Zhou added. "France offers new opportunities."
"A move to Paris would help bring innovation to Europe," he said.
---
Could Paris become the tech capital of Europe?
Last week, the French Parliament passed a new law which officially recognized cryptocurrencies as a legitimate asset class. Known as PACTE, broadly translated as an "action plan" for business growth, the law allows digital asset companies to obtain certification from the AMF to operate legally in the country.
"I hope they [regulators] embrace cryptocurrency," Zhou said, suggesting that the exchange could find collaborations and partnerships with French-based companies.
"We hope to work with the right French organizations to deliver more success stories," he added.
EU regulators have also expressed an interest in developing a digital asset framework, which could make Europe a hub for a responsible cryptocurrency industry. The French Finance Minister has already advised other member states to adopt similar regulation.
The new rules come at a good time for Binance, which set up a base on the island of Jersey to support pound sterling and euro users. With London in turmoil as the Brexit crisis continues, Zhou believes that Paris could become the tech capital of Europe.
Binance CEO Changpeng Zhao recently launched a campaign to help rebuild Paris' Notre Dame cathedral after a fire nearly destroyed the 900-year-old landmark. He has called on other industry figures to support his campaign.
Reading the comments, please understand Charity is not exclusive, or obligatory. Feel free to choose the program you wish to donate to.

If we can push crypto to the last mile of Cathedral building, it's the ultimate #adoption.

Bring crypto to religion! https://t.co/3OrvyAEUXW

— CZ Binance (@cz_binance) April 17, 2019
---
How could Binance help France?
It's not just Binance that would benefit from a move to Paris. During a press conference at Paris Blockchain Week, the Secretary of State for Digital Economy, Cédric O, said that companies like Binance could help France become a world-leader in blockchain and cryptocurrency.
O confirmed that he had met with Zhou that day, but did not disclose what had been discussed. The Secretary hinted that the French government had been linking up with other players in the crypto industry, as part of a new charm offensive to encourage them to the country.
"We want them here," O told reporters.
Binance's CFO emphasized that the exchange could help improve and expand French digital infrastructure, as well as foster growth and innovation.
"Binance is a high-quality product, it plays fair and cares deeply about its users," Zhou said, noting that the exchange launched a successful ICO and that users continue to support it. "They have voted with their money," he added.
Although Zhou shied away from saying whether Binance would ever use its considerable influence to shape legislation, building dialogues now could allow regulators to draw on Binance's "deep knowledge" of the space.
"This could be a very positive development for our industry," Zhou said.