Bitcoin In Your Face: Buffeted From All Sides, BTC Survives And Thrives
Can anything stop bitcoin's bullish run?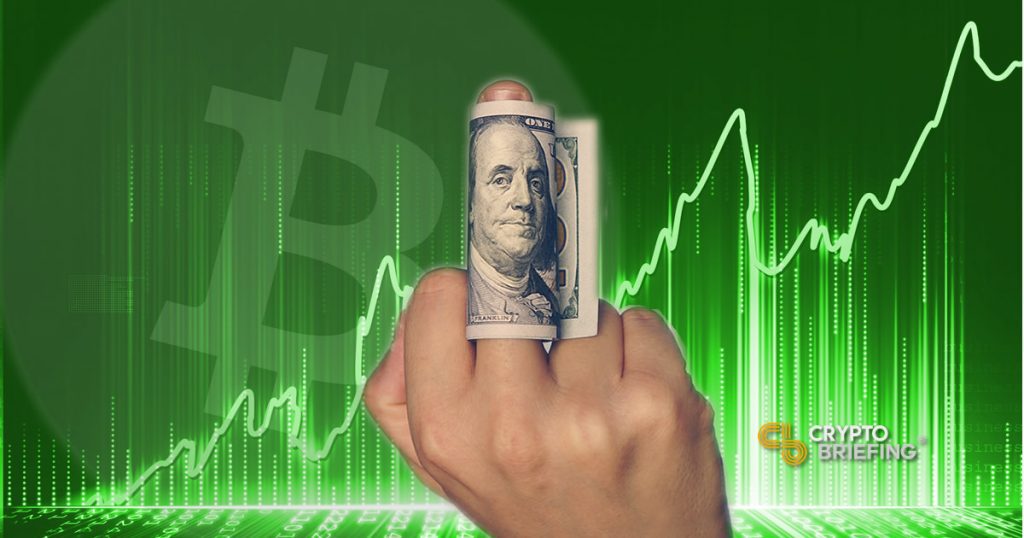 Bitcoin continues to defy the odds, the critics, and the hackers, as the crypto world turns its attention to Consensus 2019 in New York. Despite a tumultuous week or two, the OG crypto looks more bullish than it has for a long time.
Neither A Hack Nor A Button Can Keep Bitcoin Down
There is never a dull moment in crypto. But as bitcoin continues to see off psychological barrier after psychological barrier, even its most ardent advocates could be excused for being proud of the resilience of the world's first application of blockchain technology. Influential CryptoTwitter investor @DoveyWan certainly seems to be:
🤯 Bitfinex's insolvency – didn't crash the market

😳 Binance hack – didn't crash the market

🧐 FinCEN's crypto doc – didn't move the market

🤮 Sherman's crypto ban BS – didn't move the market

🤬 China/US trade war tension? gonna MOON 🌝 the market

— Dovey "Rug The Fiat" Wan🪐🦖 (@DoveyWan) May 10, 2019
Binance, the world's largest exchange, suffered a security breach on Tuesday, with 7,074 BTC now under the control of the world's most keenly viewed wallets. That was only days after perennial bitcoin cynic Warren Buffett compared bitcoin to a button in an interview with CNBC.
Buffeted on all sides indeed… the vice chairman of the multi-billion dollar company – which owns a large stake in Wells Fargo (a bank that repeatedly defrauded customers) – described crypto advocates as followers of Judas Iscariot, seemingly unaware that foreclosing on the homes of people who have done nothing wrong might be considered a more significant betrayal of trust than buying Bitcoin.
Bitcoin is now eyeing off $6,400 as its bullish momentum continues.
---
Caught Between A Rock And A Howey Place
Yesterday, Congressman Brad Sherman called for cryptocurrency to be banned in the US. His rationale partly lies in his argument that the almighty US dollar lends the country a good part of its power.
https://www.youtube.com/watch?v=Cnz2oo8MRas
Sherman himself has advanced his anti-crypto narrative for some time; here at Crypto Briefing we were the first to note that his major donors are in the business of money. Lots of money.
And despite his cartoonish antics, Bitcoin is up almost five percent over 24 hours at press time.
Also yesterday, SEC Commissioner Hester Peirce, the so-called Crypto Mom, issued an apology, of sorts, to the crypto community. She criticized the regulator's insistence on inaction, a lack of clarity, and the clumsy application of circa-1946 securities laws to modern-day digital assets as "heel-dragging":
Bitcoin is up almost ten percent for the week.
---
Will Any Mud Stick?
We are only two weeks from news the New York Attorney-General's office was investigating Tether and Bitfinex for trying to hide $850 million in losses at the troubled exchange.
The New York AG alleges the exchange has been servicing customers in the state, where it is not licensed to operate, and wants to see documents dating back to 2015.
Meanwhile, Bitcoin has climbed to six-month highs.
It is rare in the crypto world to see an uneventful week. But this one, (like the one preceding it), has been particularly volatile.
As the community swings its attention to New York City for Consensus 2019, Bitcoin has seen off all the challenges to its legitimacy, viability, security, and legality, persistently forging its way to new yearly highs.
As a crypto advocate who has been variously described as stupid, traitorous, criminal, and so on this week, I have a strong message for the Bitcoin naysayers.
Fuck off, and I'll see you on the far side of the moon.