Tether Forecast Is Gloomy- But Does Bitfinex Deserve All The Blame?
With Tether and Bitfinex in the spotlight again, should we be paying more attention to Crypto Capital Corp?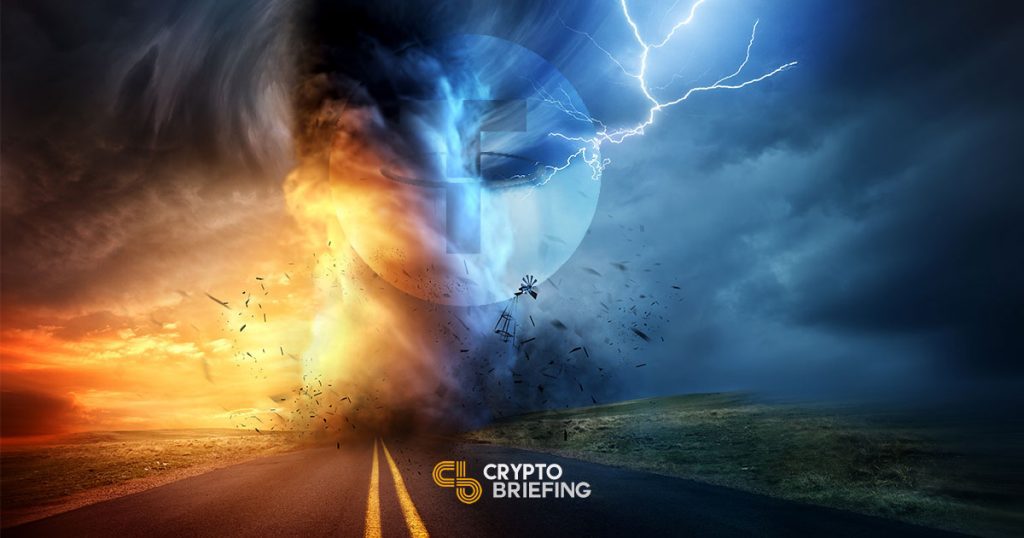 An investigation by the New York Attorney General's office alleges that $850 million in losses at Bitfinex were covered up by Tether, their affiliate.
The allegations are yet another sting for the troubled pair, both owned by iFinex Inc. But is iFinex entirely to blame, or is there more to this story?
---
The Unreported Role of Crypto Capital Corp
The new allegations leveled at iFinex appear to have roots in the withdrawal problems widely reported by Bitfinex users in October 2018. According to the Attorney General, and Bitfinex's reply, the exchange has placed much of the blame at the feet of Crypto Capital Corp, where the exchange had deposited (at one point) over a billion dollars. Crypto Capital Corp holds fiat funds for a number of exchanges, including Bitfinex and QuadrigaCX.
During the October 2018 withdrawal issues, Bitfinex attributed the delays to "processing complications," possibly related to Crypto Capital. At the time, Panama-based Crypto Capital was said to have informed clients that its funds had been seized by US, Portuguese, and Polish authorities.
Those assertions have never been proven.
Ironically, Crypto Capital lists QuadrigaCX as a partner exchange on its website. While proceedings in the QuadrigaCX bankruptcy hearings identify CIBC as having frozen fiat reserves belonging to QuadrigaCX, the failed exchange also had a relationship with Crypto Capital.

Back in October, when Tether's banking woes with Noble Bank in Puerto Rico forced the company to seek other banking partners, the company resorted to using a private HSBC account owned by Global Trading Solutions, LLC. Global Trading Solutions is the payment processor for Crypto Capital.
---
Spotlight Goes On Tether… Again
The NYAG's office issued a press release on Thursday which announced that the department, headed by Attorney-General Letitia James, had sought a court order preventing iFinex:
The department alleges Bitfinex sent $850 million of commingled individual and corporate Bitfinex customer funds to payment processor Crypto Capital Corp. Crypto Corp encountered problems releasing those funds, with many suggesting they had been seized or frozen by various authorities. iFinex allegedly attempted to make up for the losses with dollars from Tether's reserves.
The court order prevents Bitfinex and Tether from offering their services to residents of New York and requires all the companies operating under the iFinex umbrella to turn over documents to the court relating to all promotional material, securities sales, and purchase agreements in New York State:
In addition, Bitfinex and Tether are also ordered to provide the names and identities of any customers who "reside or are believed to reside, do business, or are believed to do business, in New York," as well as the names of any institutional bodies " controlled by U.S. persons trading, past or present, on the Bitfinex trading platform or invested in tether." Should Bitfinex comply, this requirement may cast extra scrutiny on the exchanges' American clients.
Key to the court order is that Bitfinex is now on the hook for any activities in the state since 2015, including allowing New York customers to trade, deposit or withdraw funds.
---
Withdrawal Problems Sparked Original Probe
The investigation appears to have begun in mid-2018, when large numbers of customers complained about difficulties withdrawing funds from Bitfinex.
The AG suspects that these withdrawal problems were due to Crypto Capital's refusal or inability to service transfer or withdrawal requests. "[B]y mid-2018, Bitfinex was having extreme difficulty honoring its clients requests to withdraw their money," state lawyers wrote, because "Crypto Capital refused to process customer withdrawal requests, and refused or was unable to return any funds to Bitfinex."
According a filing by assistant Attorney General Brian Whitehurst, the New York AG office suspected the exchange was offering services to customers in the state, in which it is unlicensed. Both Tether and Bitfinex were served subpoenas in late 2018.
As the scrutiny intensified, Bitfinex blamed "processing complications" and doubled-down on assurances that customer funds remained safe. Bitfinex restored fiat withdrawals in November.
---
The Market Response
Crypto markets plunged around ten percent in response to the release of the court documents. While Tether has largely held its peg to the US dollar, its market cap is back at around all-time highs of $2.8 billion.
As with many things related to Tether, it is difficult to be certain about the significance or cause of anything. During their banking woes in October 2018, USDT market cap surged. They followed up with a dramatic burn. Coinciding with this latest episode, tether circulation has again spiked to October 2018 levels. Despite the turbulence afflicting Bitfinex and Tether, however, USDT remains the dominant stablecoin.
While Bitfinex and Tether have borne the brunt of the latest legal actions, Crypto Capital and Global Trading Solutions appear to have escaped the harshest scrutiny, at least for the moment.