In Tether We Trust? USDT Still Dominant Stablecoin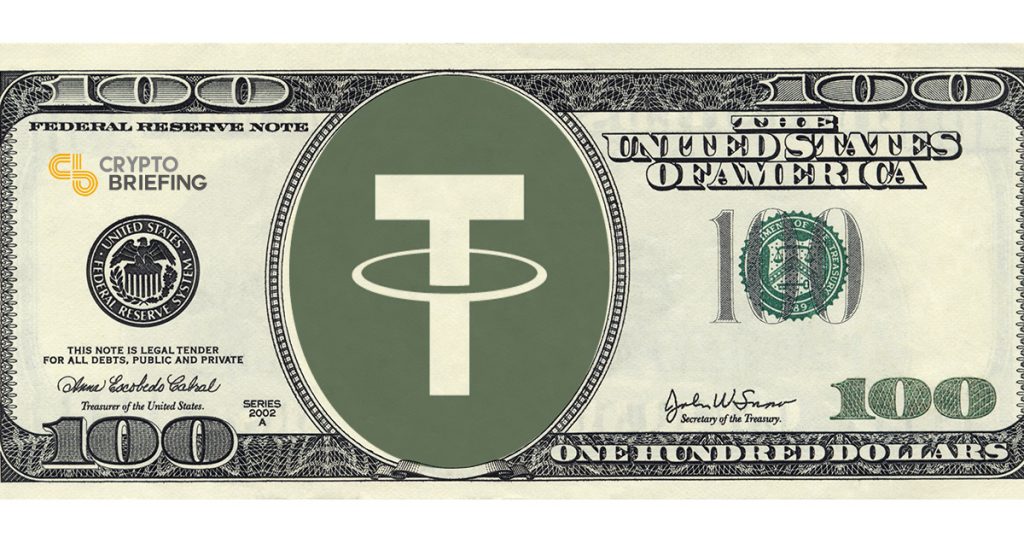 Tether (USDT) remains the most popular stablecoin, accounting for more than half of all value moving from Bitcoin to fiat or fiat-denominated currencies in December. Has the sector gone back to bed with the original stablecoin?
A recently published report by CryptoCompare, a cryptocurrency statistics source, found that Tether represents 75% of Bitcoin (BTC) trades going into other stablecoins or fiat currencies. Compared to November, the proportion of BTC trading volume going into USDT actually increased by 16.5%. Based on the circulating supply reported on CoinMarketCap, Tether accounts for 73% of the total stablecoin market.
The report compared Tether's trading volume with that of other collateralized stablecoins, which are backed 1:1 by the US dollar (USD). This included the Paxos Standard Token (PAX), the Gemini Dollar (GUSD), TrueUSD (TUSD), as well as Coinbase's USD Coin (USDC).
The BTC-USDT market was also bigger than bitcoin trading into popular fiat currencies, such as the US dollar (USD), Euro (EUR) and Korean Won (KRW). This suggests traders preserving value in the bear-cycle are nonetheless keeping funds in crypto, rather than divesting completely from the asset class.
Tether pairs, unsurprisingly, had the highest trading volumes within the stablecoin market. The most popular pair was between Tether and PAX, which counted for 75% of the total trading volume in December; volumes were up by 70% from November, the report found. Volumes for USDT pairs with TrueUSD have remained static since October.
---
Trust in Tether.
Established in 2014 – originally as Realcoin – Tether was the sector's first stablecoin. Tether Limited, the parent company, generates tokens whenever actual fiat currency is deposited in their reserves. It works as a meta-protocol on the Bitcoin, Ethereum (ETH) and Litecoin (LTC) blockchains.
Despite widespread acceptance, there are doubts about the amount held in Tether's reserves. At one point in mid-September, the USDT total supply verged on breaking the $3bn boundary. With no official audit, there was widespread concern Tether Limited was generating more USDT tokens than their dollar reserves.
This came to a head when the USDT temporarily lost its parity to the greenback, in October. On some exchanges, notably Kraken, Tether reached at a low of $0.85. Concerns of imminent liquidation led many traders to divest from Tether into other asset-backed stablecoins; TrueUSD's trading volume tripled in the same timeframe.
But Tether has since staged a remarkable recovery. USDT regained parity as total supply shrank by approximately a billion dollars. In November, Tether Limited's new banking partner publicly confirmed that the company held more than $2bn worth in reserve. Financial news site Bloomberg reported that it believed Tether had the requisite reserves in an analysis piece published just before Christmas.
---
Will trading volume remain dominant?
USDT supply is still $800m lower than its peak in September, but it is still the largest stablecoin and seventh largest cryptocurrency overall. Its 24h trading volume – a good gauge over the health of a market – is frequently above the $3bn mark, suggesting that the stablecoin is far from running out of road.
Constantine Tsavliris, a research and data analyst at CryptoCompare, is not surprised that USDT remains the dominant stablecoin. However, he notes the fact that rival stablecoins like GUSD and PAX have been making clear inroads.
Exchange adoption, Tsvaliris says, has made those inroads even deeper. Binance made PAX, TUSD and USDC base currencies, alongside USDT, at the end of November.
Will it last? James Roy Poulter, CEO of the cryptocurrency investment firm The Reserve, says that Tether is still enjoying its first mover advantage. But as alternatives mature, he reckons traders will begin to move value out of USDT.
"Tether was the first, has always been the market leader by a considerable margin, and should not expect to be toppled just from bad press," he said. "There is still no 'go-to' alternative brand; but this will change as competition is increasing against Tether, and very successful other experiments like Maker begin to emerge."
Tether's grip on the stablecoin market may one day hang by a thread, but for now it's still hanging on.
---
The author is invested in digital assets, including BTC and ETH which are mentioned in this article.
Join the conversation on Telegram and Twitter!