Citi Says Bitcoin Could Become "Currency of Choice for International Trade"
Citi analysts said the asset is at "the tipping point of its existence."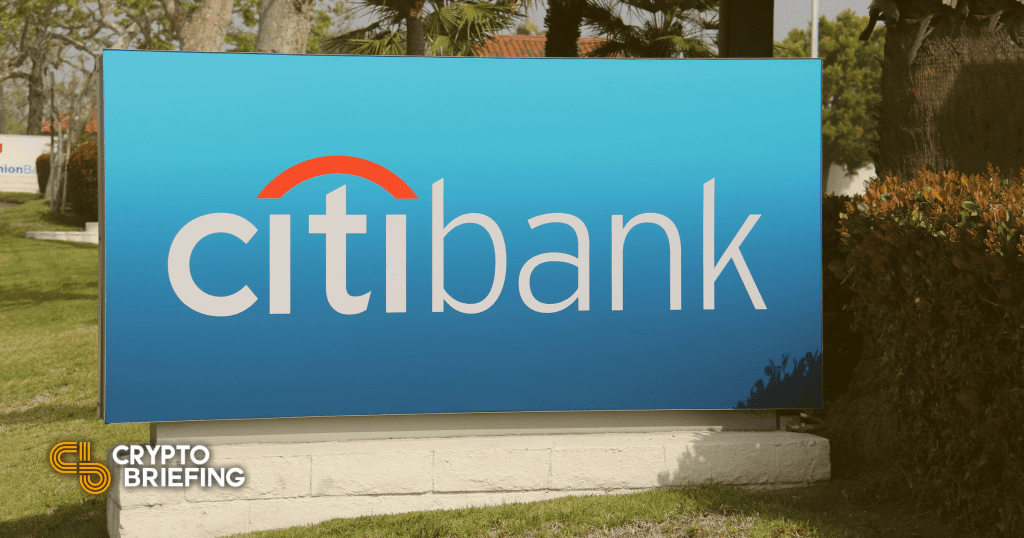 Key Takeaways
Citi has released a report declaring that Bitcoin could become the "currency of choice" for international trade in a few years.
The report concluded that Bitcoin is "at a tipping point" that could go one of two ways.
Citi pointed out that there are risks and concerns that could limit adoption.
Bitcoin could be the world's first choice currency for international trade, according to Citi analysts.
Bitcoin as a "Global Trade Facilitator"
Bitcoin is "at the tipping point of mainstream acceptance or a speculative implosion," according to a Citi report.
The U.S. banking giant has released a 108-page document titled "Bitcoin: At The Tipping Point," assessing the digital asset's possible future in the global financial system.
Analysts said that Bitcoin could become "the currency of choice for international trade" by around 2028, depending on a few key factors.
The team pointed to Bitcoin's role as the world's original digital currency, noting that it recently surpassed a $1 trillion market cap and has spawned "a whole ecosystem." According to the report, "Bitcoin is the 'North Star'" that acts as a guiding light for decentralized finance and other areas of the blockchain space.
The report argued that there could be four narratives that drive Bitcoin towards mainstream adoption.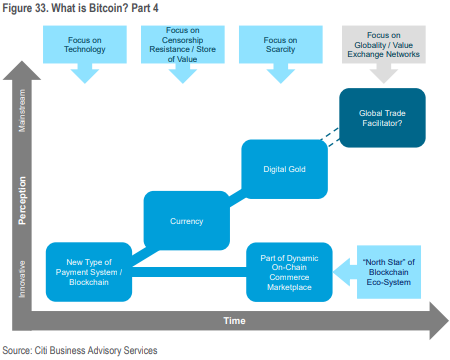 The first two focused on the technology and censorship resistance when Bitcoin was more commonly referred to as a payment system or currency (Satoshi Nakamoto described Bitcoin as "a peer-to-peer electronic cash system" in the Bitcoin whitepaper). They also pointed to a stage that focuses on scarcity and the "digital gold" thesis. Today, scarcity is arguably the biggest value proposition for Bitcoin, with many institutional investors showing belief in the "digital gold" narrative.
The next stage, Citi concluded, would be a "Focus on Globality" and "Value Exchange Networks."
At that point, Bitcoin could potentially be a "Global Trade Facilitator," according to the report.
Citi Ponders Bitcoin's Future
The report drew various data points that show Bitcoin is gaining traction, such as the high trading volumes on OTC desks and crypto exchanges. It also pointed out the growing interest among institutions.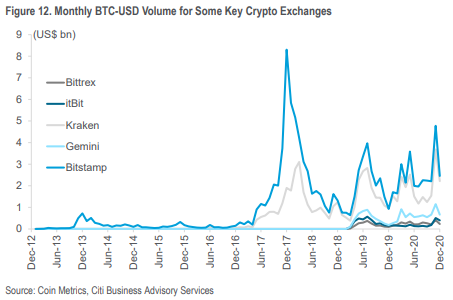 It also said that Bitcoin could be preferred to a Central Bank Digital Currency (CBDC) because "no government or outside entity can take steps that might affect the supply of the trade currency, helping to decouple trade from political considerations."
Despite acknowledging Bitcoin's success, the report highlighted several barriers that threaten the asset's future. They include scalability issues, as well as "concerns over capital efficiency, insurance and custody, security, and ESG considerations from Bitcoin mining" among institutional investors.
The report also drew from certain key players in the digital assets space to get their thoughts on Bitcoin. MakerDAO's Rune Christensen described the asset as "digital gold," while Grayscale's Michael Sonnenshein said that he thinks "Bitcoin is the next stop on the evolution of money and value."
Citi's team of analysts argued that the next few years would be decisive in determining Bitcoin's future. The asset "is at the tipping point of its existence," they concluded.
Bitcoin trades at $48,376.08 today. It's up 64% this year.
Disclosure: At the time of writing, the author of this feature had exposure to MKR in a cryptocurrency index.