Bitcoin Could Rise $20,000 Prior to Overbought Territory
Bitcoin looks unstoppable as on-chain metrics suggest that a significant correction is nowhere near.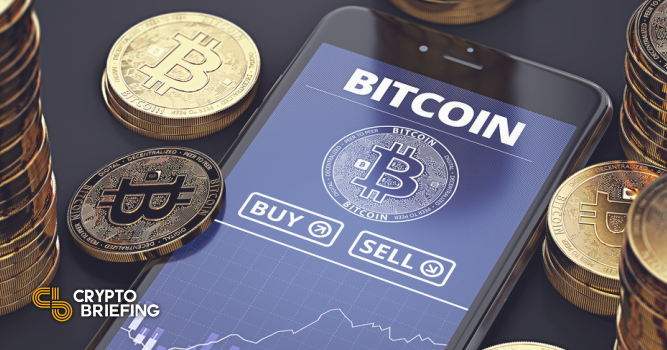 Key Takeaways
Bitcoin has pushed prices to a new all-time high of $52,800.
Prominent investors warn of a potential correction, while whales continue accumulating BTC at a substantial rate. 
As BTC's supply on cryptocurrency exchanges is depleted, its downside potential is being reduced.
After a year-to-date return of over 80%, some analysts warn that Bitcoin is approaching overbought territory. Still, a particular on-chain metric suggests that BTC is primed for another massive rise.
Market Value Up By 60%

Bitcoin's market value has risen by nearly 60% since the beginning of the month. BTC was recently able to reach a new all-time high of $52,800 as a new wave of retail investors flocked to the coin.
More than 20,000 new addresses have joined BTC's network each day over the past five weeks, signaling a spike in user adoption. It appears that Tesla's $1.5 billion Bitcoin investment put Bitcoin in the spotlight as trust in the global financial system erodes.
Bitcoin Looks "Unsustainable"
Despite the massive gains that BTC has posted over the past month, some analysts believe that a major correction is underway.
JP Morgan's Global Market Strategist Nikolaos Panigirtzoglou has suggested that Bitcoin "looks unsustainable" at the current price levels. Panigirtzoglou maintains that an inelastic supply of Bitcoin led to a price premium for both "real money" and "speculative" investors, while retail interest dwarfing the institutional inflows.
For this reason, the analyst expects that volatility would need to decrease to sustain the recent upswing.
Plenty of Room to Go Up
Despite the grim worst-case scenario, Bitcoin looks fundamentally strong. Whales have entered a buying spree, depleting the amount of Bitcoin available on exchanges and trading platforms. Market behavior of this type reduces the selling pressure behind the cryptocurrency, consequently capping its downside potential.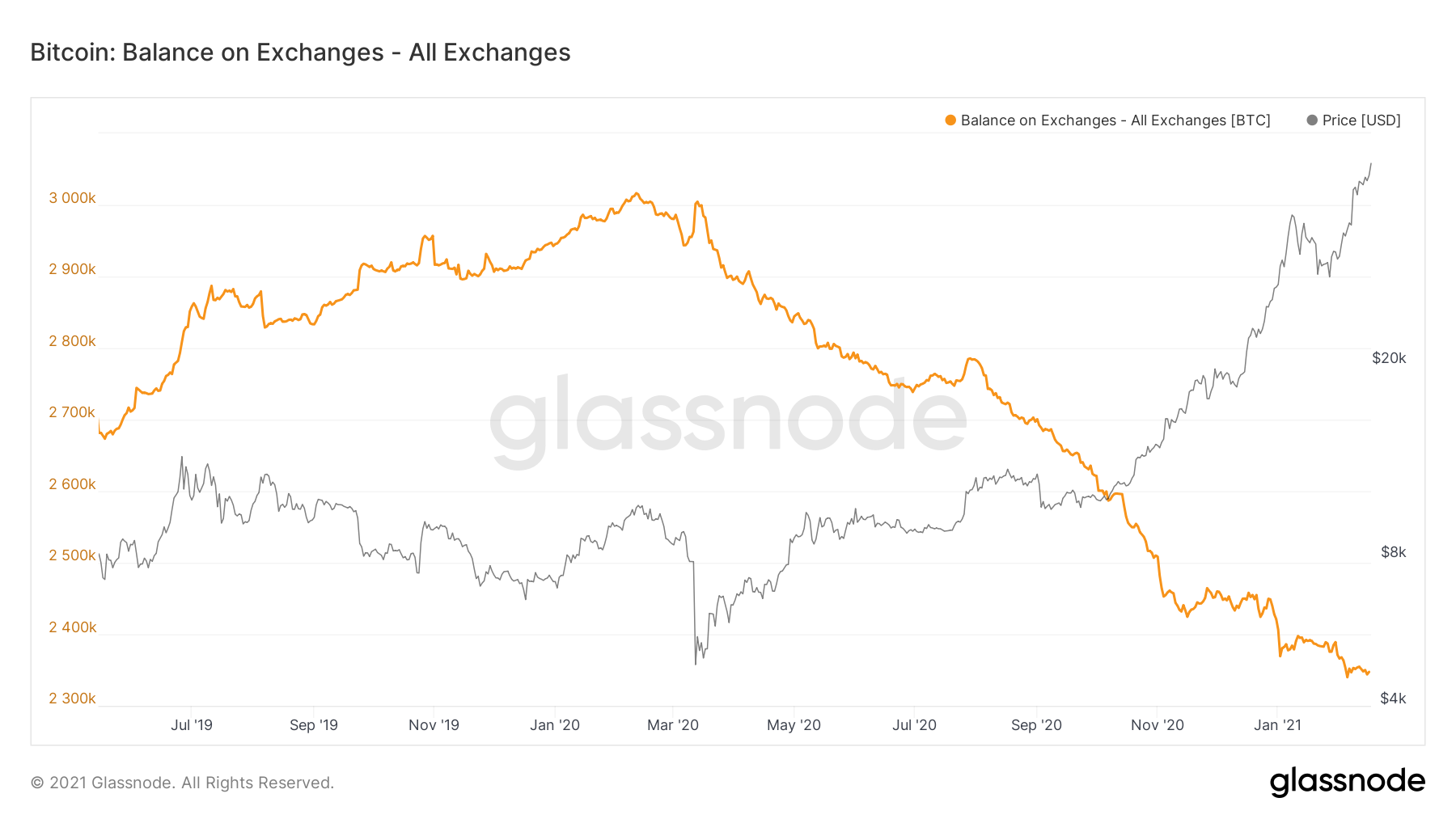 Additionally, the MVRV Z-Score suggests that Bitcoin has plenty of room to go up before it reaches overbought territory. This fundamental metric represents the ratio between the difference of Bitcoin's market capitalization and realized capitalization and the standard deviation of market capitalization.
Each time this on-chain index rose above a value of 9 over the past ten years, it served as a sell signal leading to a steep correction.
For instance, the MVRV Z-Score rose to a high of 9.80 in mid-December 2017 when Bitcoin peaked at nearly $20,000. Following this milestone, Bitcoin prices suffered an 84% correction while the MVRV Z-Score was able to reset.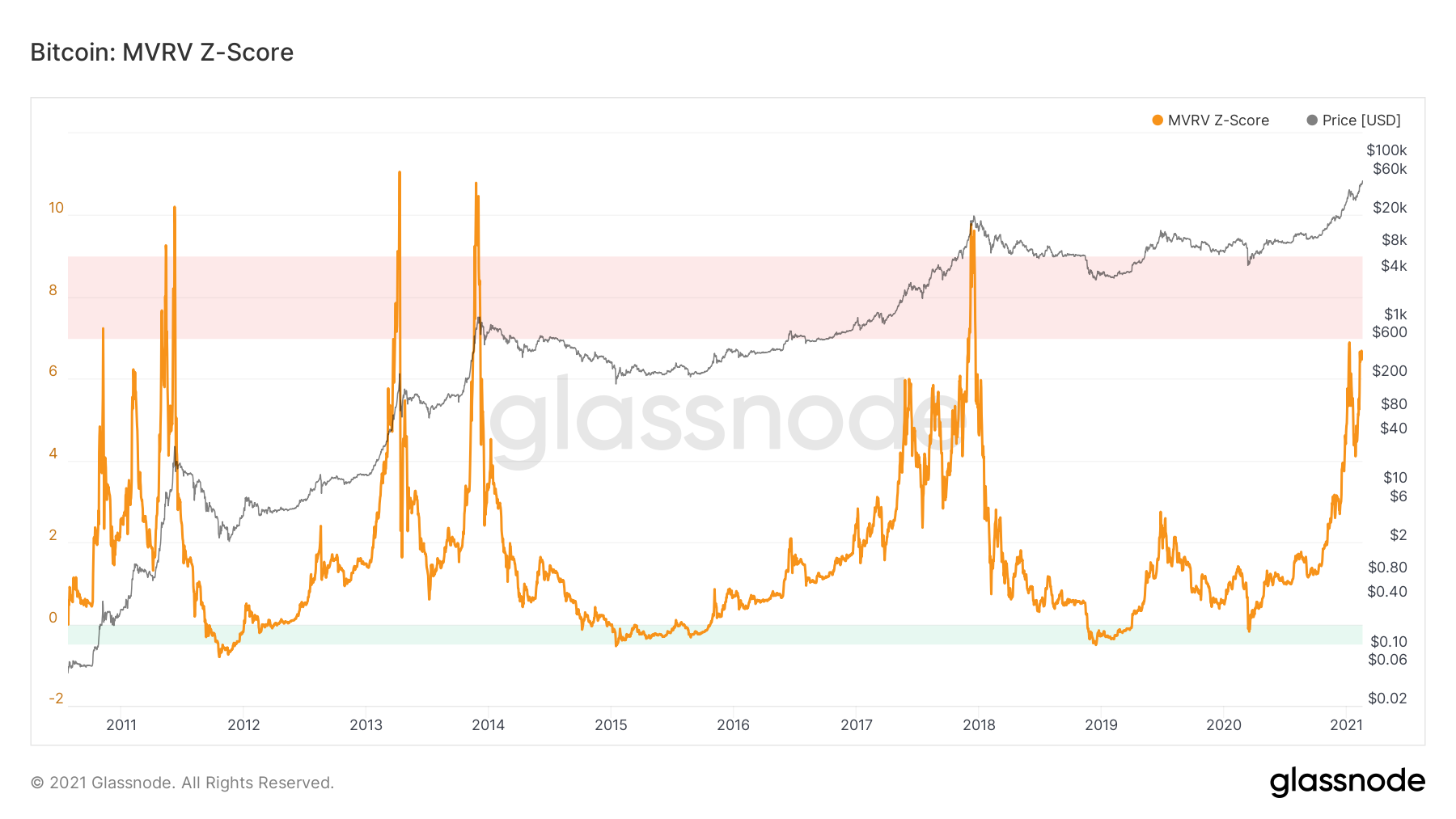 Now that Bitcoin is trading at a record high, the MVRV Z-Score is hovering at a value of 6.60. If this indicator proves to be as accurate as it was in previous instances, BTC could climb another $10,000 to $20,000 before the market becomes overheated.
Next Cycle May Look Like 2013
Technical analyst Philip Swift believes that the ongoing bullish cycle may look similar to the one in 2013, when Bitcoin hit the MVRV Z-Score's red zone twice before a significant retracement occurred.
Swift maintains that BTC could even reach three local tops during this cycle before it enters a meaningful corrective period.
Disclosure: At the time of writing, this author owned Bitcoin and Ethereum.
For more key market trends, subscribe to our YouTube channel and get weekly updates from our lead bitcoin analyst Nathan Batchelor.