Bitcoin Erupts As Short Positions Are Wiped Out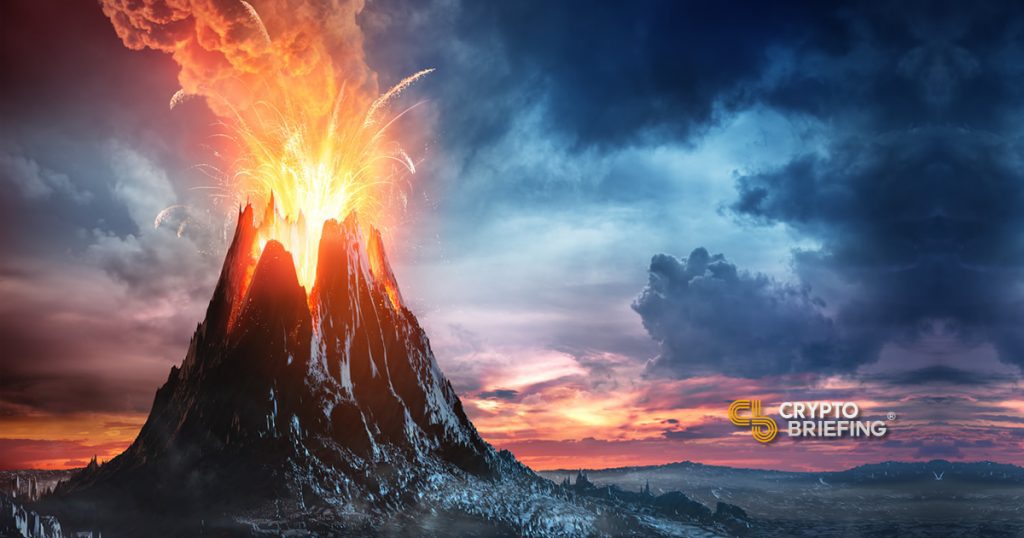 Crypto is booming today, and that's not an April Fool's joke. Today's upswing has taken cryptocurrencies to levels that have not yet been seen this year. Total market capitalization reached $160bn by press time, the highest valuation since mid-November.
Most virtual assets are up, but Bitcoin (BTC) appears to be in the drivers' seat. The leading cryptocurrency, which usually moves within a tight range, made a rare double-digit surge in the space of a few hours. BTC was up 15% at the time of writing.
At around 05:00 BST, Bitcoin broke past the $4,200 boundary, where it had been hovering for the past week. The price rose rapidly and peaked at over $4,800 at 06:30 BST, but corrected back down to the $4,780 at press time. Today's gains represent a near $10bn increase in market capitalization since the start of the day.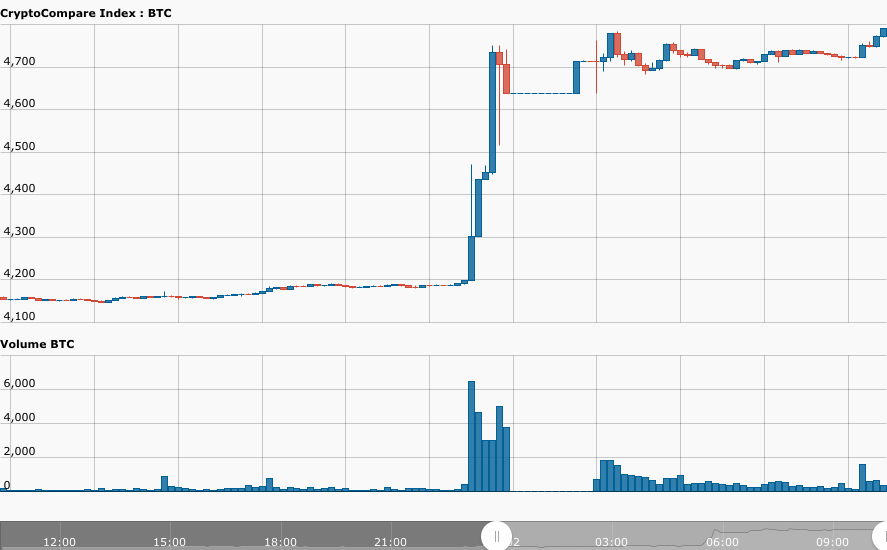 ---
What happened?
Traders reacted to the news with cautious optimism. A few pundits suggested that the movement was led by bots, mistaking April Fool's articles for real market sentiment.
In particular, Finance Magnates published a prank announcement that the SEC had approved Bitcoin ETFs, an issue which has sparked strong price reactions in the past. Some think this explains why Bitcoin seems to be leading the charge.
But the market move came sixteen hours after the FM story was published. If April Fool's articles had had any discernible effect on the market, as some have said, algorithmic traders would have reacted far faster to the news. It would have been a matter of minutes, not a whole day.
George Harrap, the co-founder and CEO of Bitspark, believes it was probably a "natural move," rather than a knee-jerk reaction by bots. Noting that Bitcoin is currently trading for $200 more on BitMEX than on conventional exchanges, Harrap suggests the movement was led by leveraged traders.
"This rules out any moves by local fiat exchanges or institutional influence," Harrap wrote in an email. "It's more of a natural move as compared with the price movements in 2018 where it seemed that too much was sold off."
---
Finding Technical Support
David Thomas, director of the crypto-brokerage firm GlobalBlock, argues that the price gained momentum due to technical trading. $4,200 was a "key level" for Bitcoin, he explained, one which it had been unable to break this year.
Short traders identified this level, and calibrated their positions to exit at that price. When bitcoin broke past this morning, it triggered all the stops on short positions, removing resistance. This, Thomas believes, "exacerbated the move higher," allowing Bitcoin to suddenly surge up to $4,800 within a relatively short space of time.
"The break through $4,200 'technically' ends the bearish trend that has been in place since Jan'2019 and then the subsequent boost higher demonstrated that there is very little resistance after the $4,200 level," Thomas explained in an email.
Speaking on Bloomberg this morning, Mati Greenspan highlighted that the move pushed BTC above its 200-day moving average for the first time since March, a level with a high number of entry orders based around it. This could have pushed the trend even higher.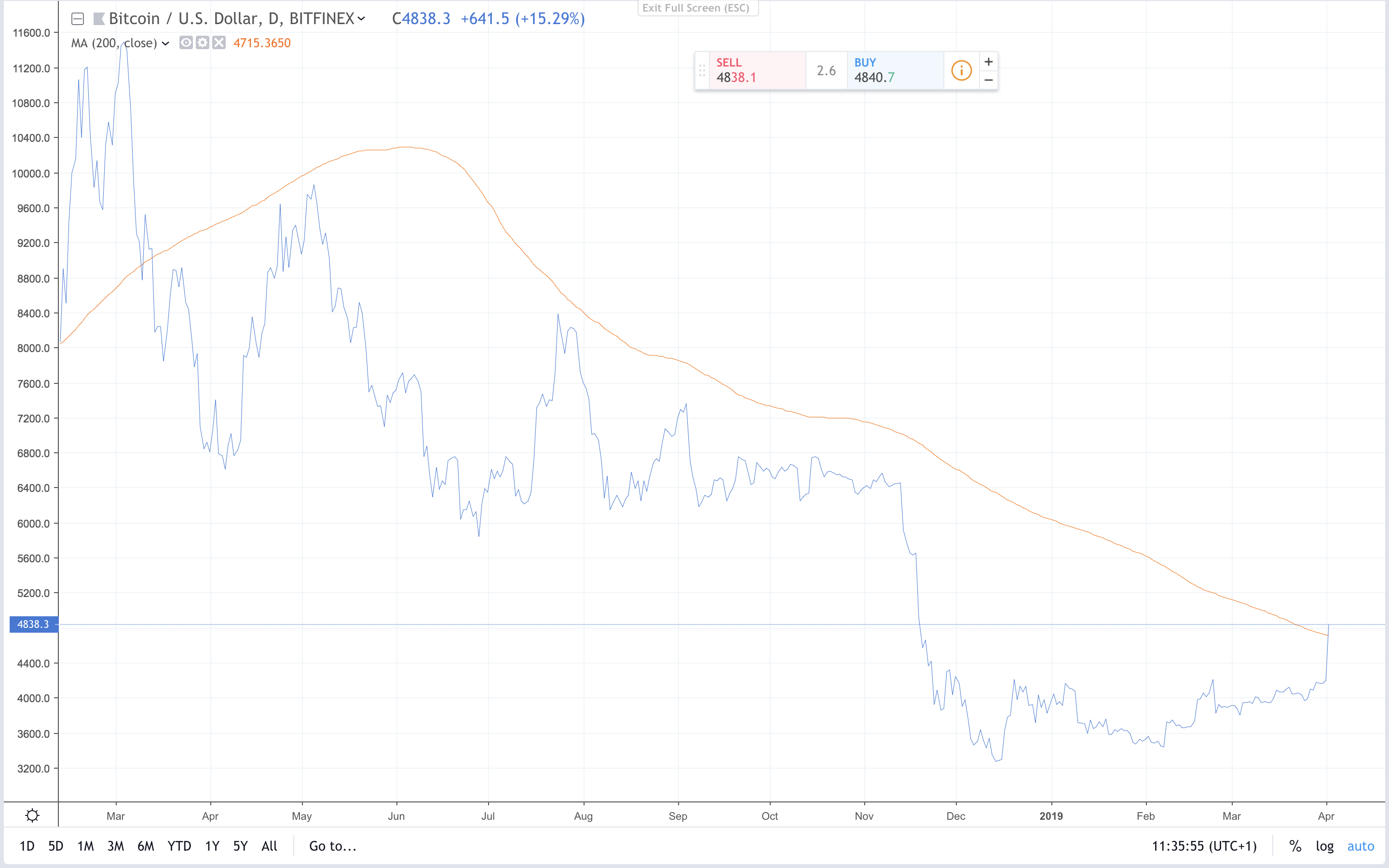 ---
Is this a long-term trend?
Today's move may instigate additional buys. Thomas said some bullish traders are already predicting BTC at $5,500 as early as this coming week.
Harrap isn't so certain. The move was led by traders on BitMEX, an unregulated entity on which institutional investors cannot trade. The timing, he believes, suggests the move was fueled by Asian investors and may not continue into the U.S. trading day.
Unless momentum can be sustained, it's possible prices may correct and form new support and resistance levels. But Harrap is bullish for the long term.
Markets are psychological, he notes, and breaking past the $4,200 level will do much to restore investor confidence in Bitcoin. "Today is a short term spike, but higher prices are going to be a longer-term trend for 2019," he said.
---
The author is invested in digital assets, including Bitcoin which is mentioned in this article.